Microsoft's refreshes Outlook for Mac with new design, improved mail view
Microsoft has announced it will be bringing out the new Outlook for Mac in October, with
macOS
users set to receive an updated experience and a major redesign of the communications tool.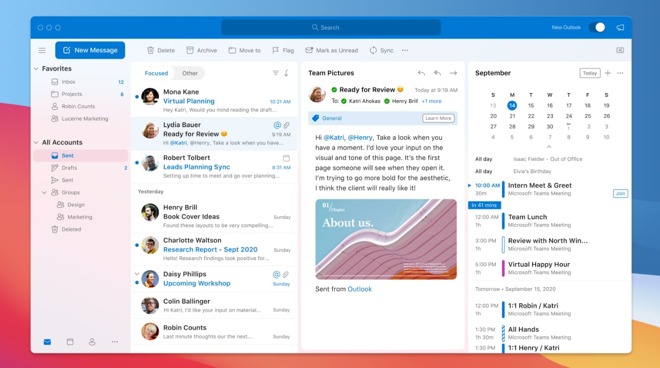 The mail screen in Outlook for Mac now includes My Day
In November, Microsoft
teased a revamp
of Outlook for Mac, but issued it only to testers of its "Fast Ring beta program." Ten months later, Microsoft is now making the updated Outlook for Mac available to regular users, after receiving customer feedback.
The new version has been made to seem as native to macOS as possible, including rounded corners in buttons, the message list, and conversation pane that are said to be influenced by
macOS Big Sur
. The design uses white surfaces for increased contrast on text and icons, which also involves elements of Microsoft's design language to keep it looking familiar to existing Outlook users.
Claimed to be faster and more reliable, reduced email load times and faster syncing of accounts are said to be offered in the release, complete with a seamless launch into the updated layout after clicking the "New Outlook" toggle.
The main mail screen has My Day integrated, as well as a two-week calendar alongside the inbox. The sidebar and My Day panels are modifiable to match a user's preferences, such as the My Day having selectable calendars, while a new three-day view will show impending events.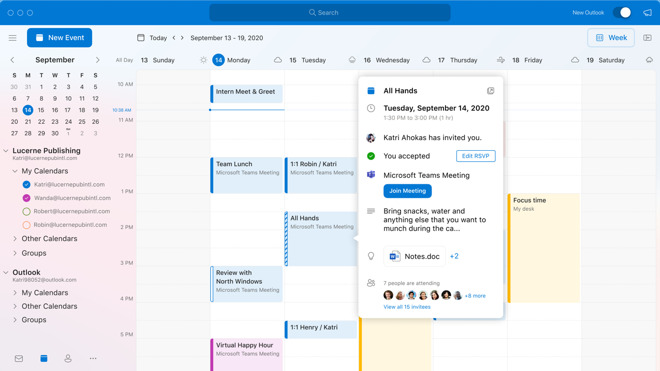 Calendar events provide extensive details, as well as ways to join virtual meetings.
Support for unified inboxes means users can access all their mail accounts in one place, with it compatible with Office 365 emails, Outlook.com, and Google accounts from the start, and iCloud and iMAP support arriving soon.
A centralized and upgraded search experience uses Microsoft Search, the same one that is used for other Outlook versions and in Office 365. The search can be used to find items across multiple accounts and folders at once, with results for contacts able to bring up extra information, such as an organizational chart. Advanced search filtering can select items based on importance, keywords, and attachments.
A new People experience will separate contacts and colleagues from messages and events, creating a central collaboration area. You can add notes to contacts, start a Teams chat, or mark them as a favorite within the People view.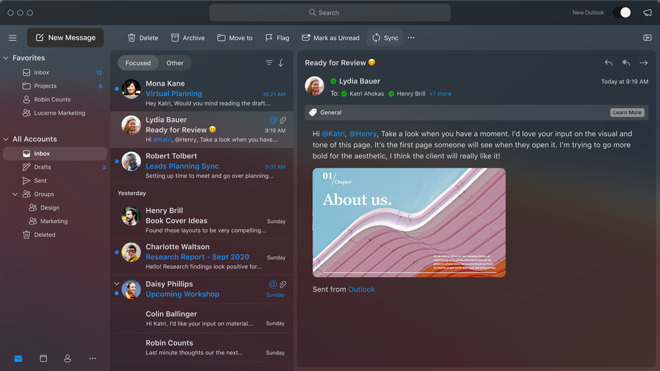 Support for Dark Mode and personalized swipe gestures are also included in Outlook for Mac
The calendar is now more intuitive, with the ability to set up a meeting quickly by clicking and dragging over the calendar grid to create an event. A Teams toggle simplifies setting up a virtual meeting, with Outlook also suggesting times that work best for all participants.
Options are also available to customize Outlook for Mac further, affecting the messages list, calendar, and mail pages. This ranges from drag-and-drop account and folder arrangement to setting favorite contacts, to customizing the toolbar. The latter also houses add-ins, automations for tasks, which can include third-party services such as DocuSign, Salesforce, and Zoom.
Messages list can have alterations to message density, custom rules, and swipe settings for use when swiping email to one side or another using the Magic Mouse or trackpad. This includes a new snooze feature to temporarily ignore a message that can't be read or responded to immediately, allowing it to reappear at a more convenient time as an unread email.
The updated Outlook for Mac will be arriving in October for all users.