Lunar details a 'very exciting time' for high end Mac Pro, Apple Silicon
Lunar Animation, the UK-based digital production firm behind the last "Jumanji" film, was an early and enthusiastic adopter of Apple's all-new 2019 Mac Pro and the Pro Display XDR that debuted alongside it. A year later, the firm has detailed more of its Mac Pro experiences while anticipating the Mac's high-end migration to Apple Silicon.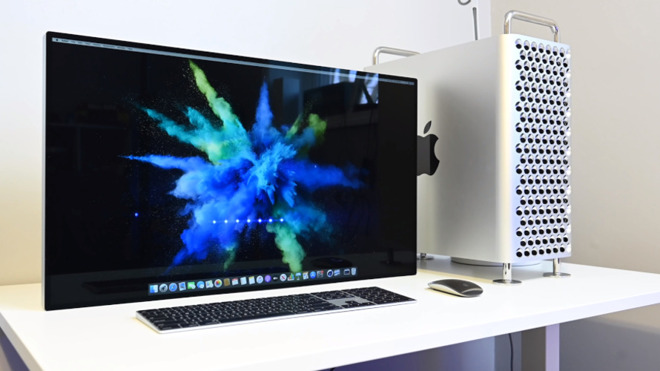 When Apple premiered its new
Mac Pro
3D graphics powerhouse and its matching reference-quality
Pro Display XDR
, many bloggers rushed out their hot takes complaining that the new gear was too expensive for the mass market. In the real world, for digital production professionals working in film, music, game development, and similar fields, Apple's new high-end Mac Pro offerings delivered a whole new tier of productivity.
At the time, Lunar
described
Apple's Pro Display XDR as a "real game changer," noting that it provided "an ability that we previously didn't have in the studio," a "phenomenally accurate visual representation of the content we were making."
Rather than comparing it to cheaper consumer monitors, Lunar explained that the $4,999 and up Pro Display XDR was an "invaluable tool" that spared it the far greater costs of renting out a production facility or buying industrial reference monitors priced in the tens of thousands.
After a very challenging 2020, Lunar reports that despite the artistic and technical hurdles of shifting to a remote working environment, it has seen more than just a simple boost from the greater horsepower and higher specs of Apple's new hardware. The most important productivity gains came from Apple's efforts to work with pro-level software partners to
support Metal on the Mac Pro
.
Mac Pro software support is Metal
"We're now entering a very exciting time with more support than ever for professional tools designed for the Mac Pro which really begin to take advantage of its power," Lunar noted in its
blog post
.
Lunar listed a series of software titles it uses to produce content for TV, feature films, including Autodesk's Maya for 3D modeling; Houdini simulations and effects; and Davinci Resolve for editing. Rather than just being faster than an
iMac Pro
, the new Mac Pro hardware can host multiple GPU and other specialized expansion cards that enable it to host multiple major application workflows at once.

"What this means." Lunar explained, "is that rather than having to close the heavy scene, load up the 3D model we want to adjust and then close that and reopen the original scene to continue working, we are able to simply switch spaces in macOS, add a light to a 3D model and quickly switch back and check the update with the interactive IPR renderer.
"Then while we're waiting for that to create a preview render, we can switch over to another screen and adjust another model."
It added, "What we're seeing here is the fluidity of the artist working and not having to be ground to a halt because the computer is having to think. It feels like having multiple computers at your fingertips. All without constant crashing, which means we avoid losing work and more importantly save artists' time."
Lunar detailed specific examples of a technical effects artist working in Houdini on simulations that generate video frames that "are a gigabyte each and suddenly you need to be able to upload terabytes of data back to the studio to render."
On a Mac Pro outfitted with multiple GPU cards, an artist can launch simulations in the background and then continue working on other tasks.
"This kind of workflow is something that has become evidently more important in the last 12 months since our artists have been working remotely away from the studio," the firm noted. "The ability to work on a Mac Pro and feel like you have a little render farm inside is extremely powerful."
Single screen workflow with Pro Display XDR
While many digital artists working with professional creative software tools use multiple displays to access all of the "windows, graphs, node editors and viewports" needed to manage complex projects, there are advantages to having everything on one screen.
"The reality when using larger displays from a 27 inches and upwards is that you really have to turn your head to look from one monitor to the other while working and with the ability in macOS to easily switch between screens (or another space), that need for a second display starts to disappear. The only challenge if working on a single screen is being able to fit all of the animation controls into that single display comfortably. Now with a 6K 32 inch display we might have the perfect balance."

Rendering the future
Lunar also detailed its experience in working with Redshift and OctaneRender, as well as Unreal Engine, all three of which Apple highlighted in partnerships to bring pro level developer workflows to Metal to take native, optimized advantage of available GPU hardware. The firm detailed 10x acceleration in basic rendering tasks on specialized GPUs compared to running tasks on an Intel CPU, and compared rendering workflows that were completed in 30 minutes that "would have taken a week to render using our studio's render farm."
Lunar also touted Apple's core support in macOS for
Universal Scene Description
. USD is the open format Apple selected for ARKit to save 3D objects arranged in a scene.
Mac
users from game players to pro animators can use Preview to examine USD files right from the desktop.
Apple has also worked to support other industry standards, from the cinematic P3-DCI color space on its Pro Display XDR to the more consumer-friendly High Dynamic Range color space that enables the production of rich Wide Color content from TVs to mobile devices.
"The advantage of this is that we can easily export any color space that we need to target whether that's Rec. 709 for TV broadcast, sRGB for Internet or P3-DCI for Cinema. With Aces already being higher than a 10-bit workflow, we can take this straight over to Davinci Resolve or Final Cut Pro and use it to create a HDR export," Lunar explained.
"The Mac Pro has given us stability in complex workflows and enabled us to create larger, more detailed worlds than we have ever attempted before. We can animate more characters, paint larger textures and simulate more realistic effects. It allows us to work seamlessly across multiple applications simultaneously and we can continue to work while waiting for heavy tasks to process."
Addressing the Mac's upcoming full transition to Apple Silicon, Lunar stated, "we feel reassured that Apple has aided the transition with Rosetta 2 and noticed the cheeky inclusion of Maya already running on it in the announcement keynote. It's also great to see the developers of the software we use announce support, like Chaos Group noting plans to support ARM based architectures with their V-Ray rendering engine later this year."