LaCie BOSS SSD review: a photographer's best friend
Posted:
in macOS
edited June 2021
LaCie, the creative pro arm of Seagate, has once again excelled in creating a near-essential tool for on-the-go creatives in the Boss SSD, which offers fast storage, mobile connectivity, and even a battery backup -- at a cost.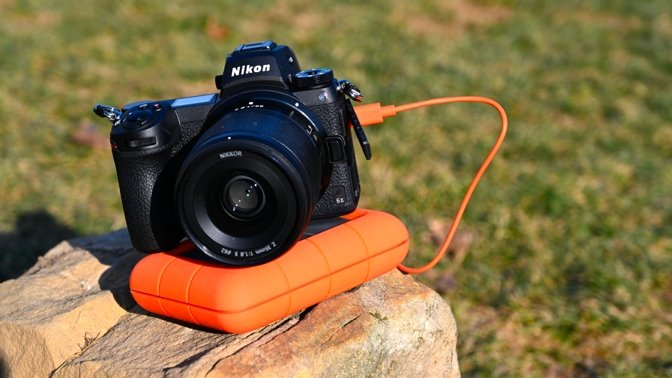 LaCie BOSS SSD
There's almost nothing on the market quite like the LaCie Boss SSD, which makes it frustrating to classify and review. This do-it-all drive is so versatile it has countless applications from professional photographers, to drone enthusiasts, to anyone who takes their storage on the go. At the same time, for anyone who sits outside those verticals, the Boss SSD is far too expensive to consider as a viable option.
The best way to talk about it, is to show you what it can do, and how it does it. Let's walk through all the various features of the drive including how to back up your photos and videos to the internal SSD, how to use it as a hub for your
Mac
or
iOS
device, and how to use it as a battery pack for your phone or camera.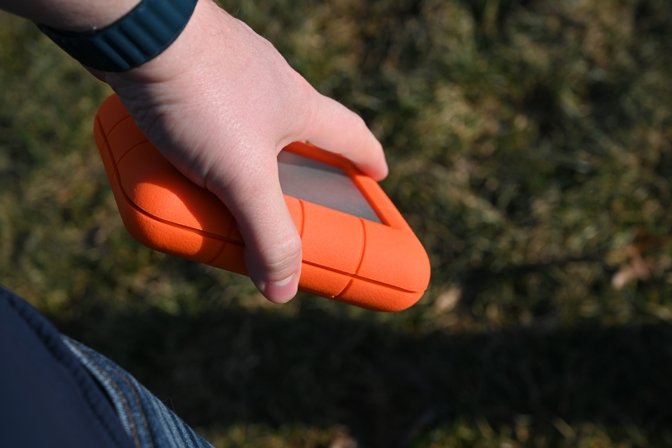 Take the LaCie BOSS SSD with you on the go
It's a lot for one device to aspire to do. As we evaluated the Boss SSD, we wondered if this was a case of reaching for too many things rather than doing one or two things very well. But, with time, we figured out who the unique combination is for, who will benefit from its power -- and who should stay away.
Boss SSD design
The Boss SSD is very similar to the other LaCie Rugged Drives in the product line. LaCie proudly touts its design by Neil Poulton with a vivid orange exterior and the matte anodized aluminum body in the center. That lifejacket-esque shell protects it from falls which is crucial for a portable-first device.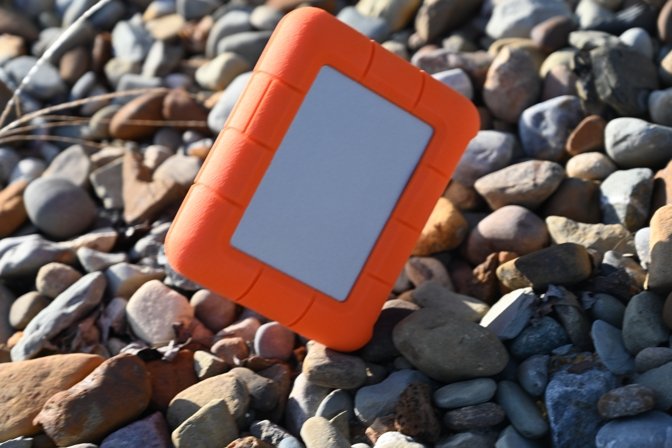 LaCie BOSS SSD is protected against drops
We've owned a dozen LaCie Rugged Drives over the years, always adding to our arsenal and moving from a USB hard drive, to a
Thunderbolt 3
hard drive, to
USB-C
SSDs. We've always loved them, but none have been as versatile as this.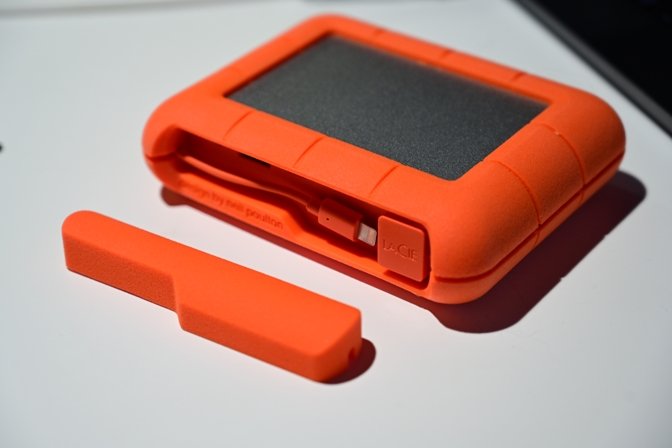 LaCie BOSS SSD ports behind the cover
The drive starts to differentiate itself when you remove the protective cover along one side. Hidden behind is lives an array of ports, some we don't often see on portable storage. It starts with a small barrel connector used as a power input, then a USB-A port, a status light, a USB-C port, an SD card reader, and finally, a micro USB port.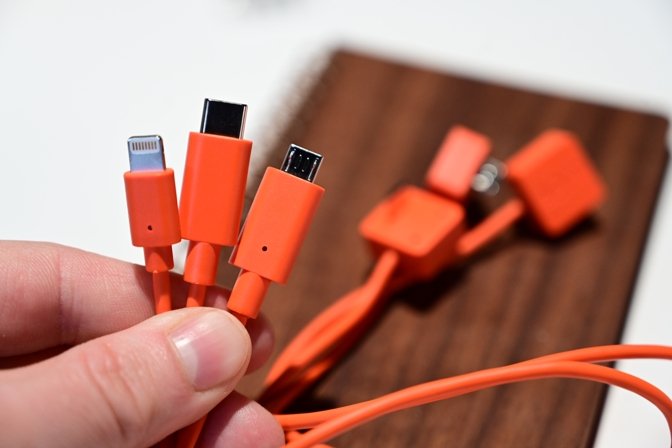 LaCie BOSS SSD includes three import cables: Lightning, USB-C, and micro USB
That last port on the list is unique as it connects to the blocky side of the included connection cables. In the box are three USB cables with a block-like micro USB connector that fits directly into that port. LaCie includes a micro USB, a USB-C, and a Lightning version of that micro USB cable in the box. This is the first time ostensibly seen a micro USB to micro USB cable or a micro USB to Lightning.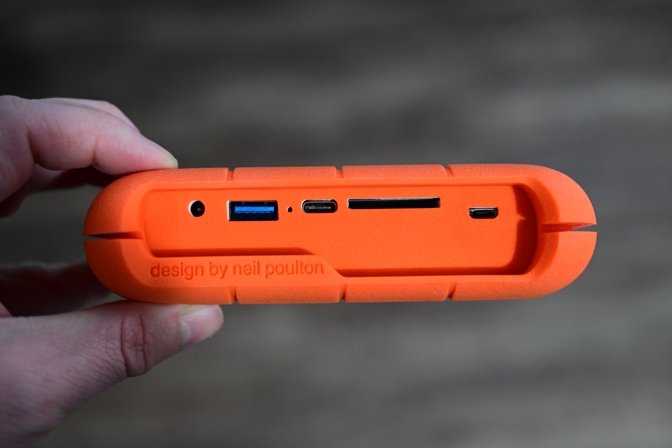 LaCie BOSS SSD ports
There are several ports here, so let's break down exactly how each is to be used.
The barrel connector: This is the power input. Use the included power brick to charge the drive.


USB-A port: You can use this port to connect any peripherals. Plug in your drone, a thumb drive, another hard drive, a camera, or a different card reader


USB-C port: Use this port to connect the drive to your Mac or PC


Micro USB: This is where you connect one of the three included cables to connect your Boss SSD
When you connect one of the three special cables, it is designed to wrap around the drive perfectly. That way, a cable is always with you as you take the drive on the go. The cover is well-designed in its own right, with precise recessions inside that will allow room for the wrapped cable or an SD card to remain inserted.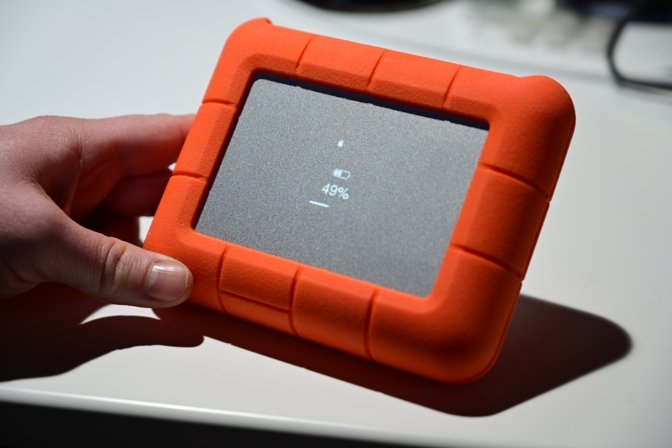 LaCie BOSS SSD display shows the battery life
While the aluminum sides look solid, the top one is also able to double as a display. It can share pertinent information such as how much capacity is available, how far along you are on your transfer, and how much battery life is remaining. A superfluous groove denotes the solo hidden-button used to confirm commands, such as beginning an import.
Boss SSD - Backup and storage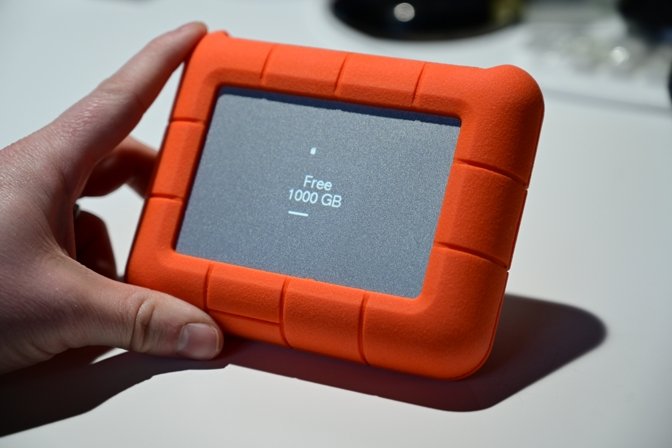 See the LaCie BOSS SSD capacity on the dispaly
This is an SSD, after all, which makes storage the primary function. It is available in only one capacity, 1TB, which should be plenty for most daily storage but may be devoured by large media. Professionals may end up offloading media here with some regularity to long-term storage if they keep bumping up against that limit.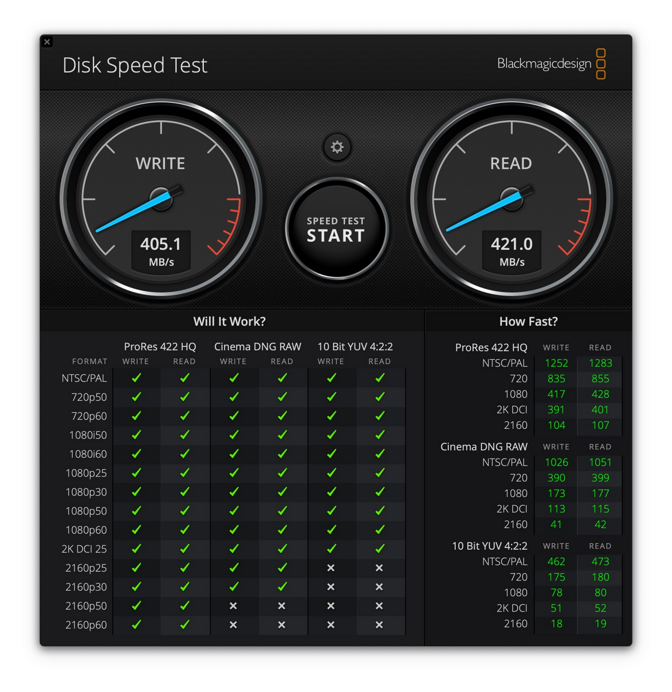 LaCie BOSS SSD transfer speeds
As an SSD, rather than an HDD like the preceding DJI Copilot, it gets decent performance when transferring files. If you are going over USB-C to your Mac, LaCie says you can expect up to 430MB/s. In our tests using the Blackmagic Disk Speed Test, we saw speeds of 405MB/s write and 421MB/s read. That was with the drive formatted to APFS.
The drive comes formatted in ExFAT for universal compatibility, but APFS is an Apple format designed for use with SSDs and has speed benefits for lots of small files. That's precisely what we plan to use the Boss SSD for.
It can be used as a standard SSD, showing up in Finder and allowing you to transfer files to the Boss or from it. In this most basic use case, it works just fine, though it isn't the smallest or fastest SSD. Its value comes from its other skills.
A photographer's dream
For photographers, there is so much functionality to talk through-- from backing up devices to managing photos or even cloning a drive.
Again starting with the most basic, if you plug in your camera, drone, or card reader, it will give you the option on the screen to import all images from that device. Similarly, the built-in SD card reader will do the same.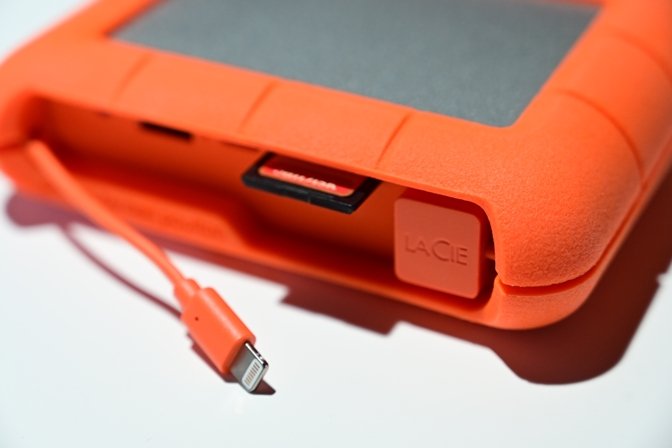 Automatically import images off SD card
LaCie includes a MicroSD to SD card adapter in the box just on the off chance you don't have an adapter of your own as it only has an SD reader, not a MicroSD reader. The adapter can also be stored in the drive for when you need it.
Once your media is connected, the Boss SSD will detect it and ask you on the screen if you want to copy its contents. Short press for yes, long press for no. Assuming you hit "yes," a ring will go around the screen to represent your transfer's progress.
Every time you connect that media going forward, Boss SSD will only copy the subsequent files. You can turn off the incremental copy and instead copy the full device each time within settings.
Once you have files on the Boss SSD, you can clone the SSD to a tertiary device. This can be useful if the Boss SSD is getting tight on space or prefer to have multiple backup copies of your media. Connect another storage device with greater than 1TB to the Boss SSD and designate it as a clone drive through the Boss app. Once set, clones can happen without the app by confirming with the physical button.
With your media on the drive, you have a backup copy, and you're free to delete them off your camera's memory, and you can connect the drive to your Mac, PC, iPhone, or iPad to manage your files.
Using the LaCie Boss SSD app
Speaking of managing the device on your iPhone or iPad, this can all be done in the aforementioned LaCie Boss app. This free native app is essentially a full file manager purpose-built for images.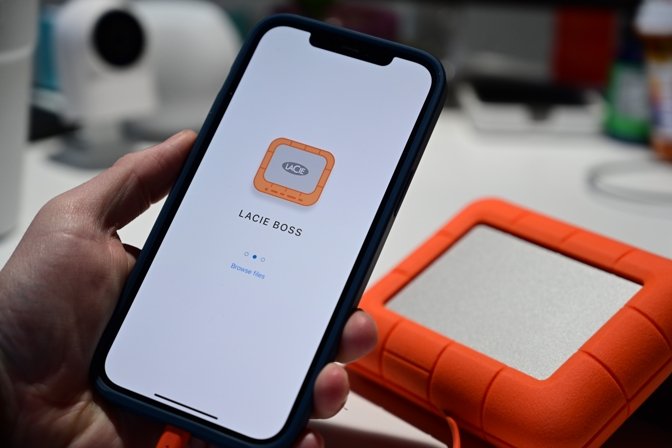 LaCie BOSS SSD app
Upon first connecting the device to your iPhone or iPad, iOS will automatically detect it and take you to the app on the App Store to download. We want to highlight how spectacular the app icon is. It is a miniaturized version of the device itself, and it is both cool and adorable.
The app optionally uses your general location to mark where your inputs were done, which is very useful to track where shots were taken and stored. This can be disabled, but we prefer it enabled for our photos.
From the app, you can view your Boss SSD, its contents, its battery life, how much storage is remaining, as well as a wealth of settings. The settings allow you to perform firmware updates, manage SSD clones, set up your preference for media imports, manage when the drive goes to sleep, and set up your proof sheets.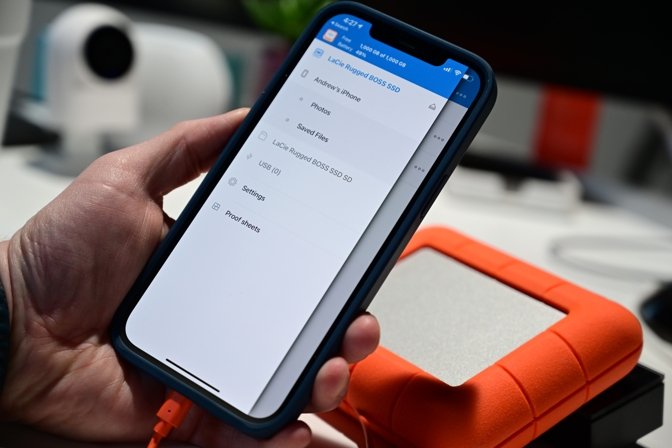 Manage LaCie BOSS SSD and files in the app
Browsing files is as easy as it is with any file management app. You can navigate through folders, open images, copy, rename, duplicate, and any other file-relevant task. Of course, you can share pictures (or other media) via the Share Sheet to any other app you use.
From the Boss app, you can access your phone's files too. There are two categories for photos -- populated from the Photos app -- and your saved files that you've saved explicitly to your phone.
LaCie integrates with Apple's Files app as well, so you can view the Boss SSD directly from Files and move files between any other connected app or storage.
Proof sheets are easy to create in the app, which is a unique photographer-specific feature. You can choose the layout, pic the images, optionally overlay the image name for clarity, watermark the whole thing and export it for clients.
LaCie Boss SSD - Other uses
If that wasn't enough, there are a few ancillary uses to the Boss SSD.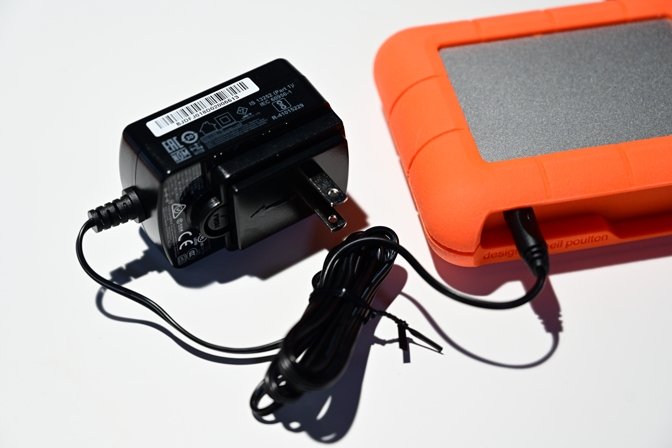 LaCie BOSS SSD charger
While you are out and about, the SSD can be used as a battery pack for your devices. Your iPhone, camera, or other mobile devices can get a quick boost to make it through the day and is just one more device you can leave at home.
It's packing a 5300mAh capacity battery which should yield a bit more than one full charge for an iPhone 12 Pro.
Another great use is the ability to use the Boss SSD as a USB hub. Connect it to your computer or iPad and have access to the card reader or another connected drive.
Should you invest in the LaCie Boss SSD?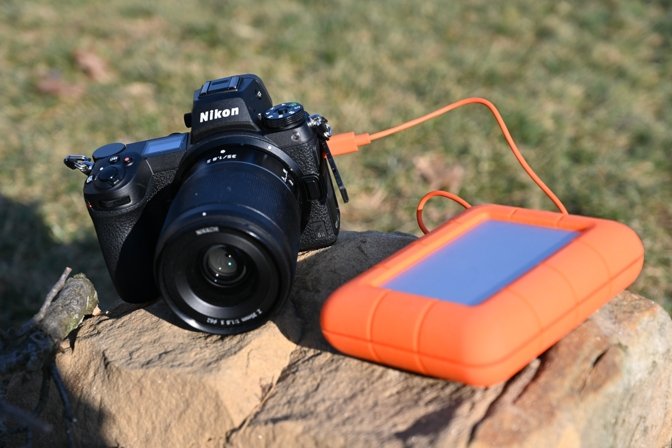 Pulling images off the Nikon Z6II to the LaCie BOSS SSD
Our biggest gripe with the Boss SSD is that with so many ports and so many applications, the entire package can be a bit confusing -- which port, which cable, what files did you transfer, which device is copying to which? We also don't love the charger that was included.
It seems some issues could be solved if the whole thing was just USB 3.2 Type C of some flavor or preferably Thunderbolt all around rather than micro USB paired with a barrel connector, but that may lead to even more confusion on what each port can do.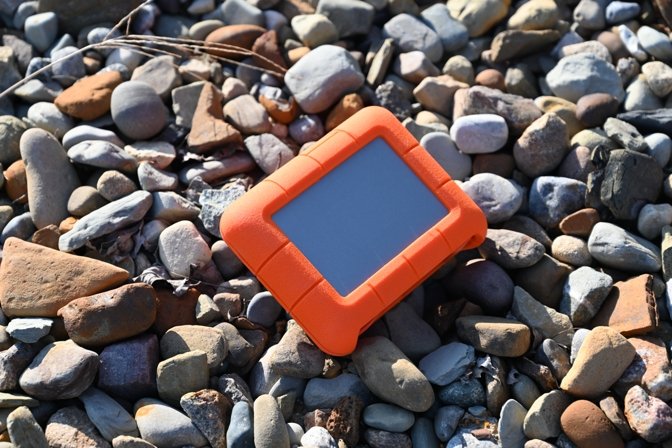 LaCie BOSS SSD is a great accesory for photogaphers
Once you get past the slight learning curve and integrate the drive into your workflow is makes a huge difference. You always have a spare battery backup, your shots are always protected, and it is easy to edit and manage your files on iPhone, iPad, and Mac.
If you're a casual user looking for a rugged and portable SSD, many solutions on the market fit the bill at a lower cost -- and we can't recommend this Boss at all for this market based on what it provides for the price. For that market, the Boss is at best a 2.5 out of 5.
But, photographers or videographers who need rugged mass data storage with integrated capture and management while out of the office are the Boss SSD's target market. For those folks, we give it a rating of 4.5 out of 5 for that market.
Pros
Excellent design that is rugged and reliable


Good SSD and capacity

Lots of cables and adapters inlcuded in the box including USB-C and Lightning


Solid app for iPhone and iPad that even includes Files integration


Easy to use


Extremely versatile


Great for working on the go and protecting data


Can be used as backup battery
Cons
Screen can be hard to see in bright light


Needs to be charged, often


Far expensive than plain SSD


SATA SSD speed, not NVMe
Where to buy
You can order the 1TB LaCie Boss SSD
on Amazon for $449
.