A 24-inch 4K monitor & Mac mini is a good option versus the Apple Silicon iMac
The 24-inch iMac is available to pre-order, but the lack of ports and pricing may be an issue for some. Instead, consider a
Mac mini
and a 24-inch monitor, and you may have cash left over.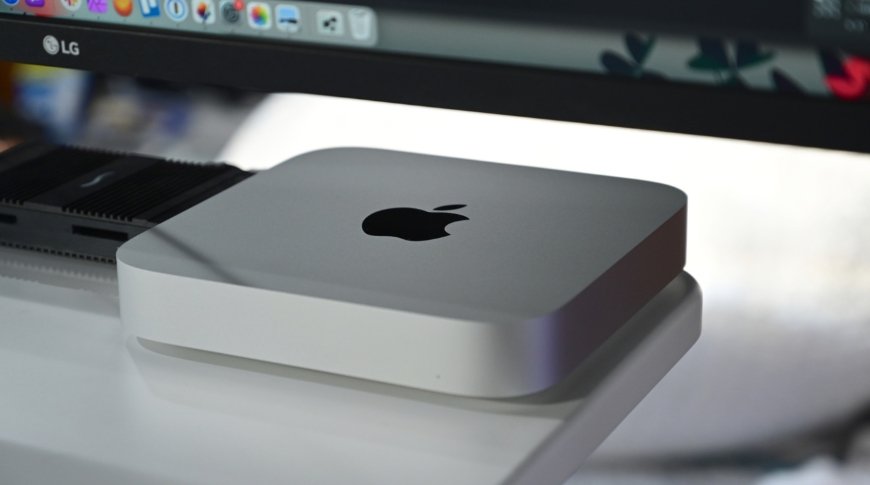 The M1 Mac mini is cheaper, has more ports, and easier to transport than the iMac
The latest
Macs
have a variant of the
M1
processor, but each has their own tradeoffs and expenses. So far, the Mac mini has the widest variety of ports available with the fewest number of tradeoffs.
The
24-inch iMac
comes in two configurations, each with two
USB 4/Thunderbolt
ports. The higher-end model has two additional USB 3 Type-C ports, but they all have the limitation of supporting only
one external monitor
. The iMac
starts at $1,299
for the two-port configuration and $1,499 for the four ports.
The Mac mini, however, has a much more economical entry price of $699 with a wider port selection. Like other M1-based Macs, it only has two USB-C USB4/Thunderbolt ports, but it also has two USB 3.2 Type-A ports, a HDMI 2.0 port, a Gigabit Ethernet port, and a headphone jack.
It still suffers from the limitation of allowing only one external monitor over USB-C, but the HDMI port enables a second 4K monitor to be connected in tandem. That means
for $699
, you can have an M1 Mac with the same power as the iMac, but you'll need to bring your own monitor and keyboard.
This isn't a perfect solution, however, since the new iMac is available in seven bright colors and comes with color-matched accessories. The Mac mini is silver and the monitors mentioned are all black, so if you're looking for a cheaper utility computer without all of the colorful flashy designs, this is an option for you.
When Apple moved its iMac from 21.5 inches to 24-inches, it increased the resolution from 4K to 4.5K. This was to maintain a high pixel density at that screen size to meet Apple's definition of "Retina." The monitors you'll pair with the Mac mini will all be limited to 4K at 24-inches, but that shouldn't make much of a difference content-wise unless you're sitting inches from the display.
Add in the price of a mouse and keyboard to your Mac mini setup and you'll still come in less than the cost of a similarly specced iMac. It is also worth noting that you'll have a choice of Apple or third-party keyboard when buying a Mac mini versus being stuck with Apple's
Magic Keyboard
, Magic Mouse (that still charges on the bottom), or Magic Trackpad.
Best 4K monitors for the Mac mini
LG 24UD58-B
This 24-inch monitor by LG has a 3850 by 2160 display with two HDMI 2.0 inputs. The basic design, black color, and multiple port options make this a great budget-friendly monitor.
The two HDMI ports and DisplayPort mean you can connect up to three devices at once. There are three game modes for when you want to connect a game console to your spare HDMI slot.
The LG 24UD58-B is available for
$296.99 on Amazon
.
As one of the cheapest monitor options available in this size and resolution, you'll be left with plenty of wiggle room for more expensive accessories or a Mac mini with more storage. Get the $899 Mac mini with 512GB of storage and this monitor and you'll still come in $100 under the cheapest iMac.
LG 24MD4KL-B
LG makes many monitor types, and the Ultrafine line is one of the best. The LG 24MD4KL-B is a Thunderbolt 3 monitor that can also double as a hub with its three additional USB 3 Type-C ports.
This 24-inch 4K display has a 3840 by 2160 resolution with the P3 color gamut and 500 nits of brightness. It is essentially the standard color and resolution Apple used for the
21.5-inch iMac
4K.
There are also built-in speakers, so no need to clutter your desk with extra speakers unless audio quality is a concern.
The LG 24MD4KL-B is available new
on Amazon for $794.95
, but a certified renewed option is available at a much more budget-friendly
price of $529.99
.
If you get the renewed monitor with a base-model Mac mini you'll come in $70 under the base iMac model. This setup is more expensive, but it is the closest to replicating the 24-inch iMac in price and function. The biggest difference will be the 4K display in the LG monitor versus the more dense 4.5K display in the iMac.
Dell P2415Q
The Dell P2415Q is a 24-inch monitor with a 4K 3840 by 2160 display. It has 99% of the sRGB color gamut and multiple connection options.
There is a standard HDMI port and a DisplayPort for connecting multiple devices. Three USB 3 Type-A ports enable charging connected devices at 2A.
This monitor can be turned on its axis 90-degrees for a new vertical view. Since the Mac mini supports an HDMI-connected monitor, this would make a great companion monitor that sits next to a Thunderbolt display.
The Dell P2415Q is available
on Amazon for $699.99
. There is a 27-inch option with similar specs
for $629.00
.
This $699 monitor paired with the $699 runs slightly more expensive than the base model iMac, but cheaper than the higher-end iMac. This means you can upgrade the Mac mini to the better M1 chip with 512GB of storage and only come out $100 more expensive than the middle iMac. Of course you'll still need a mouse and keyboard separately.
This purchase would cost about the same as the iMac depending on the configurations chosen, as mentioned, but you'll still end up with a more versatile desktop setup as the Mac mini has more ports, USB Type-A, and the ability to connect to a second monitor over Thunderbolt or HDMI.
Philips 278E1A
If a 24-inch display isn't too appealing, then the size of the iMac probably wasn't either. There are plenty of 27-inch 4K monitors on the market. One budget option is the Philips 278E1A with 3840 by 2160 resolution and 109% sRGB.
Increasing the screen size to 27-inches with the same 4K resolution won't affect picture quality much, but it does reduce pixel density. Apple wouldn't classify this display as "Retina," but it will still appear sharp at normal distances.
This display has two HDMI ports, a DisplayPort, and dedicated audio ports. There are also built-in speakers to keep the setup simple.
The Philips 278E1A monitor is available
for $259.99 on Amazon
.
This budget 27-inch monitor is another great choice when price and utility are your primary concerns. As with the cheaper LG monitor, the Philips monitor leaves plenty of room for more expensive Mac mini configurations and better accessories. Consider a mechanical keyboard, a more ergonomic mouse, or more RAM to couple with this 27-inch monitor.
Mounting the Mac mini
The versatility of the Mac mini isn't limited to just its port configuration -- it's also owed to its size. Some of these monitors don't use the VESA screws for the stand, and can be used to attach the Mac mini to the back of the display -- or television. Do so, and you'll have a cobbled together all-in-one Mac at a lower price.
HumanCentric Mac mini Mount
The HumanCentric Mac mini Mount lets you attach the Mac mini to your wall, desk, or even the monitor itself. It comes with VESA screws, so you can hide the tiny desktop behind the monitor and only have to manage the power cord running off the desk.
The same mount comes with wall screws and anchors for placing the Mac mini anywhere you may need, even under the desk.
The HumanCentric Mac mini Mount is available
for $14.99 on Amazon
.
Versatility versus style
The 24-inch iMac is a stunning computer with a slim chassis and multiple color options, but that beauty comes at a price. Not only is it expensive, but it's also less compatible unless you buy docks or dongles.
You can get a Mac mini today at any official Apple retailer versus waiting until the iMac becomes available after its May 21 launch. It's a small Mac that can be placed in a bag and carried to the office or on a trip and will easily connect to a projector or hotel TV without needing a dongle.
The Mac mini starts at $699 but can be upgraded with an additional graphics core and 512GB of storage for $899. Buy the middle-tier Mac mini with any of the monitors mentioned here, and you're still coming in under the price of an iMac with the same configuration.
For some, the utilitarian nature of the Mac mini will be more appealing than a flashy, colorful iMac with few ports. For a limited time, readers can also take advantage of
exclusive M1 Mac mini deals
knocking up to $110 off every configuration at Apple Authorized Reseller
Adorama
using promo code
APINSIDER
during checkout
with this activation link
.
">