PayPal gets Passkey support on iPhone, iPad, Mac in U.S.
Posted:
in iOS
edited October 2022
PayPal is enabling support for Passkeys, a new standard for authentication that will enable
iPhone
, iPad, and Mac users to log in to the payment service without needing a password.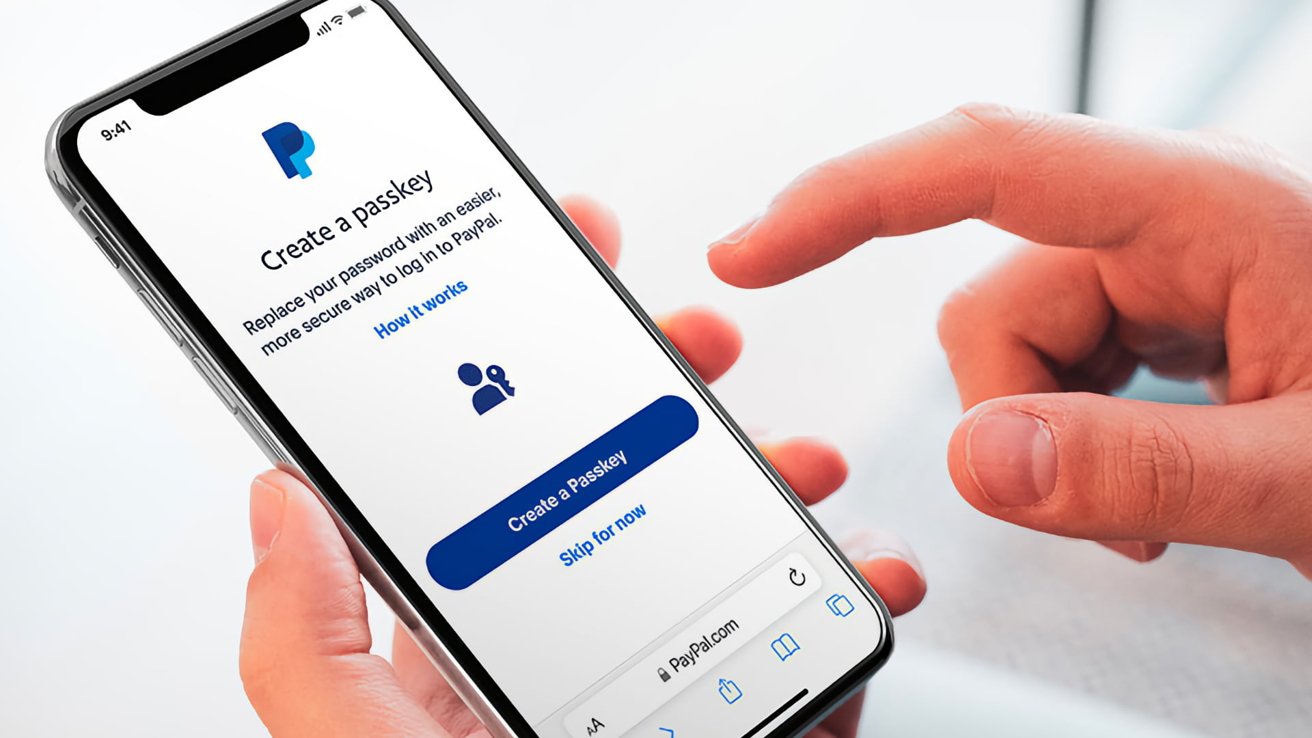 PayPal Passkey on an iPhone
Announced on
Monday
, support for
Passkeys
will be enabled for PayPal accounts. The change will add a new log-in option that will permit access to an account in a password-less but secure manner.
Under the change, owners of iPhones, iPads, and Macs will be able to set up Passkeys initially to access PayPal.com, with the company planning to expand to other platforms as the standard gains momentum.
Passkeys, created as a standard by the FIDO Alliance and the World Wide Web Consortium, uses cryptographic keys associated with a device to confirm an identity. Once set up, a user could log in to their PayPal account using
Face ID
or
Touch ID
, without a password being entered or shared over the Internet.
The benefits of Passkeys include a heightened level of security, more confidence that the correct user is signing in instead of an impostor, and a removal of a need to use or maintain a password. It is even possible to sync a Passkey with the
iCloud
Keychain, extending it to other Apple devices.
PayPal is rolling out Passkey support to all U.S. customers from today, with other countries set to get it in early 2023.
"Launching passkeys for PayPal is foundational to our commitment to offering our customers safe, secure and easy ways to access and manage their daily financial lives," said Doug Bland, SVP and GM, Head of Consumer, PayPal. "We are excited to provide our customers a more seamless checkout experience that eliminates the risks of weak and reused credentials and removes the frustration of remembering a password. We are making it easier for customers to shop online."
To set up a Passkey with PayPal, users must be using
iOS 16
,
iPadOS 16
, or
macOS Ventura
. After logging into the PayPal website in a browser using existing credentials, there will be an option to "Create a passkey."
The user is then prompted to authenticate with Face ID or Touch ID. The Passkey is then created and saved, so the user won't need to use the password the next time they log in.
Users who do set up a Passkey can still log in with it on other devices that don't support the standard natively. Instead, users will be prompted to scan a QR code that will appear after entering their user ID.
Read on AppleInsider