Emergency SOS via satellite available on Tuesday in US & Canada
Posted:
in iPhone
edited November 2022
Apple's Emergency SOS service will arrive on Tuesday, and enables stranded
iPhone 14
users in the US and Canada to use satellites to call for help when outside wireless coverage.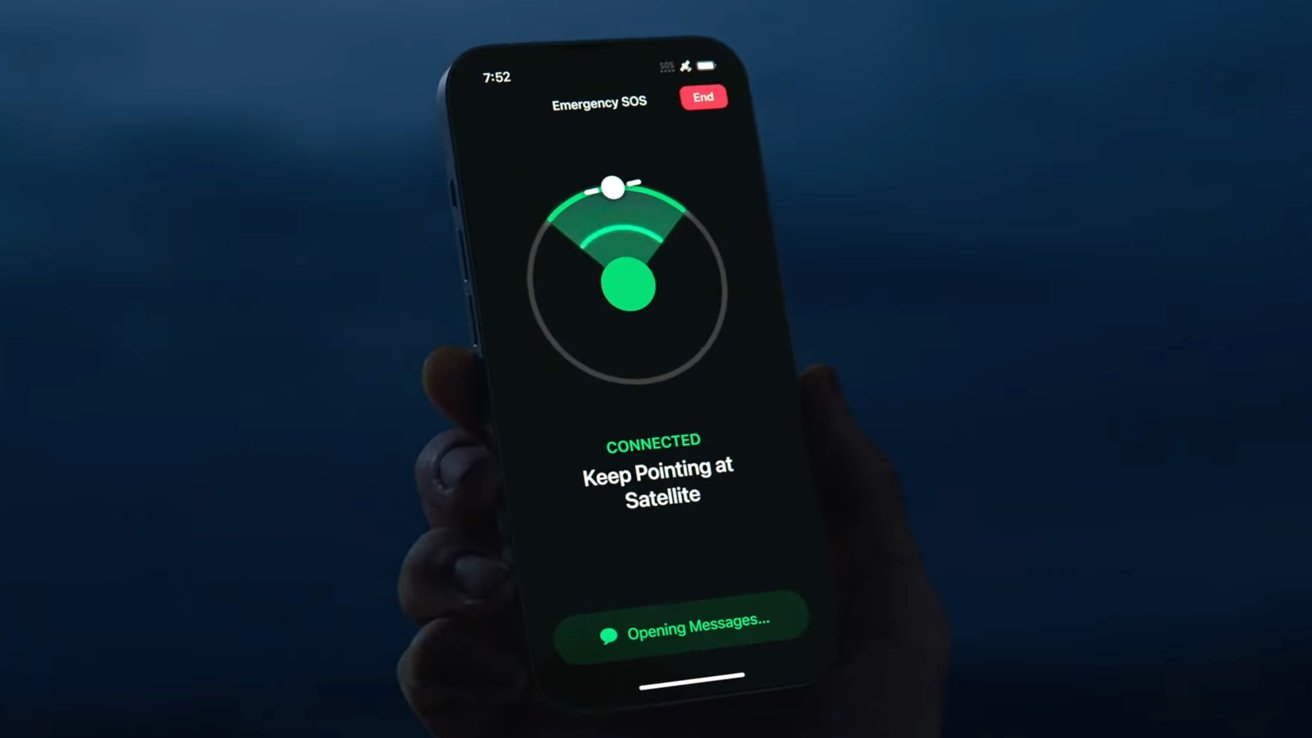 Emergency SOS via satellite
First announced at WWDC 2022, the new Emergency SOS feature is a combination of an
iOS
app, hardware within the iPhone 14 range, and the network of
Globalstar satellites
plus ground stations and staff. When a user in the US or Canada is in distress and away from either Wi-Fi or a regular cell connection, they can point their iPhone at a satellite.
"Some of the most popular places to travel are off the beaten path and simply lack cellular coverage," Greg Joswiak, Apple's senior vice president of Worldwide Marketing, said
in a statement
. "With Emergency SOS via satellite, the iPhone 14 lineup provides an indispensable tool that can get users the help they need while they are off the grid."
"Our teams worked tirelessly to tackle a new set of technical challenges to bring this service to life, in addition to building a reliable on-the-ground infrastructure," he continued. "Emergency SOS via satellite is a breakthrough service available only on the iPhone 14 lineup, and a new innovation that we hope will provide our customers some peace of mind."
The iOS app -- which requires iOS 16.1 -- helps users first locate a satellite overhead, then keep pointing the iPhone in the right direction as that satellite passes. To make the most of limited bandwidth, and the impossibility of maintaining a connection for very long, the iOS app asks questions.
It specifically prompts the user through the kinds of questions that any emergency response service would, such as whether anyone is injured. The app then collates that information, puts it into a text message which is heavily compressed, and then sent to the satellite.
Responding to emergency calls
What happens then depends on where a user is, and what the type of emergency is. In some or possibly most cases, that text message will be automatically received by the appropriate authorities and help will be sent.
There are emergency service providers who do not as yet work with text messages. In that case, the message from the iPhone is relayed to one of Apple's own new ground station call centers, where staff will notify the emergency services.
"We dedicate our lives to helping people in need, but there are inevitably people who are not able to contact a dispatcher," said Jennifer Kirkland, ENP, the Grand Junction Regional Communication Center's 911 center manager. "Emergency SOS via satellite will allow us to help iPhone users in more remote areas who might not otherwise be able to reach us."
"Because this service requires no additional technology for PSAPs, and because Apple has implemented a relay center model that 911 operators are familiar with," she continued, "we can expect a seamless rollout, both for the PSAPs that accept text messages, and for those that are still voice-only."
"Providing Emergency SOS via satellite is an important breakthrough that will save lives," Mark Ghilarducci, the California Governor's Office of Emergency Services' director, said. "The critical work being done by Apple to create innovative new solutions to support 911 providers and first responders is a huge step forward in protecting Californians and the broader public during an emergency situation."
Apple spent
$450 million
on establishing the satellite network and those ground station call centers.
Find My via Satellite
The new feature does not have to solely be used in emergencies. Apple says that without calling for help, the technology enables users to share their location via satellite using
Find My
.
A user with an iPhone 14, iPhone 14 Plus, iPhone 14 Pro, or iPhone 14 Pro Max, can open the Find My app and select the
Me
tab.
At present, this and the emergency service are available only to iPhone 14 users in the United States, Puerto Rico, the Virgin Islands, and Canada. Apple has now announced that it will launch in France, Germany, Ireland, and the UK in December.
Apple has said that the feature is free for the first two years after launch.
Read on AppleInsider