Audio-Technica AT-LP7 review: A very nice turntable for under $1,000
The Audio-Technica AT-LP7 turntable is a stealth work of art. From its modern, sleek design to its graceful and delicate operation, it's a complete package in a deceptively simple form factor. It's a perfect option for people looking to take their vinyl listening to the next level.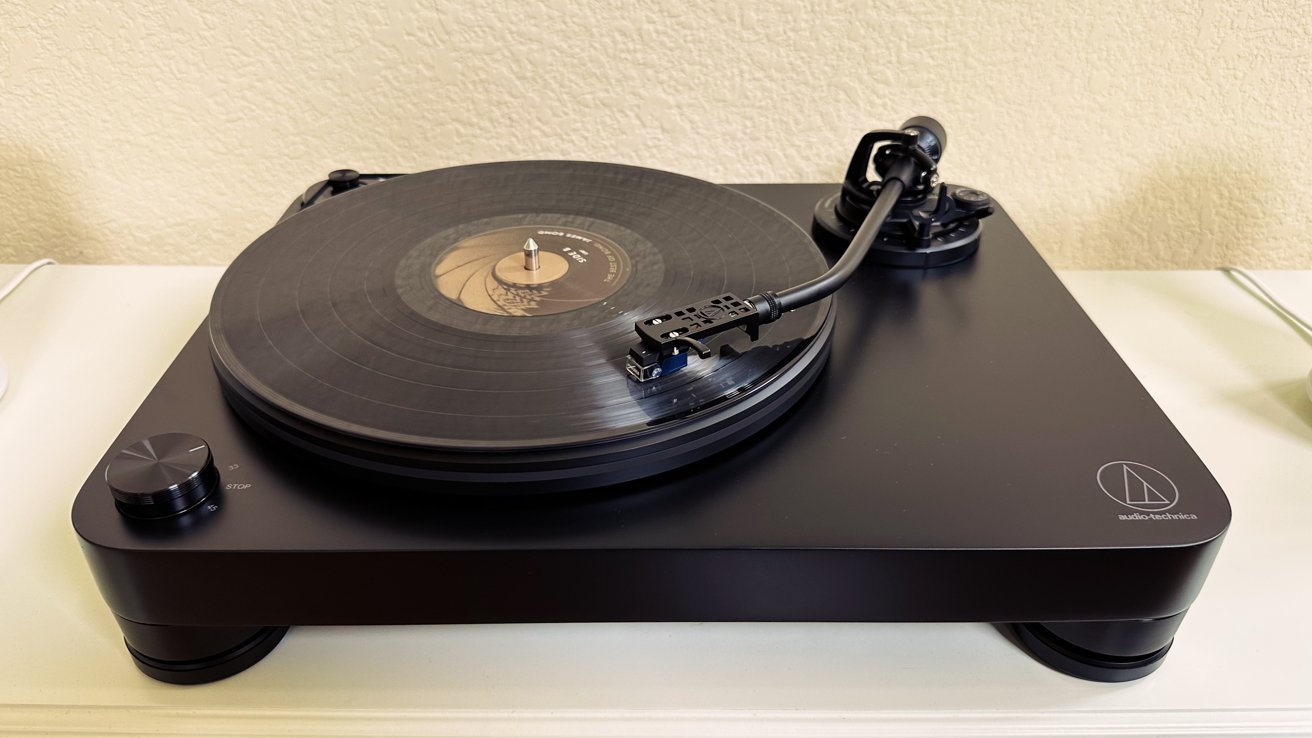 Audio-Technica AT-LP7
For those just getting into vinyl, it can be daunting to find a first turntable -- it can be challenging to figure out just how much you should be willing to spend.
Over the years, we've had several different turntables, but none as expensive as the AT-LP7. For people without any current vinyl setup, the AT-LP7 might be a stretch for a first turntable -- though not entirely out of the question.
The AT-LP7 retails for $849, so it's meant to be a finely crafted product that can meet people's needs now and grow with them in the future.
In our case, we liked the AT-LP7 as a second run at upgrading our system. After nearly a decade of lower-cost options, this one demonstrated the value of investing in a turntable that was incredible out of the box but allows for even better components in the future.
The features of the Audio-Techinca AT-LP7
The AT-LP7 turntable is fully manual, meaning it won't stop when it reaches the record's end or return the tonearm.
Adjusting speeds is done with a twist of a dial -- which was incredibly smooth and satisfying to turn.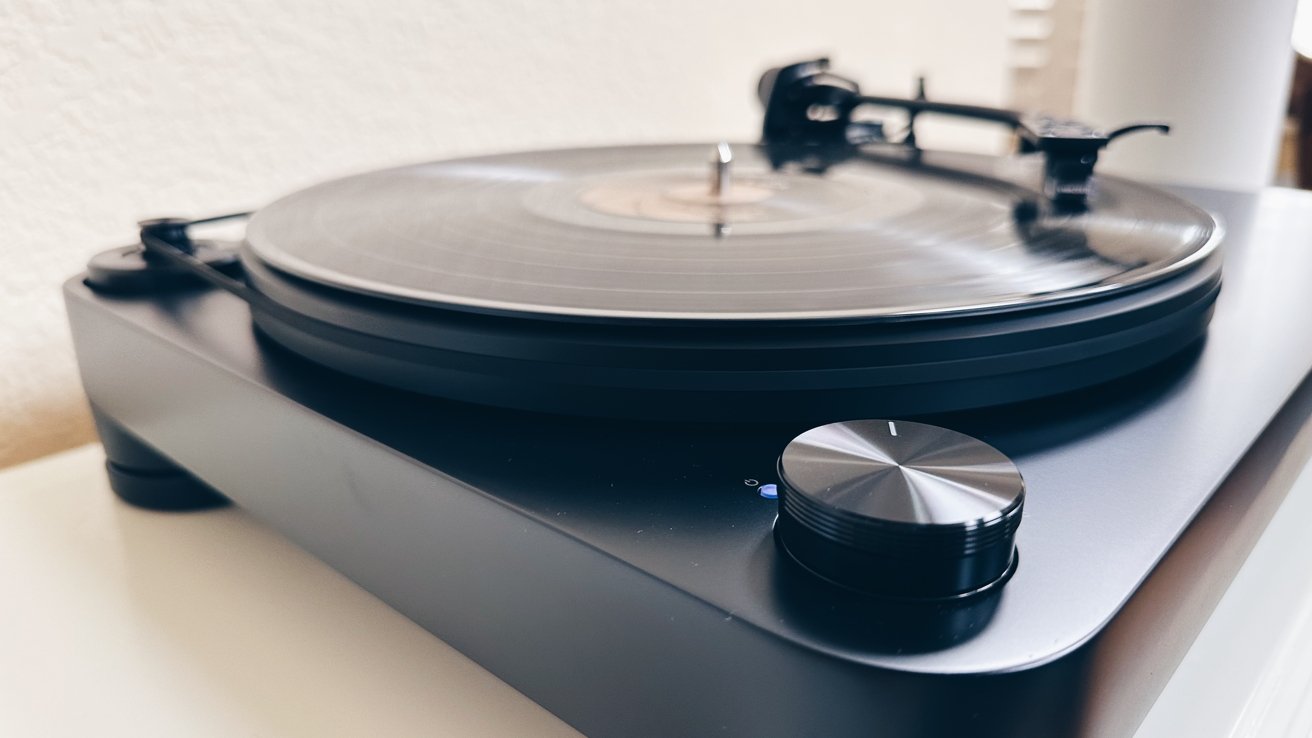 Speed knob
In fact, that was a big takeaway for us -- just how delicate and finely tuned all the components on the AT-LP7 were. The metallic gimbal suspension system allowed for precise tracking.
Other features include a J-shaped tone arm with AT-HS10 headshell, a bypassable phono pre-amplifier with selectable modes for moving magnet or moving coil cartridges, and a 20 mm-thick, anti-resonance, polyoxymethylene platter.
The dust cover is detachable, which is not necessarily a positive if you don't have a place to set it. However, we didn't mind having to remove and replace it, and we liked the completely black look of the AT-LP7 when the cover was removed.
The sound of the Audio-Techinca LP7
We played a range of albums on the LP7 turntable, including Billy Joel's "The Stranger," The National's "Trouble Will Find Me," and Ben Webster Quintent's "Soulville" to get a mix of genres.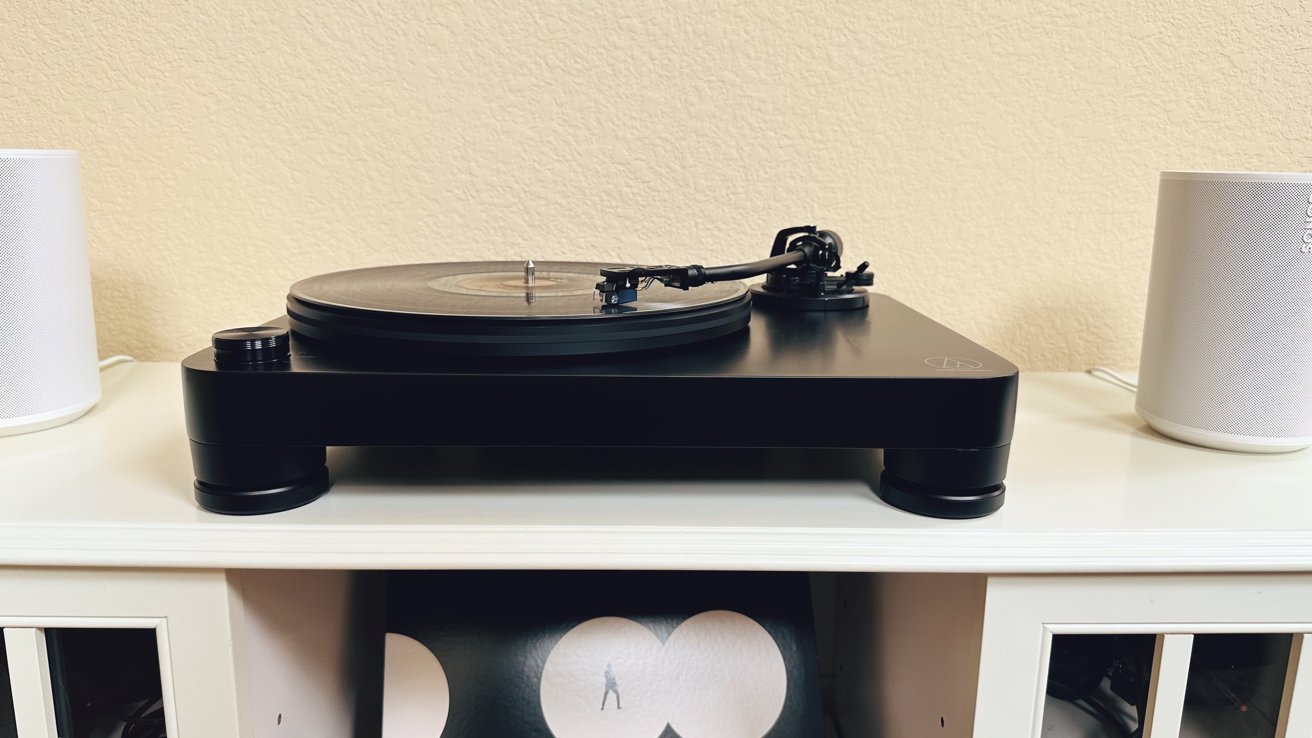 AT-LP7 playing a vinyl record
In each case, the songs were detailed and sounded full. We tried several different speaker configurations, including a stereo pair of the new Sonos Era 100, Edifier R1280DB, and the Marshall Stanmore III. The turntable worked great with each of these -- completely silent and issue-free.
We didn't have any concerns with the built-in phono preamp, coming from lower-end turntables, and we liked that it could be bypassed in the future.
We did have to fiddle with the weight on the tonearm a few times to get it just right, but that was more about us getting familiar with it rather than a fault or negative. We didn't need to use the anti-skiing dial, but it was available if we needed it.
The AT-LP7 and its VM520EB dual moving magnet stereo cartridge provided crisp and clear music reproduction, better than we had heard on sub-$600 turntables from U-Turn and
Victrola
.
While we're not quite ready to experiment with new cartridges yet, we liked the ability to do so across a range of different options when the time comes.
Is Audio-Technica LP7 worth upgrading to?
With an $850 retail price, the Audio-Technica AT-LP7 turntable is a significant investment. Beginners could jump straight to it, but we recommend building up to it first.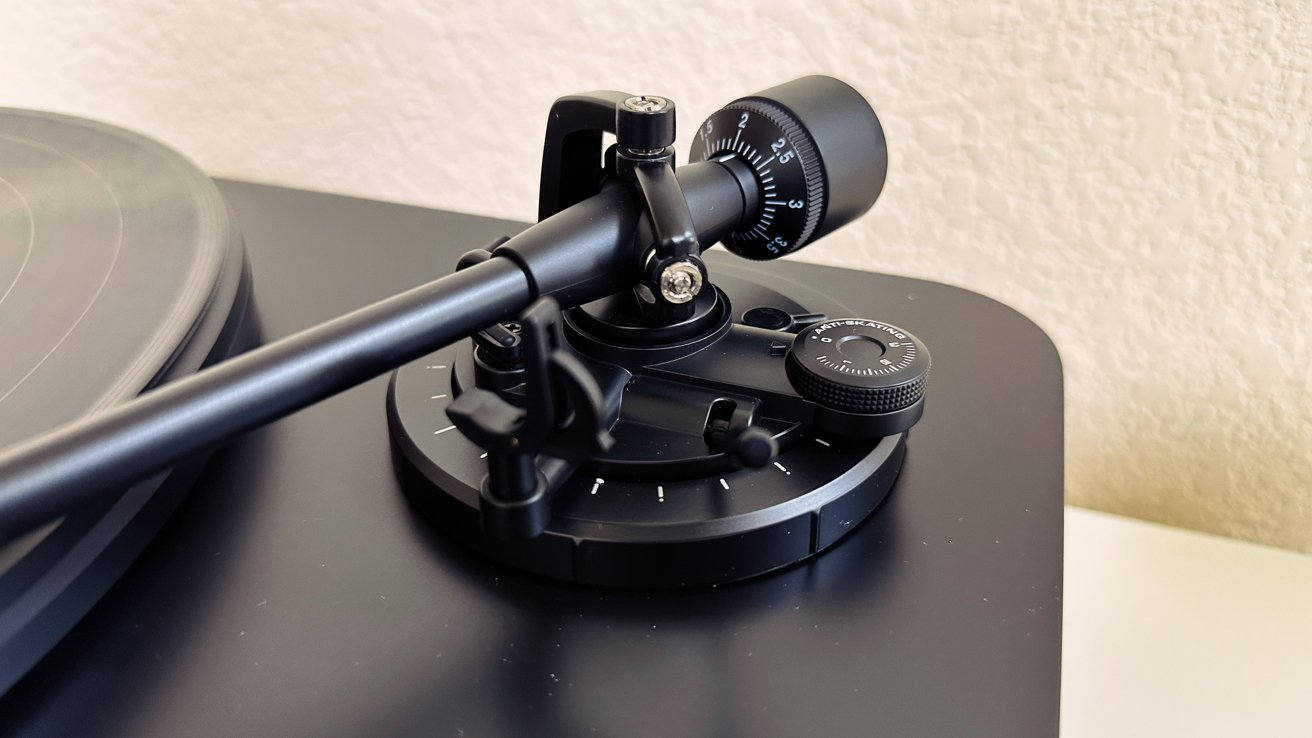 Gimbal suspension system
If you have speakers you like and an existing turntable you're looking to replace, we liked what the AT-LP7 offered. We think it could be the last one you need to buy with the ability to upgrade the cartridge or bypass its onboard phono preamp.
Rather than being automatic, the manual aspect of it could be a little disappointing, but beyond that and the dust cover that may need a storage spot, this turntable was primarily all upside for us.
Pros
Excellent sound quality out of the box


MM/MC cartridge selector


Replacable stylus and upgradable cartridge
Cons
Fully manual turntable


Non-connected dust cover
Rating: 4 out of 5
The AT-LP7 is available for purchase at
Audio-Techinca
and
Amazon
for $849.
Read on AppleInsider