Nineteen years ago today Apple began selling iPod
On Saturday November 10, 2001, Apple began selling iPod, a new product the company described as "a breakthrough MP3 music player that packs up to 1,000 CD-quality songs into an ultra-portable, 6.5 ounce design that fits in your pocket."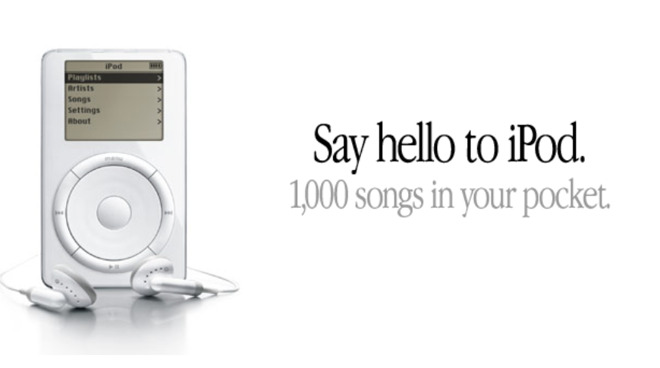 Nobody could've imagined how this device would succeed -- and then vanish.
A couple of weeks earlier, Apple's Steve Jobs had unveiled the new device, stating that "with iPod, Apple has invented a whole new category of digital music player that lets you put your entire music collection in your pocket and listen to it wherever you go."
Jobs predicted, "with iPod, listening to music will never be the same again."
Philip Schiller, Apple's vice president of Worldwide Product Marketing, announced at the time that "with its breakthrough design and ease of use, iPod may be one of the hottest gifts for every Mac user this holiday season."
Apple ended up selling 125,000 units in the winter quarter of 2001.
The
new device
sold for $399, packed 5 GB of storage, a 160-by-128-pixel "high-resolution display," and a FireWire port for connecting it to a Mac. It was bundled with iTunes 2 on CD, headphones and a FireWire power adapter.
Using the original iPod required a Mac running either Mac OS 9.2 or the new Mac OS X 10.1. Apple wouldn't release an iPod capable of working with a Windows PC for another seven months.
In April 2003, Apple released a fully touch-sensitive third generation iPod with a new Dock Connector port that could be used with both FireWire or USB, the latter of which made it much easier to use with generic PCs, few of which shipped with a FireWire interface.
By September 2003, Apple had shipped its first million iPods. The next year it sold 4.4 million iPods, eclipsing sales of Macs as Apple created a new
iPod Division
. At the beginning of the winter quarter of 2005 Apple had sold another 22.5 million, jumping to 39.4 million in fiscal 2006.
iPod launches iPhone
The wild success of iPod helped Apple fund the company's iTunes Store infrastructure and paved the way for the iOS App Store through the development of simple iPod games that Apple began selling. It was also a boon for Apple Stores, which saw tremendous traffic volumes new to the Macintosh.
Years of investment in its retail stores, online media store and increasing sophistication in mobile device design and operational management required to build and ship tens of millions of iPods set Apple up to launch
iPhone
into a crowded and entrenched market for mobile phones.
By the time Apple began selling iPhone in 2007, it had sold over
100 million iPods
and the iTunes Store featured the world's largest catalog with over five million songs, 350 television shows and over 400 movies. Apple had sold over 2.5 billion songs, 50 million TV shows and over 1.3 million movies, making it the world's most popular online music, TV and movie store.
Four years later, Apple passed oil giant Exxon Mobil in market capitalization to become
the most valuable public company on Earth
.
iPod retires
Sales of iPhones were supported by Apple's creating a non-cellular version of the iPhone and calling it the iPod touch, an iOS device that ran the same apps. The iPod touch helped to attract and transition users from the once wildly popular BlackBerry and Symbian platforms to iOS.
Still the iPod did press on, and Apple continued to have an annual iPod media event -- until 2013.
After that, the iPod became little more than the name of an app on the iPhone that was later renamed to just Music.
However, if the iPod's glory days are a decade behind us, the device isn't finished yet. Apple even
revisited the iPod touch in 2019
to create a desirable, lower-cost iOS device.