Review: OWC Thunderbolt 3 dock is the only game in town for FireWire 800
Vendor OWC has been supplying Mac users with upgrades for more than two decades, and the company continues that commitment with its own Thunderbolt 3 dock -- AppleInsider examines the offering.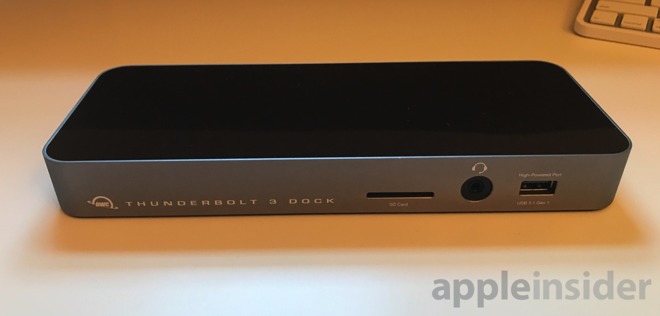 Editor's note: This review was originally published in May of 2017, but is being republished in September, as the dock is now shipping to consumers.
The Thunderbolt 3 Dock connects to a host Mac through a too-short but included 0.5-meter Thunderbolt cable. A major selling point of the dock, like most, is that it can support two 4K displays at 60Hz with one connected to the Mini DisplayPort and one through the pass-through Thunderbolt 3 USB-C port, a Gigabit Ethernet connection, and up to six USB devices.
Differentiating it from most, is it also has a FireWire 800, optical TOSlink, and a SD card reader. It also appears to be the first Thunderbolt 3 dock to ship with 60W of charging power, rather than just 15W.
Initial connection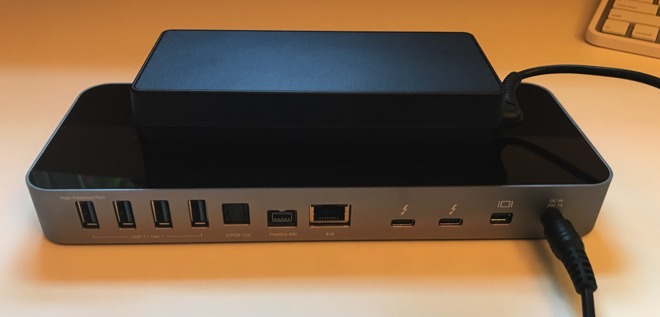 As with most Thunderbolt docks, the OWC Thunderbolt 3 dock is driver-free in macOS, but the FireWire 800 port doesn't work in Boot Camp at all.
Mass storage devices, input devices, and output devices all work perfectly, just like they were natively plugged into the host computer.
The power supply is once again, massive, and hot. This is probably related to charging power demands, and in all likelihood will pertain to all Thunderbolt 3 docks, especially those that supply full power to a connected MacBook Pro.
What about that SD card slot?
A possible selling point for the dock is the SD card reader. There are a variety of speed ratings for SD cards these days, and we've got a few on hand.
SDHC cards transfer at full 25MB/second speeds. SDXC cards will reach about 80MB/second -- a bit less than the peak 105MB/sec allowable by the 3.01 specification supported in the dock.
USB and UASP
As we've mentioned before, some cases and docks don't support UASP. Assuming both your enclosure and dock support it, the protocol provides for faster file transfers than gear that doesn't support it.
The OWC Thunderbolt 3 dock does in fact support it, so check that one off the desired features list.
Video testing
As with the CalDigit TS3 Lite dock we tested, dual 4K displays operate without issue. Additionally, the LG Ultrafine 5K Thunderbolt 3 display can be daisy-chained off the dock with no issue and no connectivity limitations for the on-board ports induced by the connection, even when we fully loaded a USB port with a SSD RAID and performed a massive data transfer across the Gigabit Ethernet port.
However, as with other docks, don't connect anything to the monitor while using the dock more arduous than a keyboard. The demands on the Thunderbolt 3 port when you add the USB-C on the monitor plus the dock's ports are just too great.
A note on drive enclosures
We've got an assortment of FireWire 800 drive enclosures we've had for years, and they all worked fine. However, buying a $300 dock to use them may be throwing good money after bad.
If the enclosure is truly old, then it uses PATA drives -- the old ribbon cable, last seen in the optical bay of the Mac Pro and not used for a hard drive since the days of the G4.
If the enclosure is newer than a decade old, it probably uses SATA drives. If this is all you need the dock for, you'd be better off getting a new enclosure, and moving the drives over, for more universal compatibility.
Testing 1,2,3, testing!
With the rare exception of some surviving FireWire drive enclosures, the most probable class of equipment demanding FireWire 800 connectivity on a 2016 MacBook Pro are audio interfaces.
The first hurdle is Sierra compatibility. Some devices just don't have Sierra drivers. The second is physical connectivity - without Firewire, the devices won't connect either.
In limited trials, the Universal Audio Apollo FireWire, and Apollo 16 FireWire worked properly in Sierra through the OWC Thunderbolt 3 dock with the latest drivers. An offically unsupported Alesis Multimix 16
worked with a hack
, much to the relief of our audio hardware supplier. Only one unit can be connected through the chain, but that's a limitation of the driver, and not the dock.
If you want FireWire 800, there is one choice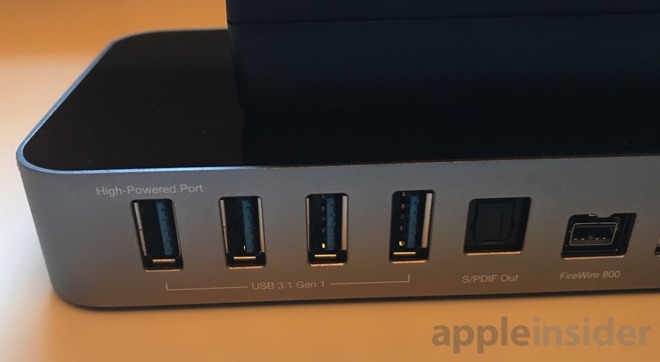 Here's the problem with reviewing docks. They work without hacks or they don't, they supply sufficient charging power, or they don't -- easy enough.
Unless a review says that the dock just doesn't function, buyers select a Thunderbolt 3 dock not on reviews, but based on the ports they have. Some Thunderbolt 3 docks have DisplayPort, HDMI, or Mini DisplayPort. Those don't really sway the purchaser, because modern monitors seem to have both DisplayPort or HDMI -- or a cable will get you there.
But, if you want FireWire 800 and you've got a 2016 MacBook Pro, options are limited. Users can either drop about $100 to get Apple's Thunderbolt 3 to Thunderbolt 2 adapter and then a Thunderbolt 2 to FireWire 800 adapter -- and even that is iffy and not universally compatible.
For $200 more, the vaunted "single cable solution" can be had with FireWire 800 devices in the mix, with either dual-4K or 5K plus all the other connectivity that the dock brings. That's what will sell the $299 OWC Thunderbolt 3 dock, more than any words hammered out from a test bench.
Score: 4 out of 5
AppleInsider
rates the OWC Thunderbolt 3 dock a four out of five. While the
$299 price
is steeper than other options, the added connectivity of the SD card slot and FireWire 800 will sell the dock to a good portion of legacy Mac hardware users who want new gear.
If only we could convince manufacturers to include cables that are suitable for more than just initial testing.
Where to buy
Those looking for the best deal on the OWC Thunderbolt 3 dock can find the accessory on sale for $297.50 at both
B&H Photo
and
Adorama
with free expedited shipping and no tax outside NY and NJ.