Review: Apple's 2017 10.5" iPad Pro stuns with 120Hz ProMotion display
Posted:
in iPad
edited January 2021
Apple's new 10.5-inch iPad Pro takes a device that was already a best-in-class tablet and makes it even better, headlined by a larger display with a stunning 120Hz refresh rate. But with a $649 starting price, Apple cuts just a few too many corners for our liking, especially when compared to the value proposition of the recently released $329 9.7-inch iPad.
Priced at $649, the new
10.5-inch iPad Pro
comes in with a price tag $50 higher than its predecessor. Apple justifies the price hike with a new entry-level capacity of 64 gigabytes, helping this device to stand out as a true "pro" tablet.
For $749, capacity can be increased to 256 gigabytes, while a maxed-out 512-gigabyte model costs $200 more than that: $949. For a $130 premium, all capacities can be purchased with integrated 4G LTE connectivity.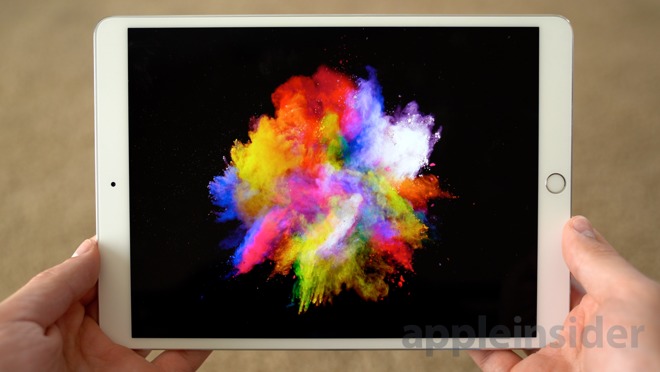 These are Apple's most expensive tablets ever, but thankfully, the iPad Pro hardware itself justifies the price tag. For the most part.
The new ProMotion display is stunning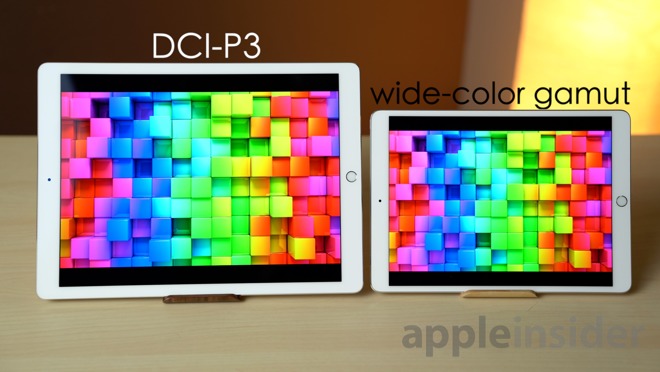 Growing the standard iPad screen size from 9.7 to 10.5 inches is an excellent move from Apple made with minimal compromise. By shrinking the bezels on the sides of the device, the screen gains more valuable real estate without drastically increasing the size of the device.
In fact, when in your hand, the 10.5-inch iPad Pro does not feel perceptibly different. It weighs the same as its predecessor, and it feels similar in the hand. We didn't really appreciate the size difference until we took a legacy iPad Air 2 with 9.7-inch screen and put it atop of 10.5-inch Pro for a direct form factor comparison.
The slightly larger screen offers one key difference: When used in landscape mode, the onscreen keyboard is now a full-size keyboard, rather than the previous, slightly shrunken typing space. If you're a touch typist on a regular keyboard, this makes a big difference when tapping out an email onscreen with the iPad Pro.
While the larger screen is appreciated, it's the entirely new display technology that impresses. Dubbed ProMotion, the technology found in the new iPad Pro enables the screen to run at a stunning 120Hz.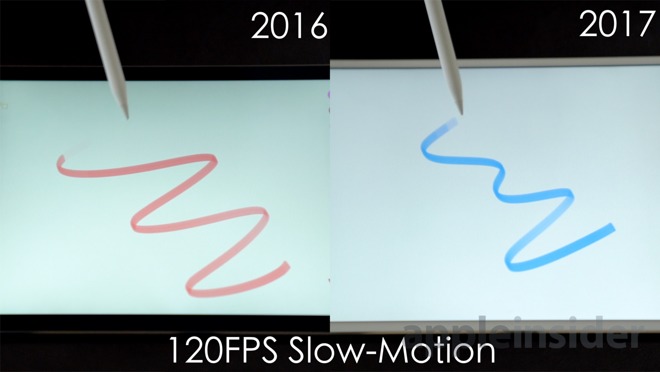 It's difficult to appreciate the difference this makes in the fluidness of iOS without experiencing the new iPad Pro in person. Simple acts such as scrolling on a website or switching between home screen pages now happen more fluidly, with details and letters crisp as the content moves.
The ProMotion display isn't quite the upgrade the Retina display was for Apple's products, but it's significant. And unlike the True Tone option that launched with the 2016 iPad Pro, we think the 120Hz ProMotion display is a true selling point that will allow the new 2017 model to stand out from the pack even further.
That selling point is especially valuable if you're an avid Apple Pencil user. The 120Hz display allows the screen to be even more responsive when used with the Apple Pencil, making it feel even more like writing on paper when using the wireless stylus.
Apple says the latency on the new iPad Pros has been reduced to just 20 milliseconds, making it the best in the industry. Simply put, if you're an artist who wants to draw on a tablet, you want a 2017 iPad Pro.
And thanks to some behind-the-scenes technical wizardry, the higher bandwidth and processing power required for the ProMotion display do not affect battery life. Apple says the display refresh rate adjusts automatically to match the movement of content, in turn reducing power consumption when necessary.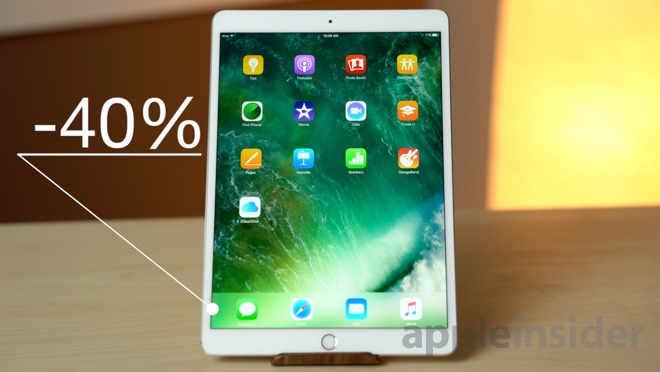 As such, the new 2017 iPad Pro is rated with a 10-hour average uptime on a single charge, and in our testing we found that usage of the new iPad was comparable to past models. We had no problem getting through a couple of days of consistent and heavy usage before needing a recharge.
Finally, the screen is the brightest yet for an iPad. It also carries over the True Tone feature introduced in 2016 for color accuracy, it has an antireflective coating for better use in sunlight and bright rooms, and it's the first iPad display capable of displaying HDR video content.
The display has always been the centerpiece of the iPad, used for both viewing and interacting with content. The 2017 10.5-inch iPad Pro does not disappoint.
The rest of the hardware is basically perfect
It's hard to find much fault with the rest of the iPad Pro hardware. At this point, the design has been refined and perfected to a point where there is little much else Apple could possibly do with current technology.
It's light. It feels great in the hand. It's ultra portable.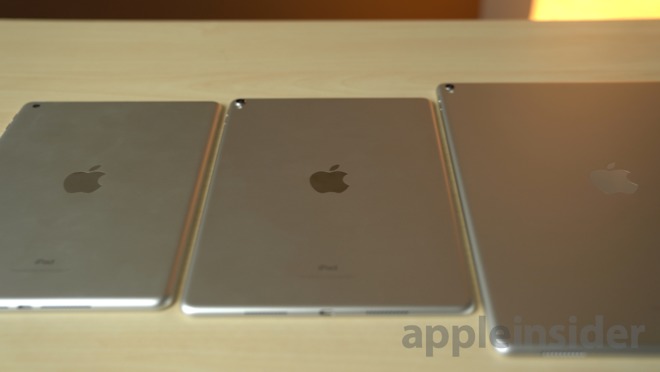 Largely unchanged from the 9.7-inch 2016 iPad Pro, the larger 10.5-inch model boasts the aforementioned thinner bezels. On the bottom it continues to have a physical home button -- and unlike the iPhone 7 series, this button still clicks.
Apple says the iPad Pro's Touch ID sensor has been updated with a second-generation model that is twice as fast, first introduced on the iPhone 6s. Our repeated side-by-side tests showed a new iPad Pro unlocking at the same speed as a 2015 12.9-inch iPad Pro, so we could not tell any difference.
Everything else you would expect is here: dedicated volume buttons, a lock button, and the Smart Connector for thin, battery-free keyboards.
It also has the same same cameras as the iPhone 7, notably a 12-megapixel rear shooter. And yes, the camera bump remains. We question whether such a high quality camera is even necessary on a tablet, particularly if the result is the strange protrusion on the back of the device, but it's a minor quibble.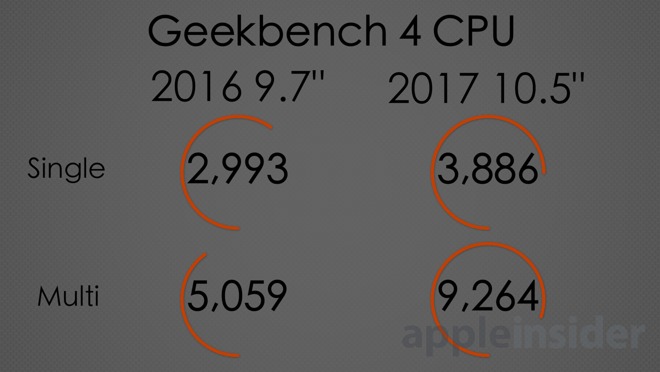 Inside is the new A10X processor, which somehow blows away the performance of last year's iPad Pro and A9X CPU. Apple's chip design department is operating on another level, so much so that there isn't really much in the way of software that truly taxes even last year's iPad Pro, let alone this year's major upgrade.
We ran the assorted Geekbench benchmarks and saw a multi-core CPU score of 9,322, and a single-core performance of 3,942. The compute Metal score clocked in at 27,288.
An Octane 2.0 browser benchmark returned a score of 31,062, and finally the 3D Mark Slingshot Extreme score was 4,014. RAM has also been bumped to 4 gigabytes.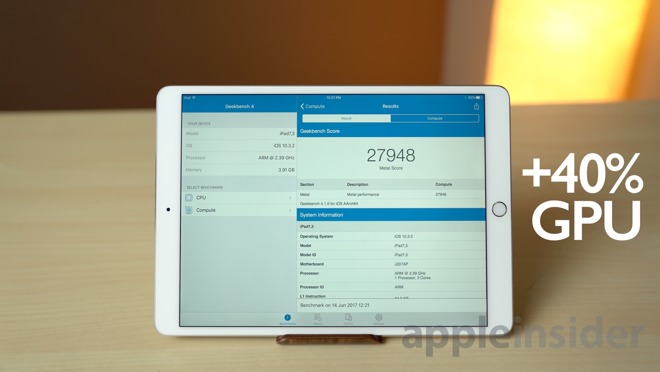 Frankly the horsepower of the 2017 iPad Pro is absurd, and seems almost unnecessary given the state of tablet software at the moment. We hope the extra overhead pushes developers to truly take advantage of the A10X in the months and years to come.
Oh, and the Lightning port on the bottom features USB 3 speeds, meaning connected accessories can transfer data more quickly, and the device can also charge faster. About that quick charging, though...
For $649, the 29-watt charger should be standard
We noted last year in our review of the
9.7-inch iPad Pro
that its $599 price tag was high. This year, Apple has increased the cost by another $50.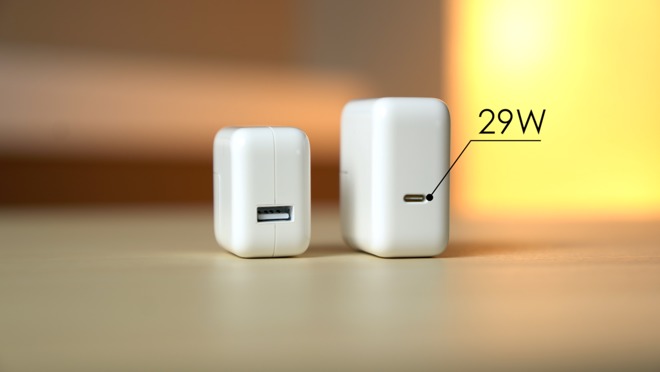 Sure, the 120Hz display is, in fact, stunning. And the A10X Fusion chip is more powerful. And the 10.5-inch form factor, with smaller bezels, is an improvement.
But at $649, the 2017 iPad Pro ships with a paltry 12-watt charger, even with faster USB 3.0 charging speeds capable through the updated Lightning port.
This is admittedly less of a concern on the 10.5-inch model with 30.4-watt-hour battery than the 12.9-inch iPad Pro and its 41-watt-hour battery. But regardless, for both models, it is a nearsighted move that should have been addressed in the box.
Apple sells a 29-watt power adapter, albeit
with a USB-C connector
, that is capable of charging the new iPad Pros much faster. Why didn't Apple include this in the box? It could be a cost cutting measure, which would be a shame considering the entry price has gone up again.
As a consolation for the $649 price tag, Apple has increased the entry-level capacity to 64 gigabytes, which helps to justify the "Pro" branding. But the Apple Pencil and Smart Keyboard remain sold separately.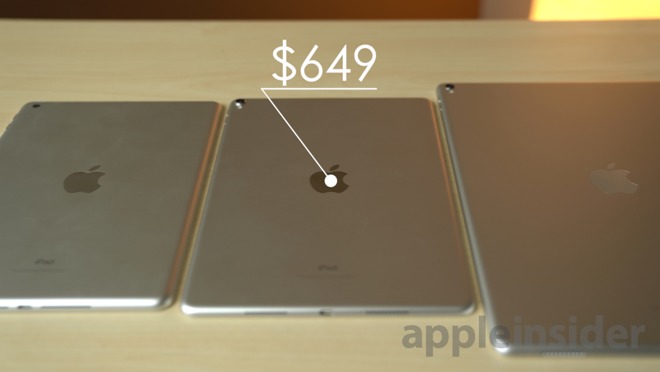 If you intend to get the most out of the new 10.5-inch iPad Pro, Apple's 29-watt adapter is $49, a 1-meter USB-C to Lightning cable is $25, Apple Pencil is $99, and the Smart Keyboard (for the 10.5-inch iPad Pro) is $159. Add in all of those accessories, and suddenly a $649 iPad Pro comes to $981.
We're not saying that Apple should include the Pencil or keyboard in the box, of course. But consumers should consider the extra costs of these accessories, and Apple should consider making the 29-watt power adapter standard, in the box, for all iPad Pro models going forward.
Why hasn't the company made the switch? It's possible that officials are concerned that shipping the device with a USB-C to Lightning cable -- one that cannot be connected to most current PCs on the market -- would actually hurt consumers.
But considering the fact that the iPad Pro is intended to be a standalone device, not dependent upon a full-fledged computer, it's time for Apple to make the jump with this product line.
Smart Connector port needs more support
The Smart Connector remains a great addition to the iPad Pro, but support for it is limited. It is unclear whether the lack of accessories are a result of Apple restricting access to it, or a lack of interest from third-party manufacturers.
Regardless, the Smart Connector port is there, and if you wish to pony up the extra money for Apple's Smart Keyboard, it offers a vastly improved text entry experience.
New additions launched earlier this month
from Logitech
in the form of their Slim Combo keyboards. The 10.5-inch version is more affordable than Apple's keyboard, at $129.95, and includes a protective case that covers the rear of the iPad.
We tried using our Logitech Base Smart Connector charging station with the 10.5-inch iPad Pro, and it did not work. It is unclear if any changes were made to the Smart Connector with this year's hardware, but
one AppleInsider reader
using a new iPad Pro running the iOS 11 beta found that Logitech Base charging dock works as expected, suggesting it could be a software or firmware issue.
Update:
Without any changes to the iPad or Logitech Base, Smart Connector charging began working again. Officials from Logitech said the 10.5-inch iPad should work fine with the Base, and Apple said no changes were made in the latest version of the Smart Connector, so we're chalking it up to a random bug.
Outside of Apple's Smart Keyboard and a trio of accessory options from Logitech, the potential of the Smart Connector remains untapped. We would like to see more accessories compatible with the magnetic port, including different keyboards and docking station configurations, or whatever else accessory makers can think up.
The iPad Pro's main competitor is Apple's own budget iPad
If you're in the market for a tablet and you're weighing your options, the best case against the 10.5-inch iPad Pro comes from Apple itself. Launched earlier this year, the
$329 iPad with 9.7-inch Retina display
, quite frankly, offers a better value proposition than the 2017 iPad Pro.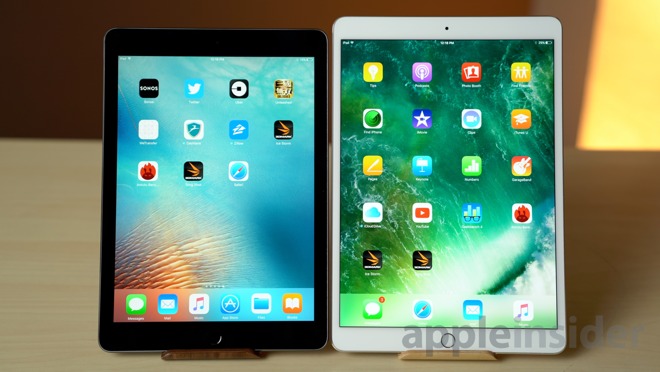 Sure, corners were cut to achieve a $329 price. But if you have no intention of buying an Apple Pencil, and you're content with the many Bluetooth keyboards available for the 9.7-inch frame, we think most buyers will be more than happy with the cheaper model -- especially considering the hefty $649 starting price of the iPad Pro.
If you opt for the $329 iPad, you'll see a reduction in storage from 64 gigabytes to 32. But for just $100 more, and still $220 cheaper than the iPad Pro, you can quadruple that to 128 gigabytes.
Other sacrifices that come from sticking with the entry-level model include the smaller 9.7-inch display, thicker bezels, poorer cameras, and a lack of True Tone and 120Hz ProMotion technology. The screen on the budget iPad also has a slight but noticeable gap between the display and the cover glass, while the iPad Pro display is laminated to the glass.
The A9 chip isn't quite as beefy as the A10X either, but it's more than capable of delivering great performance for most users. And most importantly, the A9 will deliver all of the new features coming to the iPad this fall with iOS 11.
iOS 10 is good, but iOS 11 will be a game changer
We didn't install iOS 11 on the new 10.5-inch 2017 iPad Pro for the purposes of this review, as we wanted to focus on the current out-of-the-box experience for users running the latest public release of iOS. However, this review would not be complete without at least noting what is to come in the future.
Having beta tested iOS 11 on a 12.9-inch iPad Pro for a few weeks now, we can assuredly say it is a game changer for Apple's tablet lineup. Going from iOS 11 back to iOS 10 felt like a step backwards in many ways as we tested the new device.
If you buy a new 10.5-inch iPad Pro, you'll be tempted to install the iOS 11 beta on it, though
you probably should not, at least yet
-- especially if your iPad is a mission-critical part of your daily workflow. Beta software exists for a reason, and in its current pre-release state, iOS 11 still has a number of bugs to iron out.
At the very least, prospective buyers looking to take advantage of all iOS 11 has to offer should wait for the first public beta of the upcoming operating system, which is expected to arrive before the end of the month. But most users who rely on their iPad for day-to-day use should exercise patience and wait for the release of iOS 11 this fall, likely in September.
Your patience will be rewarded, as iOS 11 -- and in particular the new app dock and multitasking modes -- bring a great deal of professional-grade capabilities to the iPad Pro. We won't ding the 10.5-inch iPad Pro for running on iOS 10 right now, and we don't think you should wait for the operating system's release if you need an iPad right now, but you should know that the experience on the device will be vastly improved in just a few short months.
Conclusion
Last year, we gave the
9.7-inch iPad Pro
a score of four out of five. Some of our issues with that release -- 2 gigabytes of RAM, a USB 2 speed Lightning port -- have been addressed.
Our concerns about the price not only remain, but have been amplified.
The $599 entry price for the 2016 9.7-inch iPad Pro felt steep, especially when previous iPads had debuted at a $499 price. This year, Apple went in the opposite direction, increasing the base cost to $649.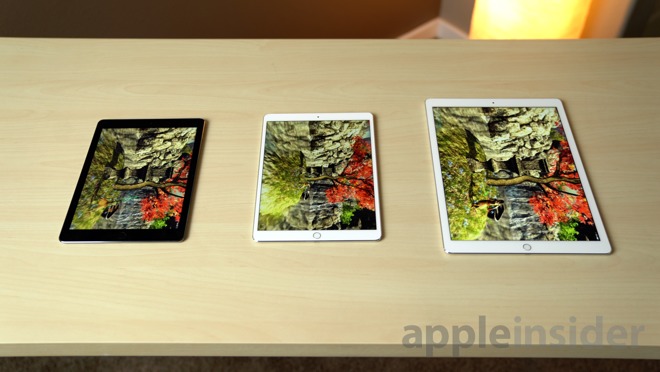 There's more value in that price, including the 64-gigabyte entry capacity, and the stunning new 120Hz display. But the lack of a 29-watt power adapter in the box is a nearsighted omission that will actually hurt user experience, and asking customers to spend $75 more to gain faster charging capabilities is frankly a mistake.
Those are really the only issues we have with the 2017 10.5-inch iPad Pro. If you typically leave your iPad charging overnight, as we would guess many customers do, then this likely is not a concern for you. You may not notice or care about the faster charging option.
You will, however, notice the 120Hz ProMotion display and its fluid response time. You will notice the world-class hardware design. You'll notice how fluid iOS runs, how light and thin the iPad Pro is in your hand, and how much impressive technology has been packed into an incredibly thin chassis. And if you want to use the Apple Pencil and Smart Keyboard, the iPad Pro is the way to go.
You could get some of that -- but not all -- for nearly half the price, with Apple's $329 9.7-inch iPad. The sacrifices you would make would be small but noteworthy. The money you save would also be noteworthy.
If last year's impressive iPad Pro lapped its true tablet competition, this year's updates to both the iPad Pro and the 9.7-inch iPad would appear to bump large touch-focused tablets off of the course entirely. In the tablet race, Apple is now essentially competing with itself.
Score: 4 out of 5

Where to buy
Apple's new 2017 10.5-inch iPad Pro is available at Apple authorized resellers with instant discounts and tax incentives. Adorama and B&H Photo will not collect sales tax on orders shipped outside NY and NJ, while MacMall is knocking $5 off every model. The configurations shown below are in stock and ready to ship, while a full list of storage and LTE options can be found in our
10.5-inch iPad Pro
Price Guide.
10.5-inch iPad Pros in stock & ready to ship
64GB Space Gray Wi-Fi Only for
$649.00
@B&H
($52 off in tax outside NY & NJ)
64GB Space Gray Wi-Fi Only for
$644.00
@MacMall
($5 off)
64GB Gold Wi-Fi Only for
$649.00
@B&H
($52 off in tax outside NY & NJ)
64GB Gold Wi-Fi Only for
$649.00
@MacMall
($5 off)
64GB Rose Gold Wi-Fi Only for
$649.00
@B&H
($52 off in tax outside NY & NJ)
64GB Rose Gold Wi-Fi Only for
$644.00
@MacMall
($5 off)
64GB Silver Wi-Fi + Cellular for
$779.00
@B&H
($62 off in tax outside NY & NJ)
64GB Silver Wi-Fi + Cellular for
$774.00
@MacMall
($5 off)
64GB Space Gray Wi-Fi + Cellular for
$779.00
@B&H
($62 off in tax outside NY & NJ)
64GB Space Gray Wi-Fi + Cellular for
$774.00
@MacMall
($5 off)
64GB Rose Gold Wi-Fi + Cellular for
$779.00
@B&H
($62 off in tax outside NY & NJ)
64GB Rose Gold Wi-Fi + Cellular for
$774.00
@MacMall
($5 off)
256GB Space Gray Wi-Fi Only for
$749.00
@Adorama
($60 off in tax outside NY & NJ)
256GB Silver Wi-Fi + Cellular for
$879.00
@B&H
($70 off in tax outside NY & NJ)
256GB Space Gray Wi-Fi + Cellular for
$879.00
@B&H
($70 off in tax outside NY & NJ)
256GB Space Gray Wi-Fi + Cellular for
$874.00
@MacMall
($5 off)
256GB Gold Wi-Fi + Cellular for
$879.00
@B&H
($70 off in tax outside NY & NJ)
B&H and Adorama will not collect sales tax on orders shipped outside NY & NJ.
(
See even more configurations...
)
Accessories
Apple Pencil for iPad Pro for
$99.99
@B&H
($8 off in tax outside NY & NJ)
Apple Pencil for iPad Pro for
$95.00
@MacMall
($5 off)
Apple Smart Keyboard for 10.5" iPad Pro for
$159.00
@B&H
($13 off in tax outside NY & NJ)
B&H will not collect sales tax on orders shipped outside NY & NJ.