CarPlay becoming pivotal purchase priority for new car buyers
Posted:
in iPhone
edited March 2020
As smartphones near peak saturation in developed markets, new data suggests in-car infotainment systems like Apple's CarPlay are quickly transitioning from a nice-to-have option to required feature for new vehicle buyers.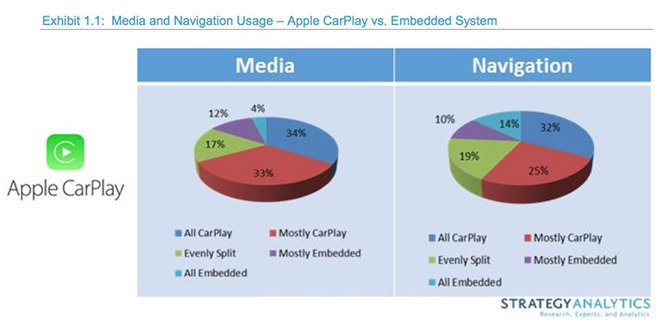 According to a Strategy Analytics report published Thursday, consumers are showing
increased interest in
, and satisfaction with, smartphone mirroring solutions, namely
CarPlay
and Android Auto.
The firm surveyed 100 CarPlay users and 100 Android Auto users to obtain a better understanding of average usage rates and satisfaction levels for each technology. On the whole, users with access to the iOS and Android systems enjoy the ability to access phone data from their car's built-in infotainment console.
Collectively, over 85 percent of users were either somewhat or very satisfied with their system. Further, more than 90 percent said they are very likely to recommend the solution to others.
Derek Viita, senior analyst at Strategy Analytics, notes smartphone mirroring solutions could push infotainment features higher up on the list of car purchasing priorities.
"One out of four consumers who completed our survey said they would not be at all likely to consider a vehicle without a mirroring solution; while more than half would not be at all likely or somewhat unlikely, to consider one," Viita said.
In one-on-one consumer loyalty comparisons, Apple appears to have a slight edge over Google, with 34 percent of CarPlay users saying they rely solely on the tech for their in-car infotainment needs. Another 33 percent said they use CarPlay most of the time, while a mere 4 percent depend on embedded solutions provided by car manufacturers.
By comparison, 27 percent of Android Auto users rely on Google's infotainment functionality.
The story is slightly different in the case of navigation. The survey found 32 percent of CarPlay users and 33 percent of Android Auto users rely entirely on smartphone-connected features, but a significant portion still use built-in OEM functions. With CarPlay-enabled vehicles, 14 percent of owners use embedded solutions all of the time, with another 10 percent saying they use those same systems most of the time.
Navigation has been a weak spot for Apple since it debuted an in-house mapping service with iOS 6 in 2012, a product that replaced Google Maps integration. At launch,
customers complained
of incorrect positioning data, poor routing and issues with the product's marquee Flyover feature. The problems prompted CEO Tim Cook to issue an
open apology
to customers, and reportedly led to the
ousting of former iOS chief Scott Forstall
and Apple Maps head
Richard Williamson
.
Apple has made marked progress on Maps during the ensuing years, employing a "ground truth" team to fix inaccuracies and integrating a variety of tools to enhance the navigation experience. Major features like oft-requested support for public transit directions debuted in iOS 9, while iOS 10
opened the service
up to developers with official app extensions.
In any case, the survey suggests CarPlay's bread and butter remains quick and easy access to phone, messaging and entertainment features like Apple Music, Podcasts and third-party content streaming services. Usage of speech recognition services like Siri, a key component in Apple's
Eyes Free
driving safety tech, is also "strong" across both sets of users, the report said.
Carmakers began integrating CarPlay, and subsequently Android Auto, into their products
years ago
, but adoption rates have picked up in recent months as longtime holdouts
including Toyota
and
Mazda add
the technology to their respective lineups. Even motorcycle manufacturers are jumping on board, with
Honda's latest Gold Wing
offering CarPlay compatibility.