Hands-on: Apple's new (PRODUCT)RED iPhone 8
Posted:
in iPhone
edited December 2019
The (PRODUCT)RED iPhone 8 and 8 Plus adopt a striking new crimson appearance to help support one of Apple's longest running partnerships. We go hands on and take a closer look at the special edition handset.
Apple
started pre-orders
for the
(PRODUCT)RED iPhone
on April 10, with units showing up in Apple stores and customer doorsteps today.
There are slight differences between this year's (PRODUCT)RED
iPhone 8
and 8 Plus and last year's (PRODUCT)RED iPhone 7 and 7 Plus. Obviously, the back material has changed from aluminum to glass on all the latest iPhones, but the bigger news is the black front fascia.
The (PRODUCT)RED iPhone 7 utilized a white front face, which was so widely criticized it even prompted some to
create their own
black-on-red version.
This year's red iPhone 8 and 8 Plus have adopted the black front that so many people had yearned for.
Checking out the special edition iPhone, it looks pretty darn sharp. We are huge fans of the vibrant color scheme. It certainly makes a bold statement, and would personally make the decision easy to go caseless.
Those rocking a red iPhone are certainly rarer a sight to see than those with the usual color options.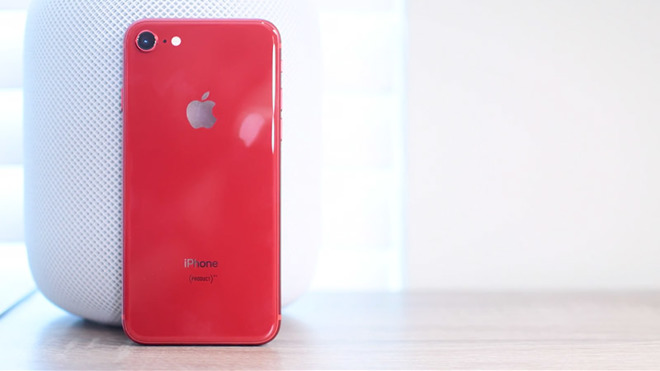 (PRODUCT)RED models are often released well into a device's life cycle to stoke sales, meaning many have already purchased their iPhone 8 back when it launched last year. If you want the red look but don't want to lay out cash for a new phone, Apple also sells
(PRODUCT)RED leather and silicone cases as well
, which gives a similar look for a lot less green. (PRODUCT)RED Apple accessories are available at the company's online and brick-and-mortar stores, as well as third-party resellers like
Amazon
and
B&H Photo
.
Alongside the iPhone 8 and 8 Plus, Apple also debuted a new (PRODUCT)RED iPhone X leather folio. We got a look at that
earlier in the week
. While the case is pretty great looking, we would perhaps prefer had Apple released a red iPhone X as well.
It would require a bit more effort on Apple's part to create a (PRODUCT)RED iPhone X variant, as the chassis is
stainless steel
instead of aluminum. Apple utilizes a different process to color the steel rather than the aluminum, which is anodized.
In 2017 alone, Apple raised over
$30 million for the Global Fund
, which aims to fight AIDS, tuberculosis, and malaria. In total, Apple has contributed over $160 million through efforts like their (PRODUCT)RED devices and App Store promotions.