Will HomePod make a second splash at WWDC 2018?
Apple's introduction of HomePod at last year's Worldwide Developer Conference might not have seemed to have much direct relevance for third-party developers because unlike iPhone, iPad, Apple Watch, Macs and Apple TV it doesn't run apps.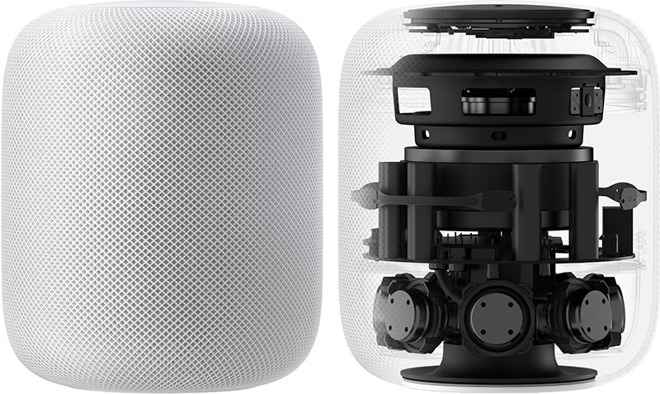 HomePod in HomeKit with Siri
However, Apple did introduce Siri Intents for HomePod, enabling App Extensions to take over the handling of specific requests, such as third-party messaging or list-management apps. You can expect to see an expansion of these Siri Extents for HomePod this year. HomePod shipped with a notable lack of support for features Siri can already handle, including Calendar tasks.
Apple also touched on two other technologies related to HomePod last year: AirPlay 2 (which it just released) and
integration with HomeKit
. Currently, HomePod can serve as a hub to control your HomeKit devices, but can't really do much on its own as a HomeKit device. Everything it can do via Siri is directed to HomePod itself, rather than being orchestrated by other devices in your Home setup.
HomePod could easily act as a HomeKit device that integrates with Scenes, enabling users to set up a party scene that plays a danceable playlist accompanied by dramatic lighting or a downtempo lounge scene that dims the lights and requests a chill playlist or songs by your favorite jazz artist.
Apple has already stitched HomePod into its Continuity web, enabling Siri to do a pretty good job of recognizing whether to handle your voice requests from HomePod or your iPhone or Watch. There's more Apple could do there, such as allowing a task to work between devices, giving you an audible answer from your smart speaker while presenting a graphical interface on your phone or watch that you can navigate by touch.
While
Voice First
has recently been hailed as the future, the reality is that we've had voice recognition commands for decades, and yet have preferred to handle most of our computing tasks with point-and-click or multitouch interfaces instead.
In 1986, "Star Trek IV" imagined voice as the future, but today mobilibility is
Competing voice services--notably Amazon's Alexa-powered Echo--already attempt to recognize the speaker by voice, which HomePod could eventually catch up in to enable personalized commands, automatically remembering your song requests while allowing guests to make music requests that don't affect your personal preferences, for example. Smart controls could also limit what actions guest voices can request, while still responding to any of your commands.
HomePod as a background computer
However, the fact that HomePod packs a speedy processor and is unconstrained by battery limits means that HomePod could eventually serve as a smart home computer in the background. Both HomePods and Apple TVs could be orchestrated to handle background tasks distributed across your home network.
HomePod and Apple TV fill your home with background computers--similar to a modern automobile
Additionally, the fact that HomePod has some onboard storage and a fast processor means that Apple could eventually delegate it tasks that are otherwise wasting battery on your mobile device. Imagine if, rather than Photos doing background imaging processing on your phone for face recognition and album creation, all your devices simply synced your photos to iCloud and your HomePod took advantage of its idle time to process your images in the background, synching them back to iCloud and back down to your devices.
HomePod could also churn away at indexing iCloud-synced documents for rapid search, and chew on other ML tasks from third parties in the background. This would require some oversight to prevent malware from trying to exploit the device to turn it into an Amazon Echo-like spy tool like Smart TV vendors have done, or the way surveillance marketers like Facebook have exploited Android phones to collect massive amounts of information on users.
Malware authors might likely also jump at the chance to micro-mine Bitcoin on your home's available devices, were there no constraints on what they could execute on the HomePods and Apple TVs in your home.
As HomeKit devices get smarter and gain the ability to communicate among each other, HomePod could develop into a smart control platform doing analytics related to home climate control, wireless service strength, and monitor security systems.
With some additional hardware, such as a motion detector or camera, HomePod could even serve as a security system on its own. But with ubiquitous wireless connectivity, wireless cameras could integrate with a room's HomePod to analyze for motion and send deliver you notifications anytime something out of the ordinary is happening.
HomePod as a sound processor
The core feature of HomePod--its ability to create a
large, surrounding soundscape
--is also something Apple could open up to content developers to reproduce accurate representations of live events or 4D sound presentations
Addressing "What's new in Audio," Akshatha Nagesh discussed new support for ambisonics
Last year's WWDC actually featured a presentation on
higher order ambisonics
, a technology for delivering 360 degree sound that can be digitally reinterpreted by a speaker system (compared to canned 5.1 channel surround that requires specific speaker placement and a study of the room's acoustics).
AirPlay 2 and the "stereo" pairing of HomePods (note that an individual HomePod was already a stereo device) were just delivered, and they now offer content producers new ways to distribute their content to multiple HomePods or to a mix of WiFi connected speakers that support the new protocol.
This could help Apple TV gaming titles to deliver immersive soundtracks aimed at HomePod playback. And by making surround audio standard on TV and movie content in a format HomePod can accurately replicate in your living room, Apple could show off a compelling reason for standardizing on its smart speaker.
Apple has a lot to show at WWDC next week, so stay tuned and follow our social media feeds on Twitter
@AppleInsider
and Instagram
@appleinsider_official
.