MacOS Mojave: Everything you need to know
Posted:
in macOS
edited October 2019
Apple has announced macOS 10.14 Mojave, the Mac maker's new operating system that will ship out to users this fall -- and here's everything you need to know about it.
First and foremost
, Apple's new APFS file system now supports hard drives and Fusion drives, so you'll be able to switch over to the new, more efficient solution even if your Mac isn't packing an SSD.
After what seems like years of requests, Apple has finally introduced
a new Dark Mode to macOS
, which will be great for night-time use. The've even added a new dynamic Mojave desert desktop which will change based on the time of day, around the clock.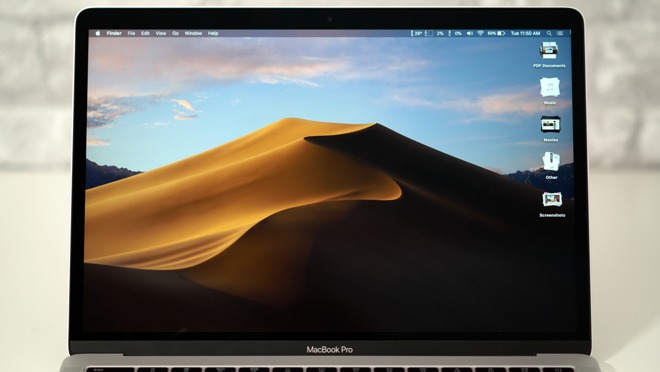 Group FaceTime is coming to both macOS Mojave and iOS 12, allowing up to 32 people to
join a FaceTime video chat at the same time
.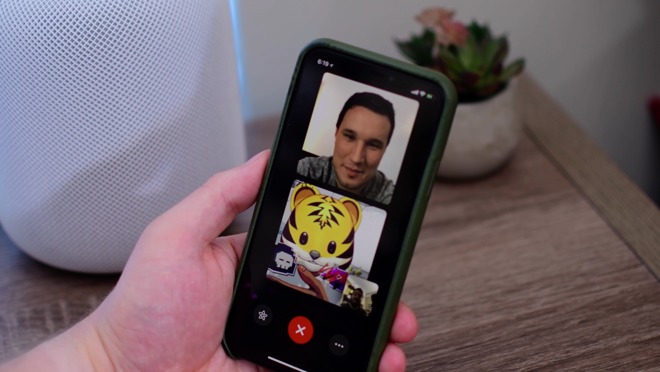 The Finder
Many of you out there struggle to keep your desktop files organized. Apple added a new Stacks feature that instantly organizes your files, images, documents, and more, into groups accessible from your desktop.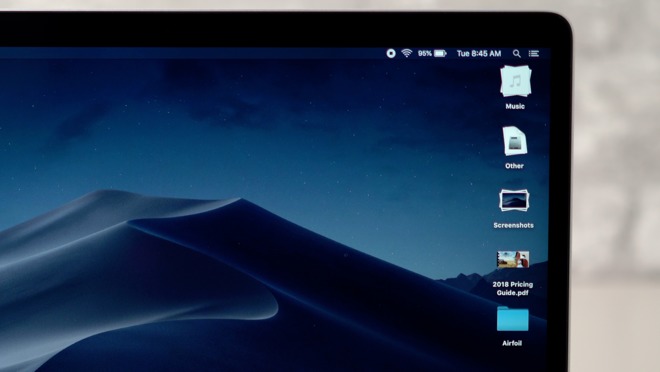 Whenever you add a certain file type to your desktop, for example, it will automatically be added into a stack. Simply click on a stack to see what's inside, scroll through to view individual files and double click to open one.
Apple has added a new Gallery view to the Finder, showing all of your media, including images,
screenshots
, photos, PDFs and more. You'll see a big preview on top, with thumbnails on a row below.
Images now get full metadata, showing everything from shutter speed to ISO settings.
There's also contextual quick actions in Finder, allowing you to do quite a lot of things including custom automator tasks. The most important action, at least for me, is being able to quickly rotate images, within finder itself. You can instantly mark it up, and you can even add passwords to certain files and media.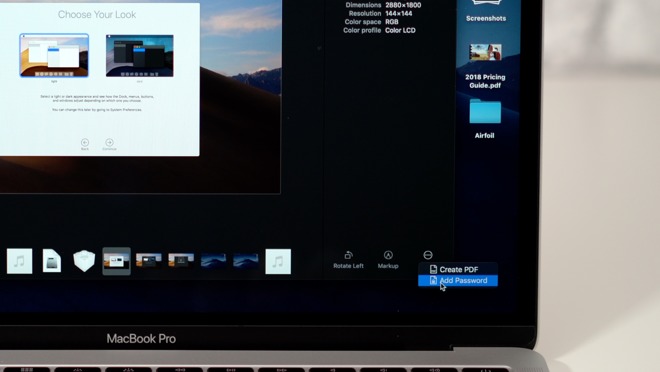 If you select multiple PDFs and images, you can create a PDF with all of those photos included. The coolest thing you can do is instantly add a watermark to selected images and PDFs.
Apple also added a greatly updated Quick Look, which you can access by pressing the space bar while selecting a file. You can now invoke Markup, and even add a signature to a document, without having to leave the Quick Look menu.
Even better, you can trim videos inside of Quick Look! You no longer have to bring your video into a video editor just to trim it.
Screenshots
Screenshots also get an update. There's a new Screenshot HUD which includes some new options for capturing your screen, including screen recording, which previously required QuickTime or a third-party capture tool.
You can either record the full screen, or for the first time ever, record a selected section of the screen, and from the looks of it, it puts a much smaller load on your processor.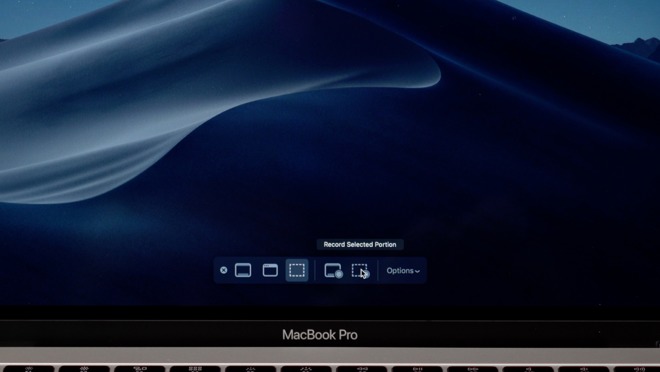 Whenever you take a
screenshot
or recording, a small snapshot will pop up in the corner of the screen. You can double click it and quickly mark it up, or even drag it right into a document or email.
Continuity Camera
Apple has also added a new feature called Continuity camera. With it, you can select a media box within a slideshow presentation, and choose to take a photo on your iPhone. Your iPhone will instantly be prompted, and once you snap a photo, that image is instantly inserted into the app's media box.
Additionally, you can also import scanned documents using your iPhone or iPads document scanner.
macOS applications
Apple also
announced an ongoing project
that will allow developers to more easily port iOS apps over to macOS.
They've already brought some key frameworks from iOS over to MacOS, allowing them to port over some existing first-party iOS apps, including News, Stocks, Home, and Voice Memos, with very few code changes.
Let's get into some of those apps, starting with the News App, which saw a redesign with iOS 11. It's got Trending, top stories, and for you sections, along with a sidebar with news channels, which you can browse and search through.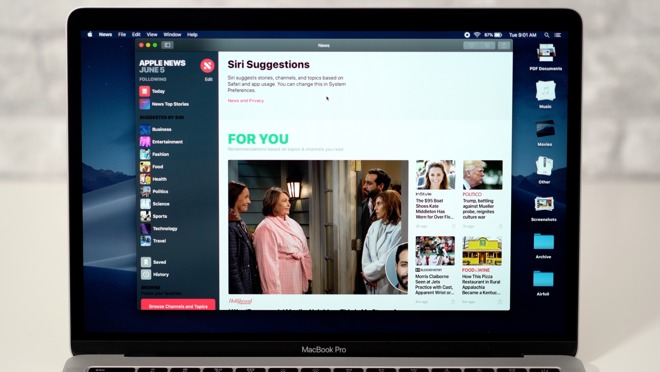 Stocks is finally coming to Mac, which is now redesigned, featuring the News app built right in. You can click on a stock to see a new interactive chart, and you'll see headline news stories relevant to each stock. You can even click on a story to see the full article without leaving the stocks app.
Voice memos is also coming to Mac, and it syncs directly with your iOS device using iCloud. The best part is that you can drag your voice memo directly into apps like GarageBand.
HomeKit on macOS!
The Home app is coming to the Mac
, giving you the same control over your smart home as enjoyed on iOS devices.
With Home, you can run scenes from your Mac, monitor HomeKit video cameras, and use Siri for HomeKit commands.
Other inclusions
Moving on to some new security features, Safari is being updated to shut down social media link and comment sections while browsing to help stop advertising agencies from tracking your web usage.
The Mac App Store is finally getting a redesign, with a brand new UI that boasts new Discover, Create, Work, Play, and develop tabs, making it easier to find exactly the app you need. If those don't help, you can still browse through categories using traditional methods or use the search bar.
Video previews are also coming to the Mac for the first time, allowing developers to show you how the app works before you download it. They've also added a new Ratings and Reviews API for Mac Apps, making it much simpler to leave reviews.
Apple highlighted a few longtime holdouts that are
finally bringing their apps directly to the Mac store
, including Microsoft's 365 Suite, Adobe's Lightroom CC and Barebones' BB Edit.
Apple introduced a new technology for developers called Create ML, which allows coders to more easily train their models using Machine Learning. Apple says this should greatly increase the speed of model training, taking only 48 minutes instead of 24 hours for a specific training sequence on MacBook Pro. On the iMac Pro, that sequence will only take 18 minutes.
Core ML 2 was also announced with 30 percent faster on device processing, a number achieved using batch prediction technology.
It's not all fantastic, though
As expected, Mojave is the
last version of macOS to support 32-bit apps
. To speed that along, the beta of Xcode 10 doesn't allow you to compile 32-bit apps at all.
Also, Apple has announced that Mojave may be the last version of the operating system
to support OpenGL and OpenCL
. Some game developers
are already threatening to abandon the platform
if the complete removal ever comes to pass.
For the lowest prices on Apple computers, check out our exclusive deals on Mojave-ready Macs.