Review: Apple and Blackmagic's eGPU with Thunderbolt 3 connectivity
AppleInsider
takes an in-depth look at Apple and Blackmagic's Thunderbolt-enabled eGPU, testing the MacBook-accelerating hardware with a gamut of tests from 5K gaming to video editing. We show you everything that sets this eGPU apart from the pack.
The Blackmagic eGPU, built in cooperation with Apple, might seem pricey at $699, but it comes packing a Radeon Pro 580 GPU, the same chip that comes in the top-spec 2017 5K iMac. By itself, the silicon is worth just under $300, and you can now get it bundled with some other eGPU's for around $500.
So why would anyone want to pay extra for this particular unit from Blackmagic and Apple?
For one, the Blackmagic is the first eGPU to support Thunderbolt 3 and USB-C monitors
like LG's 4K
and
5K UltraFine displays
, meaning well-heeled MacBook Pro owners can turn their portable rig into something closer to a desktop.
If you don't have or don't plan on buying an LG UltraFine display, the Blackmagic also works with any USB-C or HDMI monitor. DisplayPort screens are also supported with the help of a separate adapter.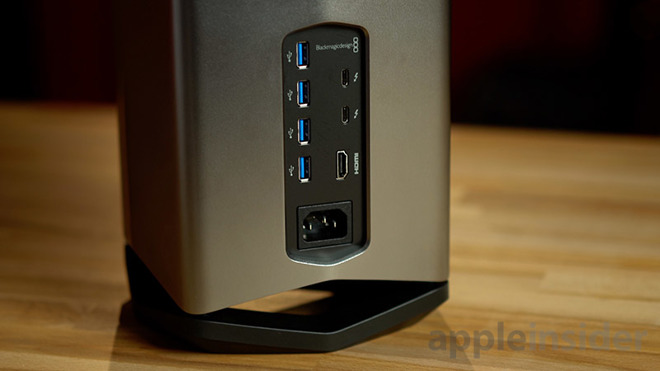 In addition to the two Thunderbolt 3 ports, the Blackmagic packs in four USB 3.1 ports and an HDMI 2 slot, besting a number of competing eGPU boxes. The extra inputs and outputs can be used to connect external storage drives, keyboards, mice, or simply charge an iPhone.
The Blackmagic works with any Thunderbolt 3-equipped Mac, and it provides 85 watts of charging for your MacBooks. For now, the setup is a macOS-only affair, as the eGPU does not yet support Windows 10.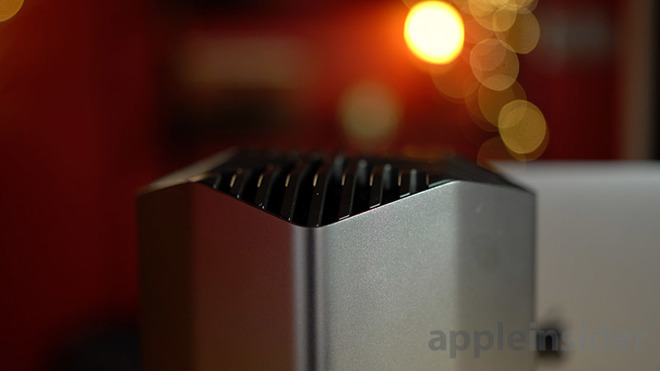 From a design standpoint, it's undoubtedly the best-looking eGPU we've ever seen, and it's built with high-quality materials.
This leads us to one of the biggest reasons why you would choose this eGPU over another model: incredibly quiet fan noise and low temperatures. It features a large fan that sucks air through the bottom and pushes it out of the top, just like the late 2013 Mac Pro.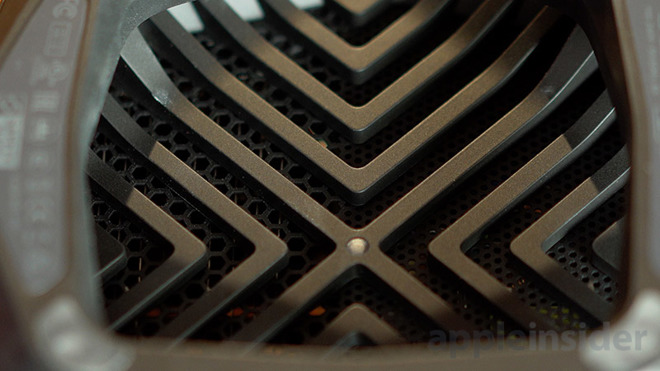 It's incredibly quiet, even at full load, a major upgrade from competing hardware that gets increasingly loud as operating temperatures heat up. In fact, the Blackmagic is so quiet that we forgot it was on while playing a demanding session of Fortnite at 5K resolutions.
Performance
The eGPU drastically improved the gaming performance of a base model 2018 13-inch MacBook Pro with Touch Bar. With the MacBook's internal Intel Iris Plus Graphics 655 running at maxed-out resolution and high video quality settings, we were able to achieve around 15 frames per second while playing Fortnite. Those speeds dropped down to 7fps at times and the laptop's fans were on full blast.
We turned the settings down to around 1080p at medium graphics settings and saw frame rates rise to around 40 to 45fps, but we still experienced frame drops that made the game unplayable.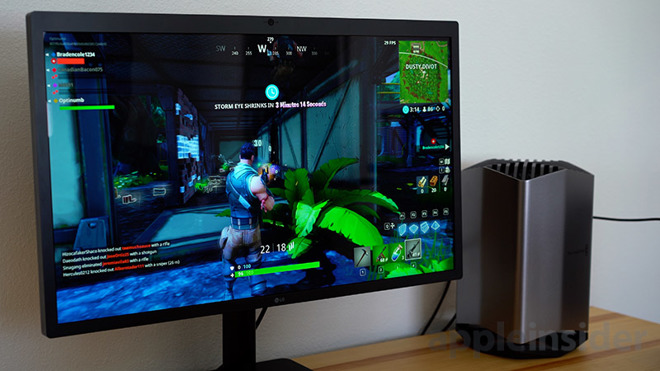 Connecting the Blackmagic eGPU and LG's 5K display, we set the game's resolution to 5K, or 5,120-by-2,880 pixels. Graphics quality (obviously) improved and frame rates were hovering at around 30fps. Unlike the MacBook Pro's integrated graphics chip, the eGPU was able to keep things much more consistent, with no frame drops that ruined gameplay.
Dropping graphics settings to medium boosted frame rates to about 40fps, and everything still looked great.
We also hooked it up to a regular 4K display using a Thunderbolt 3-to-DisplayPort cable and saw around the same 35fps at 4K "Epic" settings.
Throughout testing, both the Blackmagic eGPU and the MacBook Pro were whisper quiet.
Photo & Video Editing
If you're a photo editor, an eGPU won't really make a difference, since apps like
Adobe Photoshop and Lightroom
mostly rely on Mac's CPU for heavy lifting. We were hoping to see an improvement while editing 42MP RAW images in Lightroom, but the lag is still there despite some assistance from the eGPU.
Video editing, however, is a different story. In Final Cut Pro X, the Blackmagic eGPU allows the 13-inch MacBook Pro to export a five minute 4K h.264 clip with added effects in less than half the time of the integrated GPU. That puts the smaller MacBook Pro's performance nearly on par with the base 15-inch MacBook Pro. Interestingly, in some cases the 15-inch MacBook Pro gets slower when using the eGPU.
For example, when attached to the 13-inch MacBook Pro, the eGPU cut processing time in half for a one minute 4.5K Red RAW clip with added effects. However, the 15-inch MacBook Pro was almost twice as slow when combined with the eGPU.

Stabilizing a 4K clip on the 13-inch with eGPU was basically just as fast as the base 15-inch MacBook Pro, both with and without the eGPU. To our surprise, the 13-inch MacBook Pro with the eGPU was faster in the Bruce X 5K benchmark, finishing almost three times faster than the 15-inch MacBook Pro's discrete GPU.

We tested 4K 60fps Canon Cinema RAW Lite footage in a one minute project with color corrections and a LUT applied on the 15-inch MacBook Pro, with and without the eGPU. We saw a vast improvement not only in export speeds, but timeline smoothness as well. We went from not being able to play back the footage in full resolution to smooth playback in 4K, in both 24fps and 30fps.

Benchmarks
We performed benchmarks by attaching the Blackmagic to a base model 2018 13-inch MacBook Pro and a top-of-the-line 2018 15-inch MacBook Pro with 2.9GHz i9 CPU, 4GB Radeon Pro 560X graphics, and 32GB of DDR4 memory.
Geekbench 4's OpenCL test shows us the raw graphics performance of each GPU, and as you can see, it's a massive improvement over the 15-inch MacBook Pro's GPU.
We also ran the Unigine Heaven gaming benchmark and the 13-inch MacBook Pro with the Blackmagic eGPU greatly outperformed the 15-inch MacBook Pro. The 13-inch model fell behind by a couple of frames when compared to the 15-inch with the eGPU.

Conclusion
Our testing shows the Blackmagic eGPU is not really worth the extra money if you already own a 15-inch MacBook Pro, are not a video editor and intend to use the hardware without an external monitor.
On the other hand, if you own an LG UltraFine display or a 2018 13-inch MacBook Pro, the solution is definitely appealing. With the 13-inch MacBook Pro, you get added portability when on the go and a quad-core, 8GB Radeon Pro 580 workstation in the home or office, nearing the performance levels of a 15-inch Macbook Pro with i9 CPU.
Overall, the Blackmagic eGPU is a specialty product that makes a lot of sense for a smaller group of people. It's more expensive than other solutions using the same GPU, and it's not upgradable. If you need Thunderbolt 3 support and would like a near silent experience, however, there's nothing else like it.
Score: 4 out of 5
Where to buy
Blackmagic's eGPU sells for $699 and is available through the company's
website
and
Apple.com
.