How to catch up on Stan Lee's creations by reading comics on your iPad
Posted:
in iOS
edited October 2020
After more than five decades creating comic books that now span a multi-billion dollar movie franchise, modern mythologist Stan Lee has died. He has left behind an enormous body of printed work in his five decades in the industry, and AppleInsider discusses how to best access those works on your Mac, iPhone, or iPad.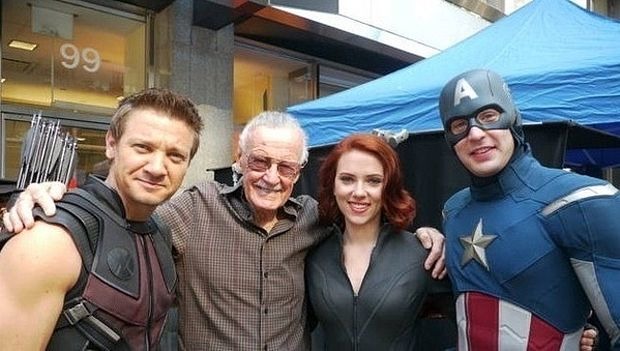 Stan Lee with a few of the actors from The Avengers franchise
Marvel Unlimited
The vast majority of Lee's works were Marvel, naturally. So, if you're looking to read the widest body of work by the man, your best bet is
Marvel Unlimited
, the publisher's own comic book reader and subscription service. Marvel Unlimited provides users with over 20,000 digital comics via the iOS app and through a web browser, with the selection including newer issues of major franchises as soon as six months after their initial publication.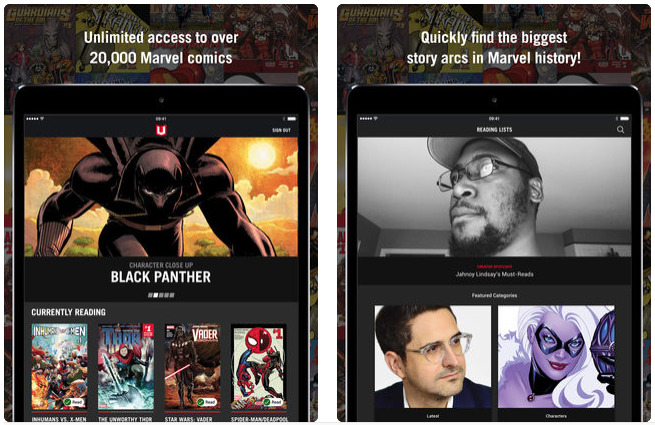 Marvel Unlimited
To help explore the Marvel universe the app includes curated reading lists that detail major events in a character's story, and offers a quick way to catch up on their history before you see the films. Subscribers are also provided member-only deals on comics and merchandise.
The normal level costs $9.99 per month or $69 per year, but a second tier called Annual Plus is also available for $99 per year. For the extra money, Plus users can receive invitations to exclusive Marvel events, 10 percent off merchandise at the Marvel Shop, 15 percent off digital comics and collections, and the "Membership Kit" consisting of a limited edition Hasbro Marvel Legends Venomized Punisher figure, two exclusive Venomized variant comics, and a Fantastic Four patch and pin.
Amazon
The big-name retailer's foundation is on literature, and that includes comic books in both physical and digital form. While you can certainly buy compilations of comics from Amazon and wait for them to arrive by post, those who want more immediate retail gratification can do so by employing its Kindle service.
In many cases, searching for comics on Amazon will bring up Kindle ebook listings alongside the paperback version, and in many cases at a considerably cheaper price. There is also a
Comics & Graphic Novel
section within the online store, making it easier to discover new and related stories.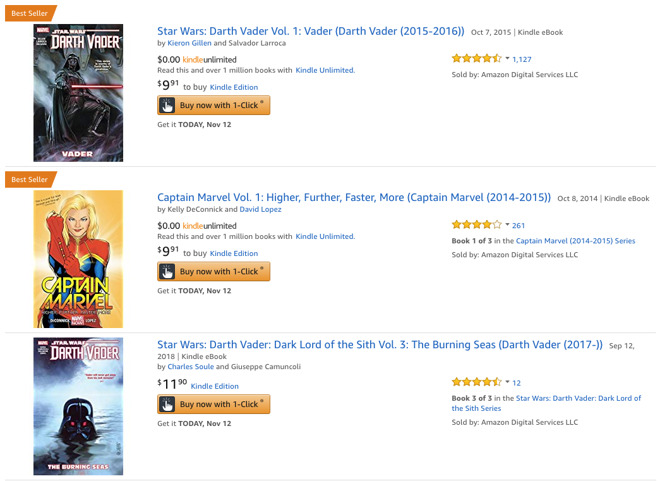 A selection of Marvel comics on Kindle available from Amazon
All of the eBooks can be read via the free
Kindle iOS
app, with the graphical nature making it more suited for reading on an iPad rather than an iPhone, especially if you want to see as much detail as possible without zooming and scrolling.
Those looking to get as much as possible from Amazon could check out
Kindle Unlimited
, the retailer's subscription service that offers access to over 1 million titles and audiobooks for $9.99 per month. While most of the catalog consists of normal literature, there are also thousands of comics included within the service for your perusal.
Comixology
It would be impossible to discuss digital comics without bringing up
Comixology
. The Amazon-owned reader app focuses just on digital comics, rather than Amazon's own store where practically all variants of a comic are provided, which means practically everything you can see in the app's store will just be the ebook version that can be downloaded for consumption on your mobile device as fast as possible.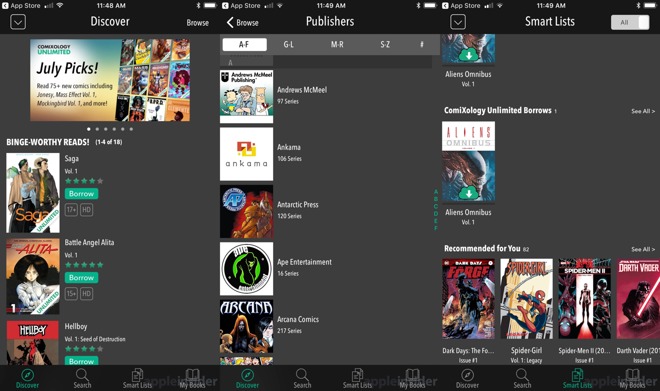 Comixology
Along with the over 75,000 digital comics, graphic novels, and manga, the connection to Amazon means the reader app can also be used with those bought from the Kindle store, giving users two avenues to acquire more reading material.
Avid comic book readers may want to check out Comixology Unlimited, which is similar to Kindle Unlimited but just for comics. For $5.99 per month, subscribers get access to over 15,000 comics, as well as exclusive member discounts of 10 percent to 15 percent off all Marvel comics and from other publishers, including new releases.
Apple Books
It wouldn't be an ebook list without Apple's own service. While generally considered to be a store and reading app for normal books, Books does also offer a considerable amount of other content, including a section called Comics and Graphic Novels, with ebooks able to be bought individually.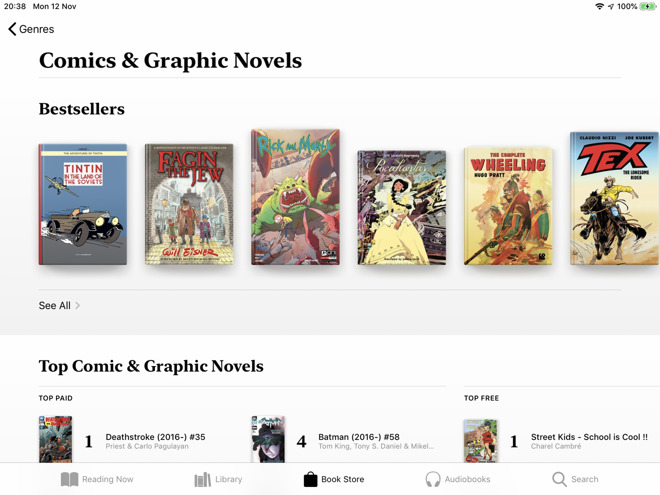 Apple Books' comic section
While Books is mostly used for buying media from Apple's store, the app can also be used to read other formats, including Epub and PDF. If you have a collection of digital comics stored on a Mac or elsewhere, it's likely that the files will be viewable through the Books app without needing to acquire a separate reader app.
Chunky Comic Reader
If you have a digital comics collection that could be described as extensive,
AppleInsider
's favorite comic reader is the iPad-only
Chunky Comic Reader
. Boasting a clean and simple to use interface, the app is able to upscale low-resolution comics, and automatically fix contrast and tint issues from yellow pages that are scanned.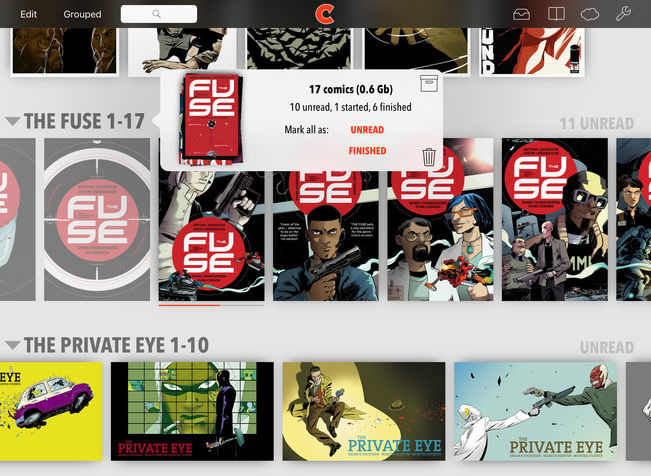 Chunky Comic Reader
The app includes a self-organizing library function to simplify keeping the collection in check, with parental controls allowing for specific comics to be flagged as safe to read by younger users, and a passcode lock for all other content. It is even possible to take screenshots within the app and post them to social media to share with others.
Users of Comixology can take advantage of cloud storage services, including iCloud Drive, Dropbox, Google Drive, OneDrive, Amazon Cloud drive, and others, as well as using iTunes to transfer directly from a computer in the free version. Upgrading to Pro for $3.99 adds the ability to store comics on shared folders on a network, like on a NAS or a Mac, FTP and SFTP support, and compatibility with various comic-related libraries.
Chunky also includes support for a wide array of formats, including PDF, CBT, CBR, and CBZ, and even understands ComicRack and ComicBookLover tags.
There's a bigger world out there...
This article only highlights a small number of ways you can delve into the world of digital comics, with many other options available out there. For example, there's the multi-platform content feed of video and comics that is
DC Universe
, the $5
GoodReader
PDF app,
Comics Plus
, and many other options that can be brought up by searching "Comic Reader" in the App Store.