Why the end of unit sales reporting of Macs, iPhone, and iPad isn't bad news for Apple
Posted:
in iPhone
edited November 2018
Apple raised eyebrows when it announced it would no longer be detailing quarterly unit sales for iPhone, iPad, and Macs starting in the December quarter. Various pundits have sought to portray this as Apple having "something to hide," and have added it to their listicles of "bad news" that various writers keep insisting is "piling up" for Apple. They're wrong, here's why.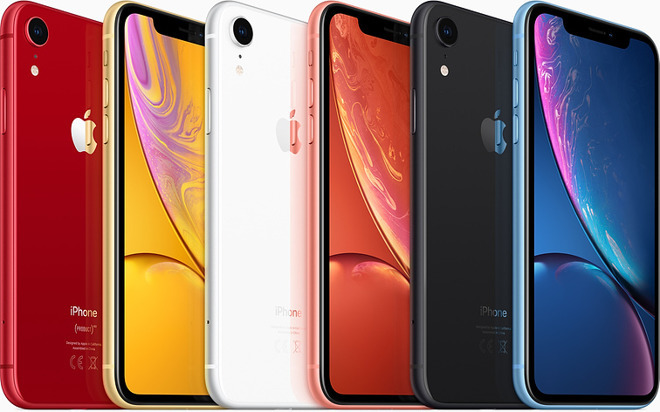 Apple has never reported exactly how many Red iPhones it sold. Now it won't report units for any color
The bad news bears
The "bad news is piling up for Apple" media narrative isn't a problem for Apple to hide because it isn't true. The authors of this pile know this, because they shoveled out the same false content earlier this spring, at the beginning of the year, and in the year-ago holiday quarter. Every bit of it -- from production cuts to supplier woes -- was wrong and didn't offer any insight into what was really happening at Apple or with its sales of the world's most popular smartphone.
Reporters that previously compiled false and misleading
supply chain rumor stories
that wholly misinterpreted the reality of the broad based, global success of iPhone X over the last year-- notably including the perpetually wrong
Nikkei
,
Tripp Mickle
of the
Wall Street Journal
, and
Mark Gurman
of
Bloomberg
-- have all returned with more worthless data that appears aimed at hiding Apple's actual success under "a pile of bad news" of their own making.
Their previous reports specifically claimed that iPhone X wasn't selling because of its premium price and possibly because of a lack of "innovation." That reporting was all fantastically wrong-- following a river of supply chain reports that have been wrong year after year.
This year, the
Wall Street Journal
again printed a piece by Mickle claiming that Apple has cut orders for "all three" of its flagship iPhones. That's virtually identical to
what Mickle wrote last year
, but those production changes didn't have any impact on iPhone X being the most popular phone, nor on iPhone volume sales in units or in revenues. Mickle was wrong last year, not because he reported a rumor, but because he had no idea how to correctly interpret data he was given.
Mickle was wrong last year, not because he reported a rumor, but because he had no idea how to correctly interpret data he was given
Mickle clearly doesn't have any keen insight into Apple's supply chain. In fact, he has limited experience in writing about Apple at all, with both his
Wall Street Journal
bio
and his
LinkedIn profile
noting the majority of his writing experience comes as a sportswriter covering NASCAR and the Olympics, not anything to do with global supply chain, consumer electronics, or Apple itself.
At the
Journal
, Mickle "previously covered alcohol and tobacco" before being assigned to cover Apple-- and supposedly interpret the global supply chain for the world's largest technology company. His ability to blog about Apple is fine, but he is clearly out of his league in trying to interpret Apple's supply chain after issuing a series of misleading and confused reports that prop up what is supposedly that "pile of bad news."
The WSJ hired a sportswriter with scant tech industry experience to interpret Apple's global supply chain
Bad news Bloomberg and Barrons
The "pile of bad news" that Gurman coined for
Bloomberg
falls apart when you look specifically at the
list of five firms
-- out of Apple's 200 principle suppliers -- who are identified as "iPhone suppliers" only because they recently warned of an earnings shortfall.
That includes Lumentum, which Apple itself doesn't even list in its 2018 annual report of its top 200 global suppliers. Despite being the key firm holding up "the pile of bad news," we
already know why
Lumentum is in trouble: Apple invested in a second source of VCSELs from rival manufacturer Finisar using its Advanced Manufacturing Fund to help build a custom VCSEL factory in Sherman, Texas, timed specifically to supply this year's new iPhones.
Such details pertaining to Apple's supply chain are not often public, but these facts have been in the news all year. And the reason why: Apple published multiple press releases last December calling attention to its efforts to invest in American manufacturing and advanced technology, specifically in relation to the new partnership producing VCSELs.
We know something about Apple's VCSEL supply chain because the company detailed it in public
Apple
specifically announced
that "Finisar, a leading manufacturer of optical communications components, will receive $390 million as part of Apple's commitment to support innovation and job creation by American manufacturers," and detailed that "the award will enable Finisar to exponentially increase its R&D spending and high-volume production of vertical-cavity surface-emitting lasers (VCSELs). VCSELs power some of Apple's most popular new features, including Face ID, Animoji and Portrait mode selfies made possible with the iPhone X TrueDepth camera, as well as the proximity-sensing capabilities of AirPods."
Apple spoonfed the media an easy-to-read press release with nice pictures and a quote from its chief operating officer Jeff Williams
Apple spoon-fed an easy-to-read press release with nice pictures and a quote from its chief operating officer Jeff Williams.
"VCSELs power some of the most sophisticated technology we've ever developed and we're thrilled to partner with Finisar over the next several years to push the boundaries of VCSEL technology and the applications they enable. Technology is only as good as the people behind it, and Finisar is a company with a long history of putting its employees first and supporting the community it's a part of. We're extremely proud that our involvement will help transform another American community into a manufacturing powerhouse."
Still,
Bloomberg
,
CNBC
,
MarketWatch
,
Reuters
and many other outlets immediately interpreted Lumentum's disclosure of lower orders not as the result of competition from a huge new VCSEL factory operating in close partnership with Apple, but on the idea that iPhone sales must suddenly be down in a way that would only affect component orders from a select few suppliers.
After Apple spelled out what was happening to the media, major news sites dribbled out idiot-level speculation instead
Reports of Lumentum supposedly being an important "iPhone supplier" only mention the year-old data
Bloomberg
reported about the firm's 2017 exposure to Apple, and fail to explain any of the context regarding this specific component maker in the supply chain. Supposed production cuts and reduced component orders from suppliers like Lumentum are not also affecting the rest of Apple's 200 key suppliers (including
Dialog
).
That's the same journalistic bent that was on display earlier this year when the same writer at
Bloomberg
deliberately linked
Samsung's display panel issues to iPhone X while avoiding any mention of key facts that destroyed the entire narrative.
These writers have no credibility left after repeatedly botching their coverage of Apple over the past years to portray the company as struggling, directionless, incompetent and internally confused, unable to sell its "high priced products" because they lacked sufficient "innovation."
Ironically, while Apple continues to perform extremely well globally -- increasing its annual revenues by $36.4 billion over the last fiscal year -- the dismal bad news these outlets are working to promote actually does apply to a variety of beleaguered hardware groups at Amazon, Google, Microsoft, Samsung, and Xiaomi, who don't report any unit numbers -- all things these same reporters never call attention to.
Supply chain ignorance has even come full circle, with
Barrons
already
recommending
that
investors flea Apple and load up on Lumentum stock
, because "Apple
only accounts
for 30 percent of Lumentum sales." Again, that "30 percent" is
Bloomberg
data from last year, back when Lumentum was making VCSELs for the world's most popular smartphone.
Wait, now Lumentum is doing well and has limited exposure to Apple
What does Apple have to hide?
Those "bad news pile" reports also ignore all of the real data we actually have on demand for new iPhones in China, including sales reports from the Alibaba platform on
Singles Day
that noted Apple's iPhones took the top spot and outsold Huawei and Xiaomi on the shopping holiday.
Further, Apple itself just reported a 16 percent increase in revenues from Greater China during the quarter that ended in September, despite intense competition from domestic brands selling phones with average selling prices around $200 in an industry where unit sales are dropping overall.
Rather than having "something to hide," Apple provided guidance for a record-setting holiday season this quarter. On its November 1 conference call, Apple's chief financial officer Luca Maestri stated "we have the strongest lineup ever as we enter the holiday season and we expect revenue to be between $89 billion and $93 billion, a new all-time record."
The primary fear-based attacks on Apple pertain to speculation that iPhone sales might suddenly dry up if the world ever realizes that there are much cheaper Androids available to buy, as if that hasn't been the case since 2010, or if buyers fail to stay impressed with Apple's work (which wasn't a problem back when the company was delivering boring or simply disappointing products like iPhone 4S or iPad 3).
This negative speculation is targeted specifically at iPhone because phones make up most of Apple's revenues. However, while Apple will stop detailing the unit sales of iPhones, it will continue to report iPhone revenues. If there were any real problem with iPhone sales, it would obviously be evident in the data Apple will continue to supply. Anyone correlating the end of unit sales reporting with "hiding poor sales" is either not very smart or simply working to stir up lies.
Not the first time
Apple has previously changed the way it reported its sales, combining portables and desktops into a single Mac category, suspending unit sales reporting for iPods, and introducing some new product categories without ever reporting how many sold, notably including Apple TV, Apple Watch, AirPods and HomePod.
However, the lack of data from reduced unit reporting is clearly not aimed at hiding failure. As the next article in this series will show, Apple has incurred greater problems from sharing quarterly unit data than it has from keeping that data private.