Hands on: Boosted's flagship electric skateboard, the Stealth
Posted:
in iPhone
edited May 2019
We're taking an adventurous turn here at AppleInsider by checking out an iPhone-connected gadget you can ride: Boosted's top-of-the-line electric skateboard, the Stealth.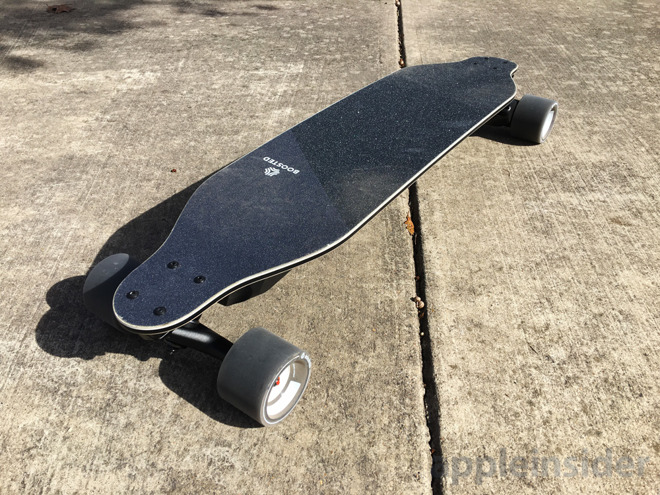 Boosted debuted on Kickstarter six years ago, and in 2014 launched its first three board models. Since then -- helped in no small part by hype from YouTube celebrities like Casey Neistat -- the company's boards have become some of the most sought-after, challenged mainly by the likes of Onewheel and Evolve.
Boosted's products are now in their third generation, characterized mainly by the company's switch to in-house parts such as the trucks and deck, and the addition of two smaller boards, the Mini S and
Mini X
.
The
Stealth
is a longboard like previous Boosted boards, but no longer uses a bamboo deck, instead turning to a composite design combining poplar, fiberglass, and foam. The company has also reinforced the edges to reduce wear, and done away with a mid-section taper -- the result is a flexible yet pretty sturdy-feeling board with more foot space. Other upgrades include metal pulleys and wider, Boosted-made 85-millimeter wheels.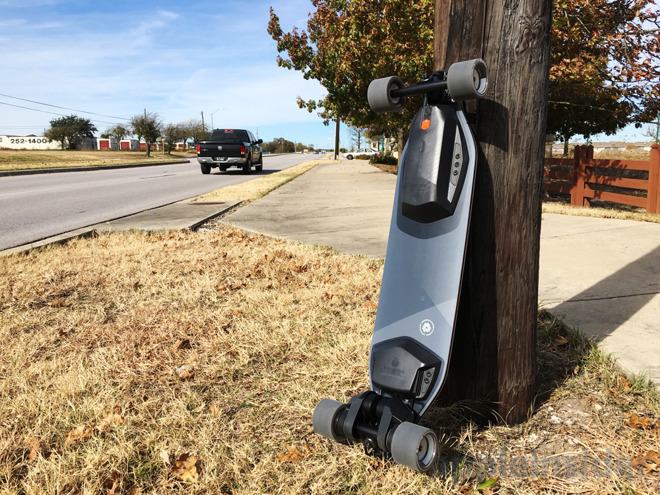 As someone with relatively little skateboard experience, these changes made me feel a little more confident in stepping on, especially since the Stealth starts out in a "Beginner" ride mode that caps speed at 11 miles an hour and stops you from attempting hills. Make no mistake though: unless you've been on an electric skateboard before, expect to take several days learning how to comfortably balance and carve. You'll also want to wear a full assortment of safety gear, not just a helmet, until riding becomes second nature.
It'll be a little while before I can test another feature, Hyper Mode. This is an option exclusive to the Stealth, with even more acceleration than the Boosted Plus and a top speed of 24 miles per hour. From what I've seen online only the brave need apply, and it comes at the cost of battery life -- while the board can otherwise last up to 14 miles, that figure gets cut in half.
The
Boosted iPhone/iPad app
lets you estimate range, update firmware, and track and share rides. You also get an odometer, and notifications when a board is finished charging. None of this is strictly necessary.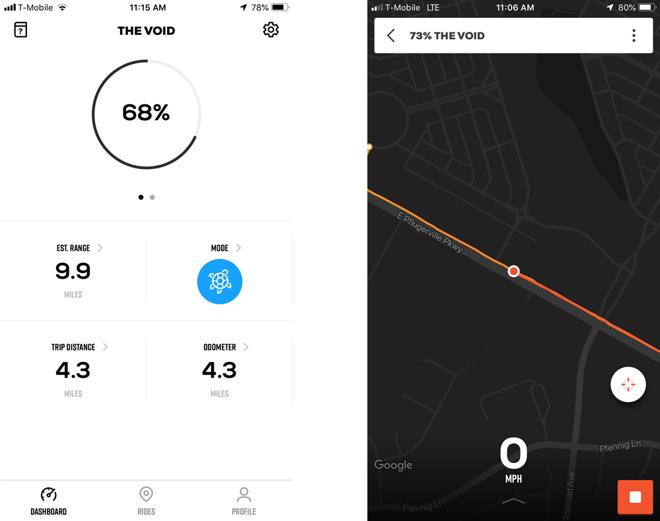 If you have an Apple Watch you can check speed and battery percentage on the fly. I should say that you'll need to load the app before you start riding, and in practice I found that I was often too focused on balance or steering to safely raise my wrist.
Keep following
AppleInsider
in coming weeks for a full review, including video of the Stealth in action.