Review: Kingston Bolt is an easy way to add extra storage to your iPhone or iPad
Posted:
in iPhone
edited January 2021
Kingston Bolt is a dual-purpose Lightning/USB drive that effortlessly allows you to store or backup photos and videos from a compatible iOS device.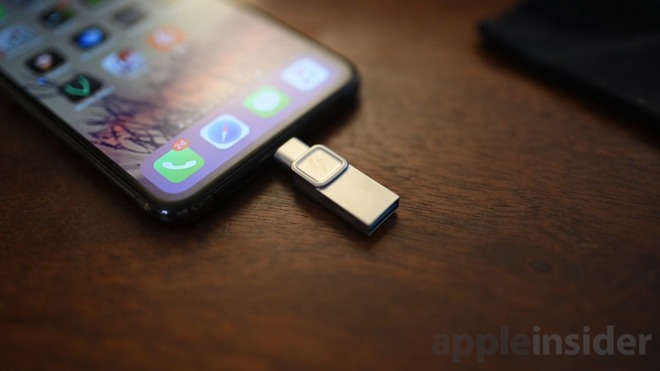 Kingston Bolt flash drive
An all-too-common problem
Apple has taken some flak for its decision not to include much storage on entry level devices, often requiring users to make tough decisions on what to keep and what to delete.
Also a factor is the fact that many users don't necessarily trust cloud storage with their precious photos, which means they need some form of physical backup for safe keeping. Manually backing up to your Mac is an option, but that requires proximity to a desktop which isn't always convenient.
The situation has given rise to accessories like Bolt, which have started to crop up as users look to aftermarket storage alternatives.
Metal doohickey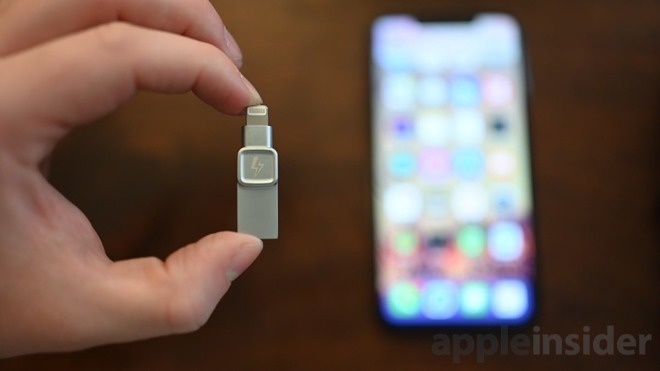 Kingston Bolt Lightning and USB-A
Bolt is a minute, metal device with an Apple-certified Lightning connector on one end and a USB-A port on the other. Going from your computer to iPhone or iPad is easy -- assuming your Mac or PC still has USB-A hanging around.
There's no USB-C here, which means the new iPad Pros aren't invited to play, and neither are the latest Macs (at least without an adapter).
The native app
When first plugged into your iPhone, an alert appears asking you to download the Bolt app. Unfortunately, iOS can't handle drives directly, hence the third-party app requirement.
After launching the app, and making sure Bolt is connected, a pleasant-looking dashboard is presented, complete with a pair of graphs highlighting the amount of remaining storage on the local device and the connected Bolt.
Kingston gives you three actions to take: shooting footage straight to Bolt, moving files to Bolt or viewing the files on Bolt.
Moving photos and videos over is as easy as you would imagine; simply choose a folder or album and select the assets you would like to store on Bolt. You can then delete the local files or keep them as a backup.
Alternatively, you can film or shoot pictures directly to Bolt, cutting out the intermediate step of storing them -- even temporarily -- on your iPhone. This is a great feature, especially if you plan on shooting a ton of footage.
The downside of shooting directly to Bolt is that you are limited to 4K at 18fps, 1080p at 30fps, or 720p at 30fps. Natively, there are many better filming options.
Wanting more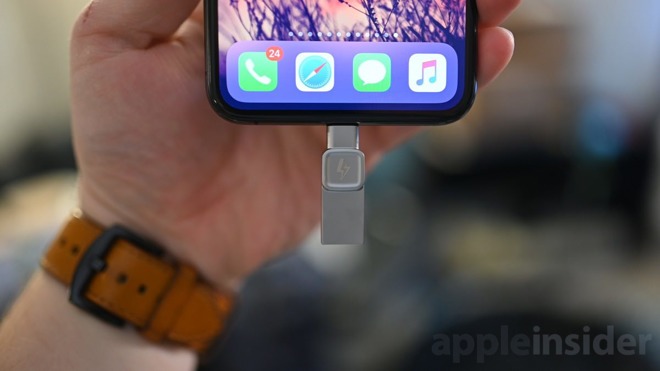 Kingston Bolt
Using the Kingston Bolt app is easy and painless, but does highlight the needs within iOS for direct-interfacing with external storage. You can't, for instance, access the Bolt's storage directly from the Files app.
This shortcoming isn't Kingston's fault, who is trying to make the best of a bad situation. That said, the Bolt app is a well implemented solution working with iOS's walled garden.
Rating: 3.5 out of 5
Where to buy
If you find yourself bumping against the storage limits of your iPhone and could use Kingston's help, you can find the Bolt on
Amazon starting at $34.99
for the 32GB version, with 64GB and 128GB capacities available.