Declining iPhone sales in India is a sign Apple is failing to adapt its business
Apple has found India to be a difficult market to crack, with shipments of the iPhone reportedly slipping in the market as it struggles to compete against cheaper rivals in the country.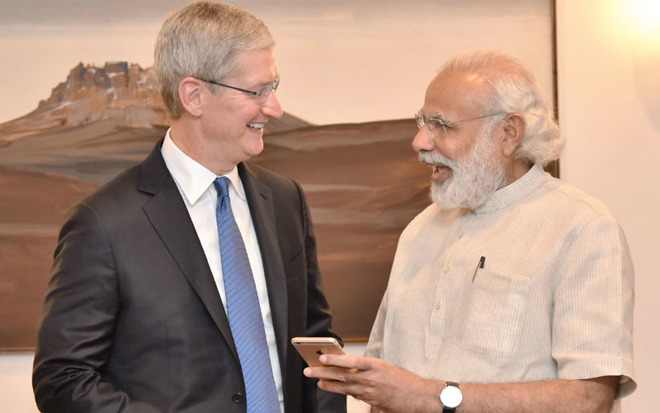 Apple CEO Tim Cook with India's Prime Minster Narendra Modi
According to data from research firm Canalys, iPhone shipments in India have dropped 40 percent so far in 2018 when
compared with 2017
, with Apple's small 2 percent market share estimate from last year shrinking down to
1 percent
.
Revenue from the market is also less than desired, according to
sources
of the
Wall Street Journal
familiar with Apple's targets, with the $1.8 billion in revenue for this fiscal year less than half what was hoped to be reached by company executives. "It's been a rout," Canalys analyst Ishan Dutt advised to the report.
India has a considerable amount of growth space available for the smartphone market compared to other major markets, where sales have stagnated. It is believed only 24 percent of the 1.3 billion potential customers in the country own smartphones, with the number increasing fast.
Apple's reportedly tiny market share is attributed by the
Wall Street Journal
to the company's reluctance to change its products for the Indian market, the report claims. While rivals bring down the cost of their smartphones to a level that can be easily acquired by customers, as well as tweaking their products to meet consumer concerns, Apple instead opts to continue selling its iPhones at the same price as other global markets, allowing itself to be undercut.
As an example,
OnePlus
has acquired a 30-percent share of the premium marketplace, according to data from Counterpoint, whereas Apple occupies 25 percent of the same market. It is claimed OnePlus' focus on improving battery life for the market helped with its marketing in the region.
The 2018 sales are apparently a reversal of fortunes for Apple in the country, which it had offered products in since 2008. Sales in India grew along with the iPhone's popularity in other countries, with people familiar with the company's strategies noting initial sales were pushed towards affluent customers before broadening to entice middle class users. By 2011, Apple had $100 million in annual revenue from iPhone sales in India, which grew to more than $1 billion by 2015.
The potential for the emerging market was noted by Apple CEO Tim Cook and other executives, producing a five-year plan to make India the next growth market and to raise annual sales to $5 billion by 2020.
Despite the company's intentions, its operations in India have encountered numerous hurdles in recent years, hampering its progress towards the $5 billion goal. A major goal was the ousting of
three high-level sales executives
in June as part of a restructuring, with former Nokia executive
Ashish Chowdhary
poached by the company to head up the operation in November.
Reports in October suggest Apple could be hit by a
luxury goods tax
designed to discourage the importation of goods such as the iPhone. Though it could evade the measure by performing more production with
Wistron
, an assembly partner it already works with for some models destined for sale in the local market, it is likely that some devices will continue to need to be imported into the country.
Apple also has intentions to expand its retail presence to include its first corporate-run stores in the country, rather than relying on resellers, but it has so far failed to receive permission to open the stores over
product sourcing rules
. In August, plans were apparently underway to open five or six
independently run
"outlets," but little has been revealed about the proposals since then.