Munster predicts Apple to outperform FAANG stocks in 2019
Longtime Apple analyst Gene Munster on Wednesday issued predictions on the 2019 tech stock landscape, saying Apple will outperform its fellow FAANG (Facebook, Amazon, Apple, Netflix and Google) investment options on the back of a growing services business and consumer-minded company ethos.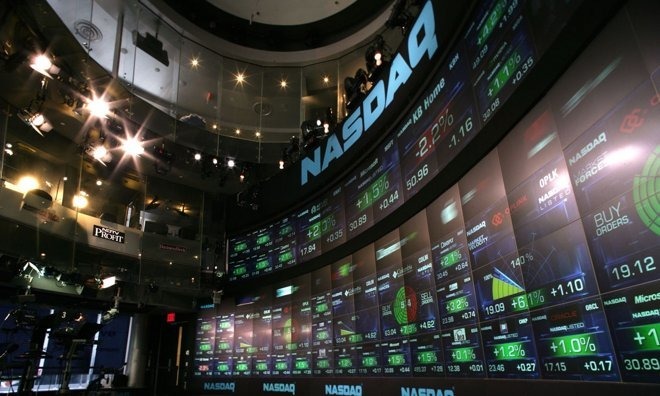 Nasdaq Stock Market
Munster detailed expectations in a post to the Loup Ventures
website
, noting Apple is well positioned to lead FAANG stocks after a tumultuous 2018.
Apple is expected to rise as three major themes emerge during its current fiscal year: continued healthy returns on services, headwinds for rival FAANG firms and an indirect boost from the coming rollout of 5G wireless technology.
Like other industry insiders, Munster predicts Apple's services will play a key role in the company's future success. Comprised of the App Store, Apple Music, iTunes, iCloud, Apple Pay, digital content, licensing and other services, the catchall "Services" category has enjoyed accelerated growth over the past year. During the last quarter, for example, services revenue
jumped 27 percent
year-over-year to hit a new all-time high of nearly $10 billion.
Munster believes Apple's new
reporting methodology
, which strips out iPhone, Mac and iPad unit sales figures, will help investors focus on the booming services category.
"This greater confidence in revenue and earnings visibility should be positive for AAPL's multiple as well," Munster writes.
As Loup analyst Doug Clinton points out in today's post, 2019 will see the institution of government regulations pertaining to consumer data usage. A series of data breaches and subsequent investigative reports in 2018 led to scrutiny of aggregation and monetization practices driving revenue for firms like Facebook and Google.
In particular, Facebook's
Cambridge Analytica scandal
sparked concern that some tech companies are mismanaging -- or misusing -- potentially sensitive user data for corporate gain. Europe has taken steps to address the issue with its General Data Protection Regulation (GDPR) policies, a first attempt to massage data sharing guidelines into law.
The U.S. Congress is expected to discuss the issue in 2019, potentially culminating in regulations that impact the businesses of Amazon, Facebook and Google. Apple, with its very public stance on a consumer's right to privacy, should remain relatively unscathed from fallout relating to a user data crackdown.
Apple CEO Tim Cook has denounced data sharing business models like those championed by Facebook. Speaking on the topic at the 40th International Conference of Data Protection and Privacy Commissioners in Brussels in October, Cook coined the term "
data-industrial complex
."
"Our own information is being weaponized against us with military efficiency," Cook said, adding, "We shouldn't sugar-coat the consequences. This is surveillance. And these stockpiles of personal data only serve to enrich the companies that collect them."
Finally, Munster sees the imminent launch of 5G services as a boon for iPhone, Apple's biggest money maker. Carriers in the U.S. are currently building out the infrastructure necessary to support ultra-fast 5G speeds, with Verizon and AT&T both anticipating limited availability in early 2020.
"5G will be the biggest new iPhone 'feature' since the larger-screen iPhone 6 in 2014," Munster writes.
Verizon was first to market with a bespoke 5G Home solution
in October
, while AT&T flipped the switch on a standards-based mobile network in 12 cities
this month
.
Smartphone manufacturers are also preparing to join the 5G revolution. Verizon expects Samsung to bring a 5G-compatible handset
in the first half of 2019
, while Qualcomm anticipates every Android maker to
field a 5G model
by the end of next year.
As with past wireless standard introductions, Apple is taking a "go slow" approach and is not expected to release a 5G iPhone
until 2020 at the earliest
.
Munster's predictions arrive as Apple stock ticked up 7 percent in a slight rebound from steep drops attributed in part to less-than-rosy reports of weak iPhone demand. FAANG stocks in general took a beating over the past few days as a bearish December market took its toll, though the slump appeared to lift on Wednesday. AAPL hit $157.17 at the bell, up $10.34 from the previous day's close.