Newly-founded Texas firm sues over Apple Pay's virtual wallet
An Austin startup, Fintiv, is suing Apple over a patent covering virtual wallets such as the one core to Apple Pay.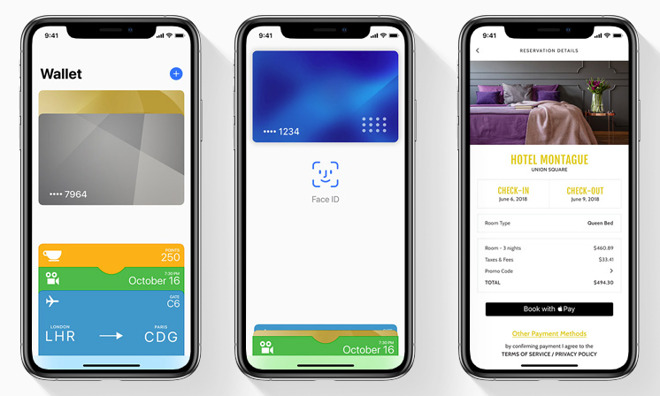 The patent was acquired from South Korea and covers "management of virtual cards stored on mobile devices," including "provisioning a contactless card in a mobile device with a mobile wallet application," according to Fintiv's complaint filed with the U.S. District Court in Waco, spotted by
Patently Apple
. Apple is
allegedly
infringing three claims in the patent by way of iPhones, the Apple Watch, and the iOS Wallet app.
Fintiv
was founded just this year, but already claims to have 5.4 million people on its mobile payments and marketing platform, available in 12 languages and 60 countries. The company is pursuing "monetary damages and prejudgment interest" for Apple's "past and continuing infringement" of the wallet patent.
Apple is
regularly targeted
by patent lawsuits, many of them by "trolls" -- firms that own the rights to one or more patents but don't actually develop any products with them, instead depending on legal actions and/or licensing agreements to make money.
The biggest ongoing fight though involves chipmaking giant Qualcomm. That took a turn against Apple recently when China
imposed an injunction
against some iPhone sales. In response, Apple took the rare step of
preparing a software update
to sidestep infringement.