Three iPhones likely coming in Sept. 2019, with one a refresh of the LCD iPhone XR
Apple will produce another iPhone with a LCD display in its 2019 refresh alongside OLED-based models, but LCD might get dropped in 2020 in favor of OLED across the board.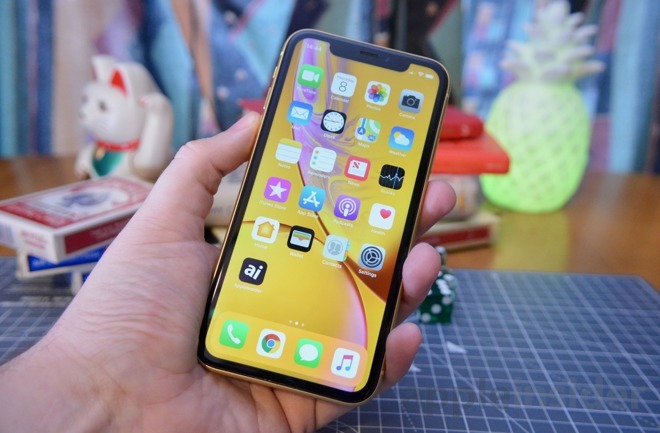 The iPhone XR's LCD display is good, but not as great as the iPhone XS' OLED version
Apple first tested out the use of an OLED display in an iPhone instead of LCD in the iPhone X, and while the iPhone XS and iPhone XS Max both use OLED, Apple persisted with LCD for the lower-cost iPhone XR. However, while the
supposedly-disappointing sales
of the iPhone XR has caused analysts to seemingly declare it a failure, Apple may be persisting with the iPhone XR's display for one more iteration.
According to sources of
the
Wall Street Journal
, the 2019 iPhone release roster will again be made up of three models. Of the three, one is said to be a successor to the iPhone XR alongside two with OLED, similar to the 2018 iPhone product lineup.
The underwhelming reception of the iPhone XR has led to Apple considering the possibility of dropping the option for an LCD-based model entirely, claims report sources, which would result in a complete shift to using OLED displays for the iPhone range.
One reason for including an LCD display in the 2019 lineup is that Apple's project planning has progressed to a point where major features, like the display, cannot be easily changed, even though planning has not yet completed. The 2020 models are at an earlier stage of planning, and so can more easily be revised and the technology removed.
The use of LCD in the iPhone XR helped allow Apple offer an edge-to-edge iPhone similar to the iPhone X and with the majority of the specifications of its OLED counterparts, but at a significant discount. While cheaper, LCD does offer some drawbacks, such as the difficulty of decreasing the size of the bezel compared to OLED, backlighting increasing the thickness of the device, and that OLED is capable of far superior contrast levels.
Current plans for the OLED models allegedly focus on adding new camera features, such as a triple rear camera setup for the highest-specification model. The other two models will have a dual-camera assembly, meaning the iPhone XR followup will gain one more camera on the back.