Apple earns $84.3B in revenue as iPhone earnings declined 15 percent in 2018 holiday quart...
Apple's revenue for the first quarter of the 2019 fiscal year reached $84.3 billion, just as the company advised earlier in January in a revised down forecast, financial results revealed on Tuesday, with earnings per share increasing year-on-year to $4.18.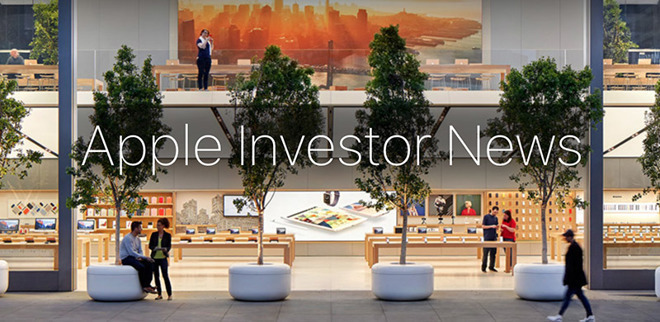 The reported revenue isn't as high as the record $88.3 billion reported
last year
, which was accompanied by an earnings per share of $3.89 at the time. This year's figures represent a year-on-year decline of 5 percent on revenue and an increase of 7.5 percent on earnings per share.
The company revealed iPhone revenue sat at $52 billion, down 15 percent year-over-year, but highlighted an overall growth in total revenue of 19 percent. In line with recent trends, Services revenue continued to skyrocket, with the segment touching an all-time high of $10.9 billion, up 19 percent from the year prior. Mac revenue hit an all-time high of $7.4 billion, growing 9 percent year-over-year, while the "wearables, home and accessories" category reached $7.3 billion, up 33 percent from 2018. Revenue from iPad also grew to $6.7 billion in the first quarter, up 17 percent year-over-year.
"While it was disappointing to miss our revenue guidance, we manage Apple for the long term, and this quarter's results demonstrate that the underlying strength of our business runs deep and wide," said Apple CEO Tim Cook. "Our active installed base of devices reached an all-time high of 1.4 billion in the first quarter, growing in each of our geographic segments. That's a great testament to the satisfaction and loyalty of our customers, and it's driving our Services business to new records thanks to our large and fast-growing ecosystem."
Apple had taken the unusual step of warning about the revenue miss in advance on
January 2
, anticipating revenue of around $84 billion instead of the original expected $89 billion to $93 billion range forecasted in November. Following that letter to investors from CEO Tim Cook, the stock was battered by investors while analysts expressed their concerns about the unexpected revenue drop.
Ahead of the release of the results, the Wall Street
consensus
tipped for an EPS of around $4.17, with analysts predicting relatively similar figures.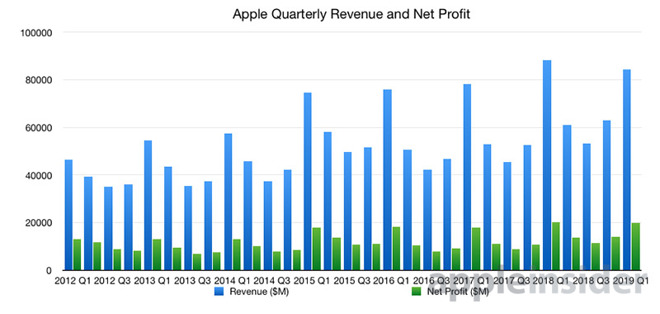 This quarter's results are the first under a new policy where Apple no longer provides
sales figures
for iPhone, Mac, and iPad on a regular basis. While Apple will continue to report sales growth, revenue, and guidance, it will not allow for the calculation of device average selling prices (ASPs) and other statistics used by observers to analyze the performance of the company and its products.
While the general reporting of unit sales is ceasing, Apple will still provide some information on its main product lines.
Apple is forecasting revenue between $55 billion and $59 billion for the second fiscal quarter of 2019, with gross margin estimated at between 37 percent and 38 percent. Operating expenses are expected to lie between between $8.5 billion and $8.6 billion, while a tax rate of approximately 17 percent is anticipated.