Notes of interest from Apple's Q4 2018 earnings report and conference call
Following the publication of its first fiscal quarter of 2019 results, encompassing the holiday season, Apple provided additional detail surrounding the decline of sales in China, as well as more information about the Services business in an earnings conference call.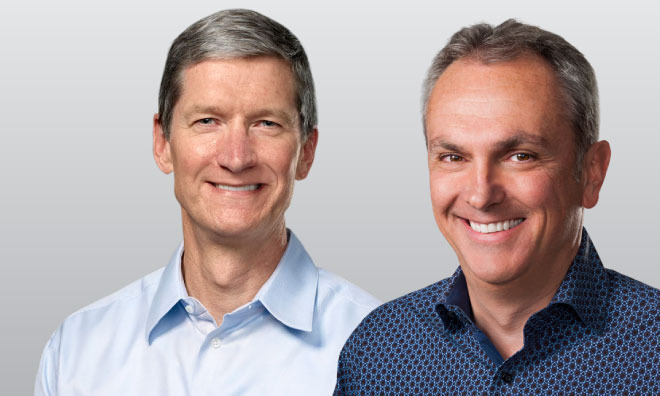 Apple CEO Tim Cook and CFO Luca Maestri
The numbers
: Apple's revenue for the first quarter of the 2019 fiscal year hit $84.3 billion for the crucial holiday quarter, and Apple has for the first time broken out more details of the Services component.
Participating in Thursday's call were Apple Chief Executive Tim Cook and Chief Financial Officer Luca Maestri.
Highlights from the call
Apple posted quarterly revenue of $84.3 billion, a decline of 5 percent from the year-ago quarter, and quarterly earnings per diluted share of $4.18, up 7.5 percent.


International sales accounted for 62 percent of the quarter's revenue.


Services revenue reached an all-time high of $10.9 billion.


1.4 billion active devices.


Apple's board of directors has declared a cash dividend of $0.73 per share of the Company's common stock.


Revenue from iPhone declined 15 percent from the prior year, while total revenue from all other products and services grew 19 percent.


Revenue from Mac and Wearables, Home and Accessories also reached all-time highs, growing 9 percent and 33 percent, respectively.


Revenue from iPad grew 17 percent.


For FY2019 Q2, Apple is predicting revenue between $55 billion and $59 billion.


Observation: AAPL is up $5 on the news, nearly instantaneously


China dropped 26.7% YoY from last year. Europe down 3.3%, Japan down 4.5%, US up 5.0%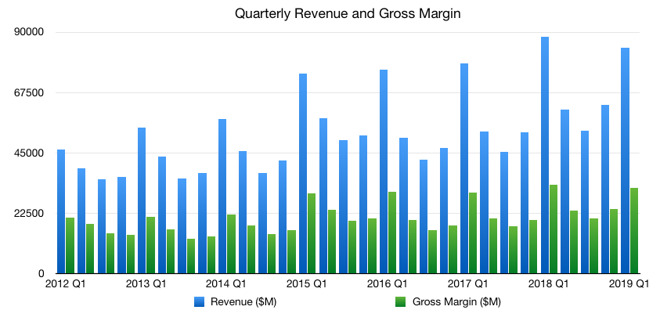 Apple's fiscal first quarter 2019 quarterly revenue and gross margin
Research and development is up $500 million from the year-ago quarter


Net income is $100 million less than the year-ago quarter, at $19.965 billion versus $20.065 billion


Apple CEO Tim Cook to CNBC on January so far: "As we got into January, things have improved...from where they ended in December and that gives us some optimism. Of course you don't know what will continue but I would also point out that seems to map to trade tension as well, that there is a bit more optimism in the air in January, or certainly I feel that anyways. I'm encouraged by the comments coming out of both countries."


Cook to Reuters on January so far: "When you look at foreign currencies and then particularly those markets that weakened over the last year those (iPhone price) increases were obviously more. And so as we've gotten into January and assessed the macroeconomic condition in some of those markets we've decided to go back to more commensurate with what our local prices were a year ago in hopes of helping the sales in those areas."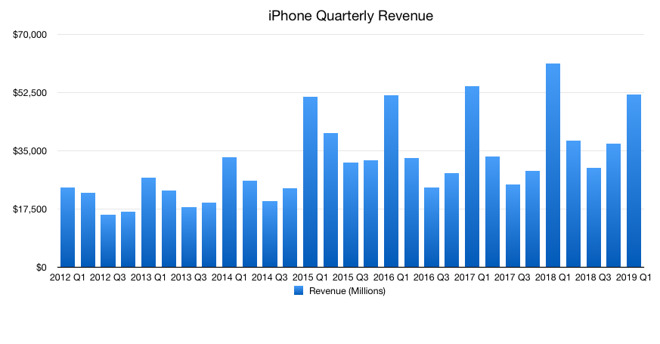 Quarterly iPhone revenue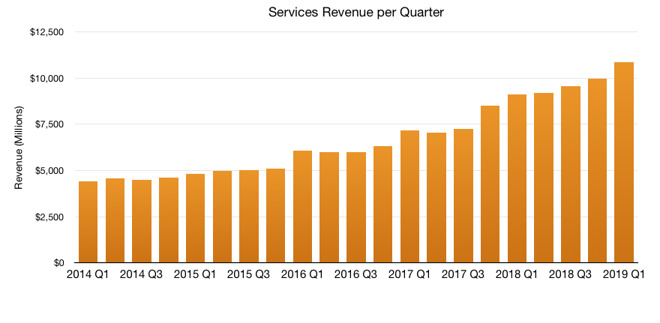 Services revenue over time
Cook: More than 2/3 of customers in China with an iPad or Mac were buying for the first time.


Cook: Business in China on a year-over-year comparison is up.


Cook: Outside of iPhone, business grew by 19%.


Cook: Three factors to iPhone sales volume drops: Foreign exchange, subsidies less common internationally, battery replacement program.


1.3 billion active devices in beginning of January 2018 grew to 1.4 billion at end of December 2018.


Highest quarterly music revenue ever, with 50 million paid subscribers.


$322 million spent on App Store on New Years Day alone.


1.8 billion Apple Pay transactions in the holiday quarter.


Deutschebank reports more Apple Pay activations in Germany in a week, comparable to any Android service in a year.


33% in wearables, home, and accessories, with 50% growth in wearables alone.


Cook on keys to success: satisfied customers, growing and strong install base, culture of innovation.


Cook "Confident as ever in the fundamental strength of our business."


Apple Chief Financial Officer Luca Maestri: Products gross margin 33.4%, Services 62.8%


Maestri: 900 million iPhones active currently, growth of 75 million in last year alone, this data point will be updated periodically


Maestri: On track to double 2016 services revenue by 2020.


Maestri: Over 360 million paid subscriptions across App Store, increase of 120 million from year ago


Maestri: Largest of 30,000 subscription apps, largest is 0.3 percent of revenue from subscription apps (likely Netflix - MW)


Maestri: Half of both Mac, iPad purchasers in the holiday quarter were new to the hardware


Maestri: Wearables approaching Fortune 200 company status


Maestri: iPhone trade-ins doubled YoY


AppleInsider observation: AAPL is up almost $10 halfway through the conference call


Question and answer time!


Q: context for slight growth rate reduction in Services.


Maestri contextualizes, amortization of free services now under Services, and was previously under "Products." Reclassification reduces growth rate.


Reclassification is about 1/3 of the deceleration of growth. Without reclassification, growth rate is 24.3 percent, versus 19 percent reported


Holdup on review of games in China caused impact to Services as well


Q: How does economy, share price impact stock buyback?


Maestri: Buyback continues in a "rational" fashion. "Optimistic about out future, and think there is great value in our stock."


March earnings report will add more detail to stock buyback future


Q: What has Apple learned about iPhone price elasticity, based on complaints of high pricing


Cook: In essence, pricing is comparable to 2017 releases in the US. Foreign exchange is a problem.


Cook: In January, in some markets, part or all of foreign exchange absorbed by pricing changes


Cook: "Yes, price is a factor" and "In some markets ... the subsidy is the bigger of the issues in the developed markets"


Q: Request for more information on iPhone average selling price year-over-year was effectively denied.


iPhone XR most popular, followed by XS Max, then XS.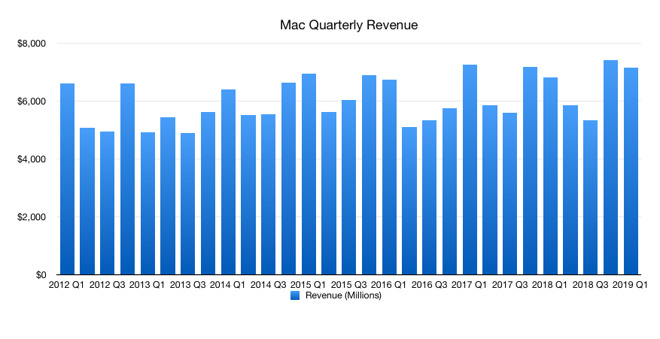 Revenue from the Mac over time
Q: Will device longevity increase over time, given Apple's policies?


Cook: Hand-me-downs and trade-ins are a result of device longevity, "Making a great product that is high-quality is the best thing for the user"


Q: What's driving Services growth and gross margins?


Maestri: Services is a business that is growing nicely, good support from scale. Broad portfolio of services, with different margins inside


Q: What about video? Content plus iTunes on Samsung TV


Cook: "Huge changes in customer behavior taking place now, and we think it will accelerate as the year goes by" in regards to thin bundling


Cook: "We're going to participate in that in a variety of ways."


Cook cites Apple TV and AirPlay 2 to get into that kind of thing, plus third-party subscription revenue


Cook on original content: "We will participate in the original content world" -- but not extending that conversation today
Apple concluded the call at 5:58 P.M. Eastern Time. Coverage of the earnings results and conference call will continue on
AppleInsider
for the remainder of the week.