Apple will return to $1 trillion valuation with video & services bundle, says Morgan Stanl...
Morgan Stanley's Katy Huberty suspects that a comprehensive media bundle including Apple's video offering and a rumored News subscription service will continue to drive Services forward, and return the company to a $1 trillion valuation.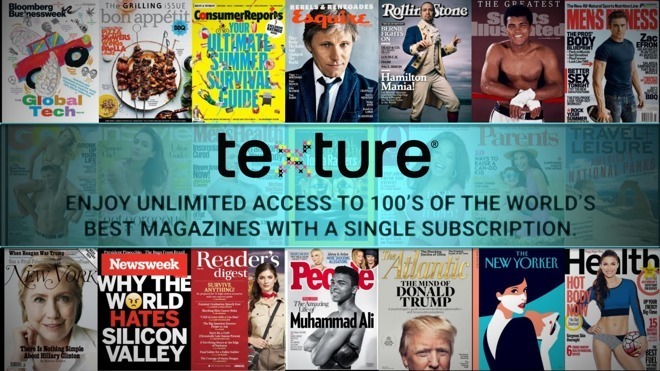 Apple's Texture is expected to anchor a renovated News subscription service
In a note seen by
AppleInsider
, analyst
Katy Huberty
expects that Apple will introduce a "media bundle," including video, Apple Music and a
renovated News app
including what is presently offered in the Texture magazine subscription service. Huberty believes that it will drive 5 percent revenue growth, and 12 percent earnings per share annually through 2023.
Huberty also expects that the iPhone will return to growth shortly, as highlighted in the earnings call. Apple briefly commented on January's sales figures, and the company took steps to assist demand in some markets by altering iPhone prices so that they are closer to U.S. valuation of the devices.
"iPhone replacement cycles now stand at mature levels suggesting a stabilization of growth is in the cards over the next year," wrote Huberty of Apple CEO Tim Cook's remarks. "Management's commentary that demand improved in January is similarly encouraging."
The stock buyback program is also expected to continue, with Huberty predicting an expansion of the program. Huberty is expecting to see a "more active buyback program." This, coupled with a better understanding of "the stabilization path for iPhone and impact of new services" will also help to drive Apple's valuation back up to $1 trillion.
The most recent note from Morgan Stanley isn't Huberty's first remark about Apple's services business. Most recently, Huberty in November predicted much the same, emphasizing that Apple's course to growth in a
contracting global hardware market
is in services. Apple's "more engaged iOS user base and broadening portfolio of Services," versus its competitors makes Huberty confident that Apple will sustain 20 percent annual growth over the next five years overall, supported by Services.
Huberty still expects $101 billion in Services revenue alone in calendar year 2023 -- a marked increase from the fiscal year 2018 revenue of $37.2 billion. For comparison, in fiscal year 2018, Apple sold $112 billion in iPhone hardware in the U.S. alone.
Over the last six quarters, the firm has accurately predicted Apple's Services revenue growth, doing so with far more precision that counterparts. On the other hand, Rosenblatt and Merrill Lynch have under-estimated Services revenue for the last several quarters.
Apple's future moves in services include a number of video efforts, with a suspected growth of video content budgeting swelling 54 percent every year through 2022 up to
$1 billion in total
. Any video on demand service anchored by these videos is expected to have a head start with about 75 million subscribers, according to recent predictions on the matter.