Apple to acquire voice app firm PullString in deal worth below $100M, report says
As part of a larger push into voice recognition and artificial intelligence technology, Apple has reportedly agreed to purchase PullString, a San Francisco startup focused on the development and publication of voice apps for Amazon's Alexa, Google Assistant and "internet of things" hardware.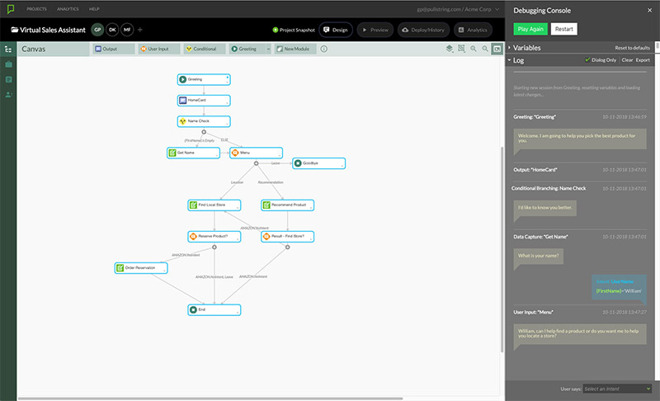 PullString Converse's conversational "AI canvas."
Citing sources familiar with the matter,
Axios
reports Apple's deal with PullString is worth
under $100 million
, though executives have the potential to gain larger payouts. As with most Apple acquisitions, the PullString deal is believed to target talent and technology, which in this case involves voice apps.
Formerly known as ToyTalk, PullString was founded by former Pixar executives in 2011 when voice-powered applications were still a novelty. Specifically, the firm's main product, Converse, is a voice design and artificial intelligence tool that allows customers to create "expressive apps" with custom voices and advanced sound design, according to its
website
.
Converse saw initial integration in toy designs from Mattel, including interactive Hello Barbie and Thomas the Tank Engine products. More recently, however, PullString moved into IoT devices with a focus on virtual assistants like Alexa and Google Assistant. The current generation of PullString Converse enables users to build out customizable, conversational interactions with users, a feature that Apple's own Siri product lacks.
A list of successful Converse integrations on PullString's website includes integrations like trivia and quiz experiences, choose your own adventure games, voice-enabled FAQs and customer support experiences aimed at troubleshooting product issues before escalation to a human operator.
What Apple has planned for PullString is unknown, though the firm's past endeavors strongly suggest Converse technology will be applied to bolster Siri's feature set. Whether that strategy involves a more developer accessible Siri is unknown, but the technology behind Converse would imply support for outside parties is a distinct possibility.
Despite being first to market with a voice assistant, Apple's Siri solution has in many ways been surpassed by open platforms like Alexa and Google Assistant. An abundance of voice apps -- called Alexa Skills by Amazon and Google Actions by Google -- powered by AI backends presents users of competing platforms access to a vast array of functions and services. Siri, on the other hand, is viewed by many as wanting.
Converse could help change existing perceptions by presenting developers the requisite tools to build advanced Siri-compatible apps. Alternatively, Apple could use PullString's toolset to help its own Siri software engineering team bake unique first-party functions into hardware interfaces like iPhone and HomePod.