Group FaceTime bug prevents adding more users to an existing one-on-one call
Posted:
in iOS
edited February 2019
Apple's patch to close an exploit in Group FaceTime is only partially successful, as some users are reporting the service is preventing them from adding more contacts to a FaceTime call that is already in progress, an issue that Apple seemingly knows about.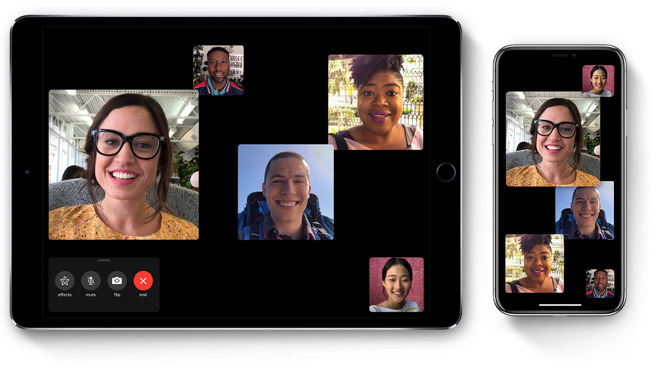 Apple's iOS
update to 12.1.4
largely consisted of a bug fix for a widely-publicized
Group FaceTime exploit
. While the update effectively re-enabled the feature, with iPhone and iPad users able to set up Group FaceTime calls once again, not everything appears to have been solved by the patch.
It has been found that, while users can commence both standard two-person FaceTime calls and Group FaceTime calls of three or more people, in some cases it is not possible to switch from a FaceTime call to a Group FaceTime version. In some cases, the option to "Add Person" is not available during a FaceTime call, preventing the addition of more participants to a call.
Affected users are still capable of commencing a Group FaceTime call with multiple other contacts, but shifting from a one-to-one call to one with more than three people taking part is seemingly failing.
A reader of
MacRumors
has
reportedly received a confirmation from Apple Support that it is a known issue, but with no timescale for a fix.
Posts
from Apple's Twitter-based support also mention the limitation switching between FaceTime and the Group version.
As the issue doesn't directly prevent Group FaceTime from being used and is less severe in nature, unlike the exploit, it is probable that Apple will release an update for iOS resolving the issue, albeit at a less urgent speed. It is plausible a fix could arrive as part of iOS 12.2, which is currently undergoing the beta testing process.
The exploit, discovered in January, enabled users to eavesdrop upon a contact using the Group FaceTime system, without any need for the extra participant to pick up the call before audio and even video is transmitted. Apple quickly
disabled the feature
before creating the patch, and has
rewarded
the teenage discoverer of the bug via the company's bug bounty system.
The emergence of the bug has
prompted lawsuits
, including one claiming a lawyer was taking a deposition.