Benchmark showdown: Samsung Galaxy S10+ versus iPhone XS Max
Posted:
in iPhone
edited August 2019
Samsung's latest and greatest Galaxy S10+ is on our test bench, so we pitted it against Apple's flagship iPhone XS Max to see which phone takes the crown in our a benchmarking showdown.
Apple's iPhone XS Max is now around six months old, but it still has impressive specs. Inside the iPhone is Apple's A12 Bionic processor and 4GB of RAM.
The
Galaxy S10+
is using an eight-core Snapdragon 855 processor in the US, and is packing 8GB of RAM.
We ran a slew of different benchmarking tests with both phones, designed to test everyday performance, the limits of the GPU, browser capabilities, and more.
The tests
Starting off, we jumped into Geekbench 4 which runs a battery of tests to simulate real-world tasks. Apple's iPhone XS Max pulled well ahead in the single core with 4828 against the S10+'s 3426 but was edged out by the Galaxy S10+ in multicore where iPhone earned 10355 against the Galaxy's 10466.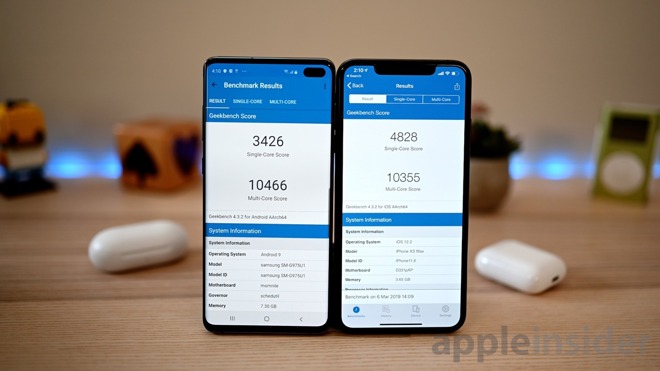 Samsung Galaxy S10+ and iPhone XS Max Geekbench 4 results
For comparison, our S9+ earned 2007 and 8307 on the single and multi-core tests respectively.
We then moved on to the AnTuTu benchmarking test. The iPhone XS Max was handily beaten by the Galaxy S10+ in total score, and most of the individual tests. The S10+ earned a 362392 against the iPhone's 313461. Apple's handset did manage to win one category, beating the Galaxy in RAM usage.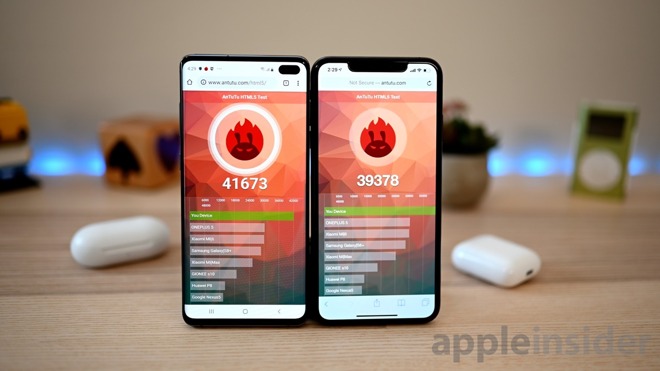 Samsung Galaxy S10+ and iPhone XS Max AnTuTU HTML5 results
Jumping into the browser, we ran the AnTuTu browser JavaScript benchmark. As we were running the test, we knew the iPhone would lose out. Many of the in-browser animations were jumpy or slow on the iPhone where they were smooth on the S10+. Final results gave the S10+ a score of 41673 and the iPhone a score of 39378.
We then turned to the Octane 2.0 test, which while retired, still gives a solid gauge of web performance, especially to compare to
previous year's tests
like on the S9+ and iPhone X.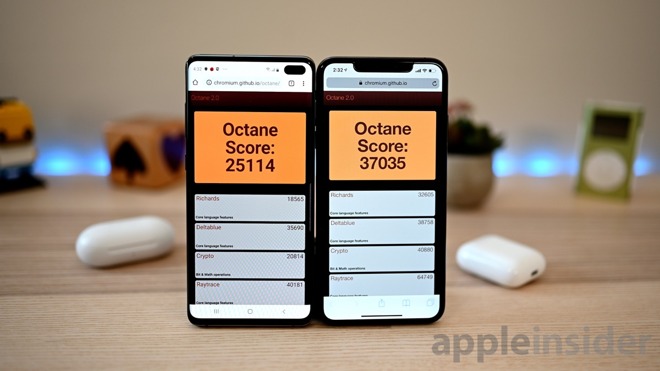 Samsung Galaxy S10+ and iPhone XS Max Octane 2.0 results
Here, the iPhone won easily with a score of 37035, significantly above the 25114 we saw from the S10+.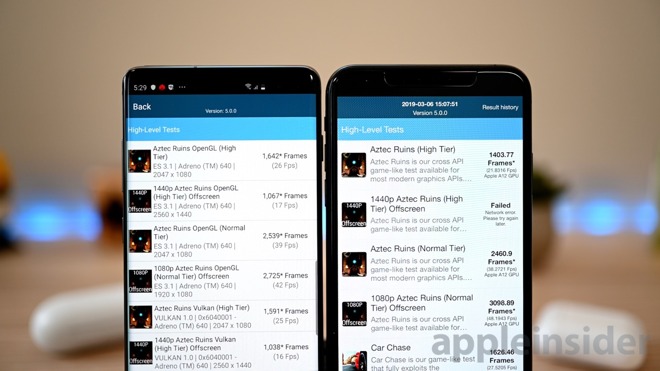 Samsung Galaxy S10+ and iPhone XS Max GFXBench results
Our last graphics test was the GFXBench benchmark. There are multiple tests to compare, but when looking at the most recently added high tier Aztec Ruins test, the iPhone earned 1403.77 frames at a 21.8 fps against the S10 which pulled 1642 frames at 26 fps. Close, but the Galaxy S10+ won again here.
Lastly, we tested wireless performance on our home network. Running on a 802.11ac network, our S10+ pulled on average 120Mbps where our iPhone earned around 100Mbps. This will vary a great deal from setup to setup, though.
A new king?
The results here are impressive -- for both handsets. Apple's iPhone held its own, winning in multiple categories despite being six months old. On the other hand, the Galaxy S10+ pulled some great numbers that show significant growth over the previous S9.
Where to buy
The Samsung Galaxy S10+ can be pre-ordered from
Samsung directly
, as well as at Samsung authorized dealers, such as
B&H Photo
and
Amazon.com
, with prices starting at $999.
Samsung is also offering a rebate for
free Galaxy Buds
with S10 and S10+ preorders.
Meanwhile, the following carriers are also offering incentives on both Apple and Samsung devices:
Carrier deals:
Stay tuned to
AppleInsider
for further tests and comparisons between Apple and Samsung's flagship devices.