Video: iPhone XS Max versus Galaxy S10+ photo quality comparison
Posted:
in iPhone
edited August 2019
We pit Samsung's brand new Galaxy S10 Plus against Apple's iPhone XS Max in this ultimate photo comparison to see which cameras are best.
Before digging into the images, let's talk about the shooters that each phone is equipped with.
In our testing, we used an iPhone XS Max. The results still apply to you if you have an iPhone XS, as the cameras are the same.
On the Samsung side, it is a bit more confusing. We shot our sample images with the
S10+
, which has the same rear cameras as the S10. However, the front "selfie" cameras are different with the S10+ gaining a second 8MP RGB depth camera.
This year, Samsung has jumped on the three-camera bandwagon, including a standard 12MP 26mm wide angle lens, a 12MP 52mm tele lens, and a 16MP 12mm ultrawide angle lens. Both the wide and tele lenses offer optical image stabilization (OIS). The wide angle has a Dual Aperture /1.5-2.4, the tele has an /2.4, and the Ultra Wide has an /2.2 opening.
Comparatively, the iPhone XS Max only has two lenses on the rear of the phone. There is the standard 12MP /1.8 wide angle lens paired with another 12MP /2.4 tele lens. Both of these too come equipped with OIS for better shots. The wide angle is the equivalent of a 26mm lens and the tele comes in as a 52mm -- the same as on the S10.
Looking at raw specs, Samsung should have the edge with lower light situations as more light is able to hit the sensor. It should have a touch more background bokeh naturally, without having to resort to Portrait Mode-type effects.
Samsung also clearly beats out Apple in the ultrawide department as that lens is completely omitted from Apple's handset -- though the
rumor mill says
we may see a tri-lens setup on the 2019 iPhone. The Ultra Wide lens can capture a 123-degree field of view which gives an impressive field of view and makes for even larger panoramas.
In all of our test shots, we used the stock camera apps with no retouching. Minor deficiencies can easily be corrected in post, but we wanted to see how each did on their own straight off the sensor.
Depth of field photography
Let's now compare photos that were shot with the respective depth of field effects. On the iPhone, this is known as Portrait Mode. Taking a shot in this mode allows you to blur the background of an image to a varying degree, as well as apply different lighting effects.
Similarly, Samsung offers Live focus on the S10. It captures the image and allows you to apply one of four effects to the background. It can blur it -- ala Portrait Mode -- with different amounts of blur, spin the bokeh, zoom the bokeh, or desaturate the background completely.
Both are achieved through computational photography and have different degrees of success.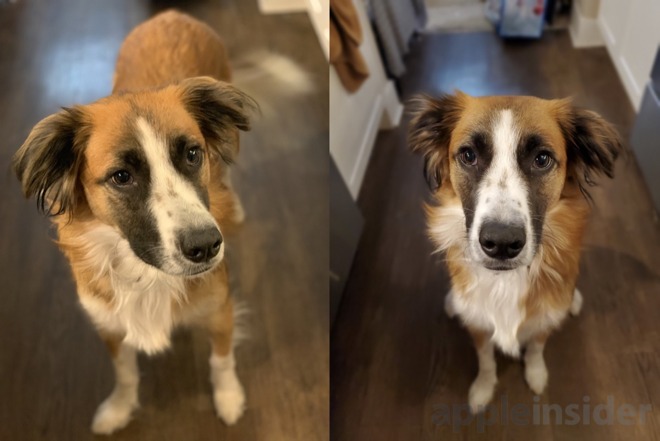 iPhone XS Max (left) and Galaxy S10+ (right) sample images
The iPhone performed better overall, outperforming the S10+ when separating the subject from the background, especially with non-humans. As you can see in the sample shots, the S10+ had a tough time around the dog's ear.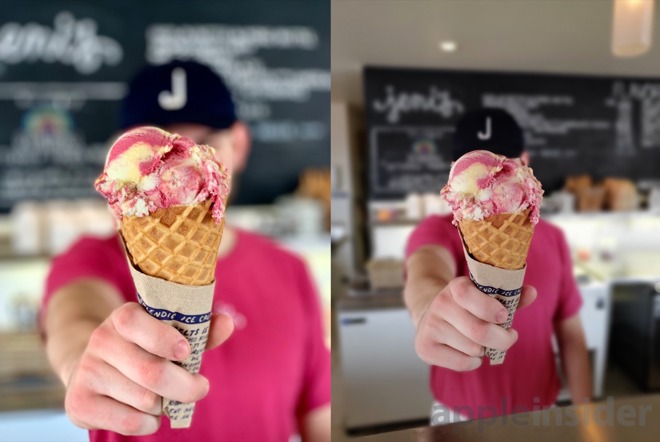 iPhone XS Max (left) and Galaxy S10+ (right) sample images
When moving from animals to objects, Galaxy S10+ did a bit better, keeping a clearer border around the ice cream. One thing we liked was that we could get closer to the image with the S10+ than the iPhone. Apple's phone did have a better amount of background blur, as well as more natural looking bokehs.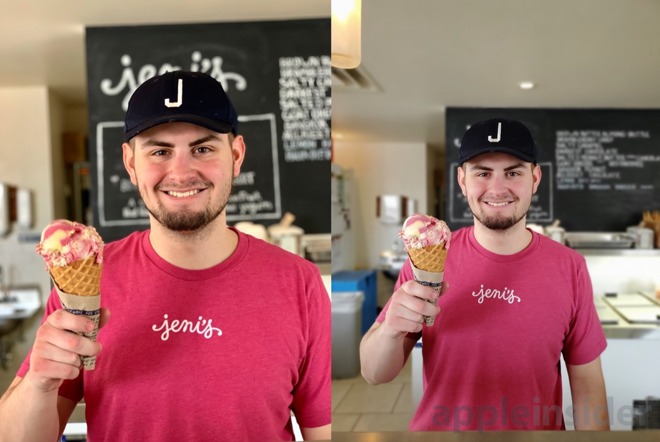 iPhone XS Max (left) and Galaxy S10+ (right) sample images
Both did excellent with humans, though the iPhone seems to have a bit more saturation and better skin tones. Our subjects continuously looked a bit pale in all our Live focus shots.
Shotting in the world
While we meandered about taking sample shots, we fell in love quickly with the Ultra Wide lens. It allows us to fit much more into our shots.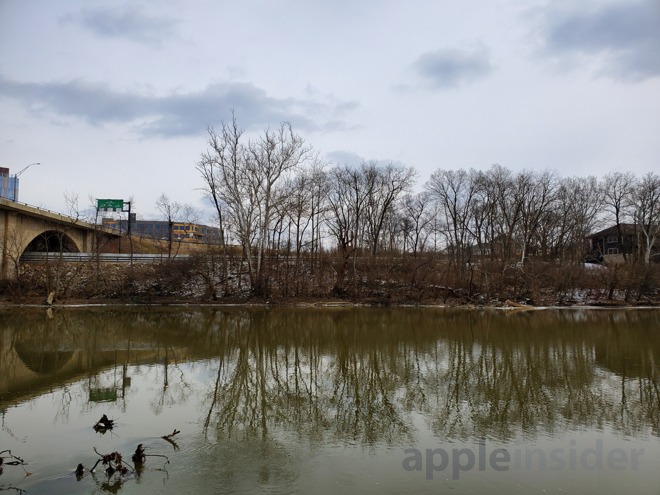 Galaxy S10+ wide angle sample images
Above, you can see a wide angle shot we took with the S10+. It captures quite a bit of space and has the same crop factor as the iPhone. When we move to the Ultra Wide angle lens, it is another story.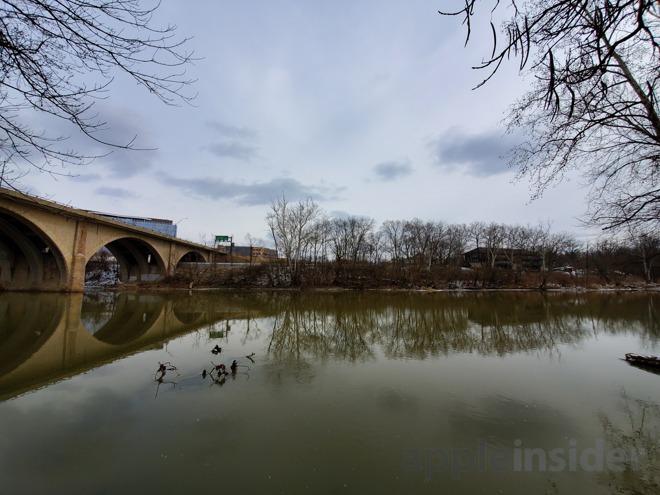 Galaxy S10+ Ultra Wide angle sample images
Now you get a much more expansive image that is absolutely indispensable for tight spots or awe-inspiring landscapes. The downside is that there is quite a bit of distortion around the edges with the photo curving and contorting.
Ultra Wide has other benefits though. For example, panoramas. There is much more vertical space available for panoramas and the images can be much larger than that from the iPhone.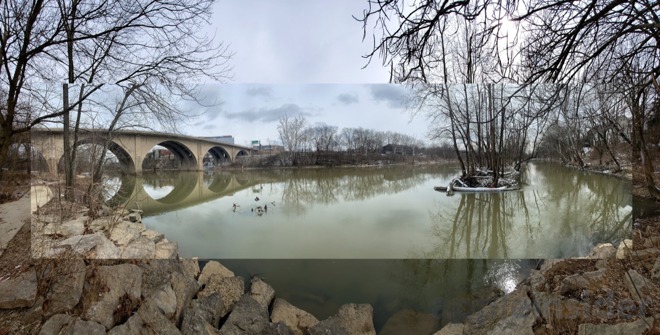 iPhone XS Max panorama over S10+ panorama
Here, we've overlaid the iPhone XS Max panorama on top of the S10+ and the amount of additional image is quickly apparent.
While the S10+ excelled with the Ultra Wide lens, we were a bit disappointed when it came to maxing out the digital zoom with the tele lens.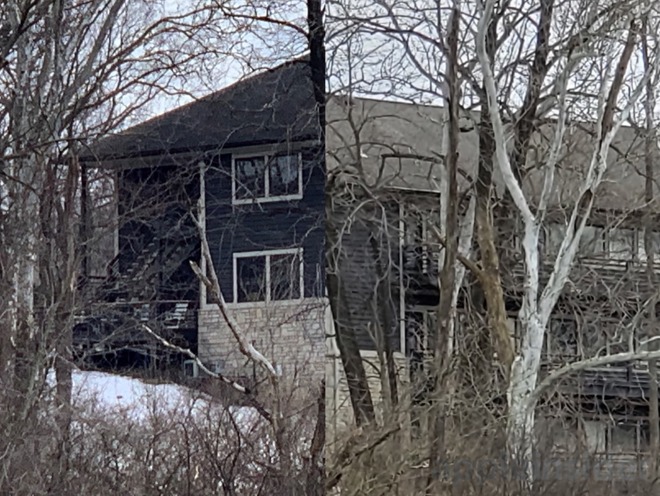 10X digital zoom sample (left half iPhone, right half Galaxy)
When we zoomed into our image with 10X digital zoom, the S10+ image fell apart. It was too aggressively smoothed and desaturated. The iPhone imagery was a bit more colorful, even at this focal length. They also made the image sharper, though that did cause a bit more noise in the image overall.
We took both phones to shoot some food and they each did great, though Samsung tended to over-saturate the image.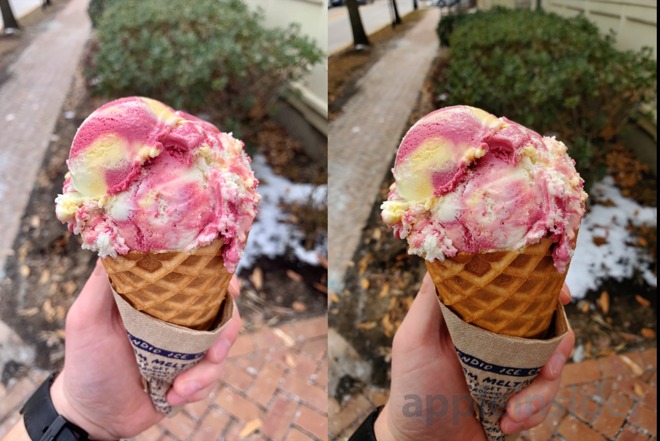 iPhone XS Max (left) and Galaxy S10+ (right) sample images
This stereotype has been purported before, but it seems more prevalent now. Behind the scenes, Samsung will automatically try to detect what is in the image and adjust the levels for that specific shot. You can't turn this on or off and sometimes it helps, other times it does not. When shooting food, it likely detects that it is food and automatically boosts saturation and contrast to make a more appealing looking meal.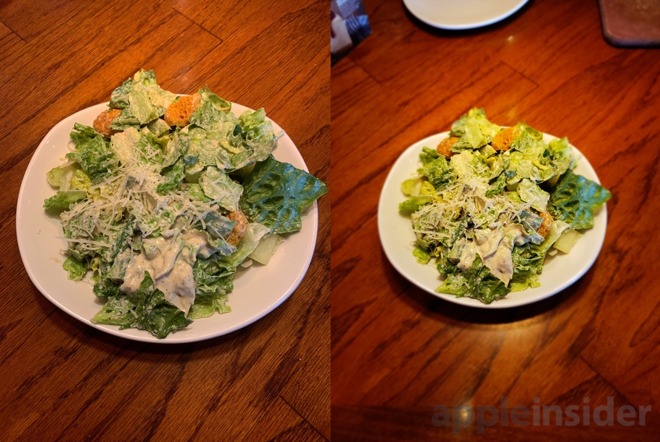 iPhone XS Max (left) and Galaxy S10+ (right) sample images
Additionally, the S10+ has a specific food-mode that will add a bit more brightness in the center and blurs out the surrounding area to bring attention to the food. In our attempts, it looked a bit over-produced and we preferred the iPhone or the standard S10+ image.
Front-facing cameras
Quickly looking at the front-facing cameras, both performed really well. To start, we took a depth of field selfie outside. Here, iPhone was a clear winner. Skin tone was more spot on, the subject was better separated from the background, and there was more detail.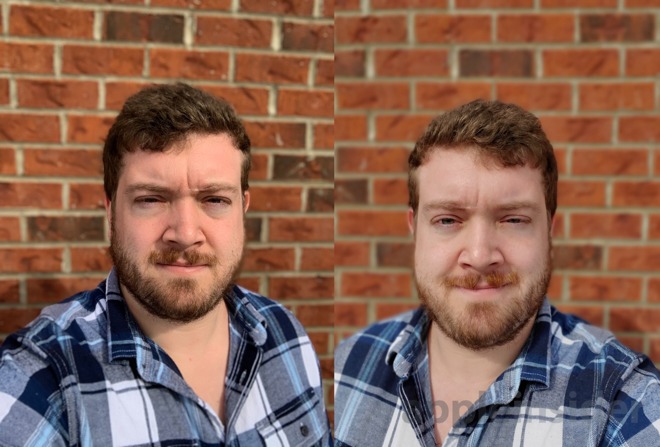 iPhone XS Max (left) and Galaxy S10+ (right) sample images
The Samsung photo seemed to oddly distort the photo a bit and washed out the subject. Additionally, there was some serious skin-smoothing going on. Users blew up at Apple over "
beautygate
" and we are seeing a worth representation here in our testing.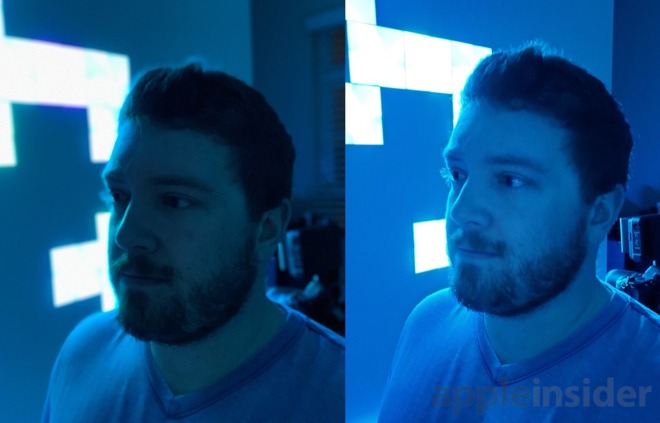 iPhone XS Max (left) and Galaxy S10+ (right) sample images
In low light, the S10+ did much better. It had an overall better balanced image with less noise and grain than the iPhone that struggled to lighten up the subject.
Who's the champ?
Both the iPhone XS Max and Samsung Galaxy S10+ did fantastic overall, with each taking top marks in different categories.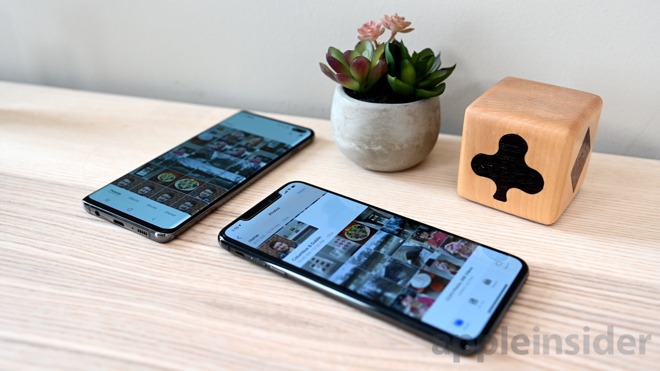 Samsung Galaxy S10+ and iPhone XS Max galleries
Taking some time to edit photos can really clear up any of the color balance issues we saw, which brings it down to the cameras themselves. Samsung tossed that Ultra Wide lens on the S10+ which allows for amazing shots and stunning panoramas. The iPhone has no such lens.
Based on that, we'd just barely give the Samsung Galaxy S10/S10+ the crown over the iPhone XS and XS Max, although your particular mileage may vary, depending on what you in particular want from your photography.
Where to buy
The Samsung Galaxy S10+ can be pre-ordered from
Samsung directly
, as well as at Samsung authorized dealers, such as
B&H Photo
and
Amazon.com
, with prices starting at $999.
Samsung is also offering a rebate for
free Galaxy Buds
with S10 and S10+ preorders.
Meanwhile, the following carriers are also offering incentives on both Apple and Samsung devices:
Carrier deals:
Stay tuned to
AppleInsider
for further tests and comparisons between Apple and Samsung's flagship devices.