New iMac Pro GPU and RAM configuration options boosts maxed out model to $15,699
In the wake of Tuesday's iMac update, the iMac Pro now has two more custom configuration options, including up to 256GB of RAM and a new Vega 64X GPU option.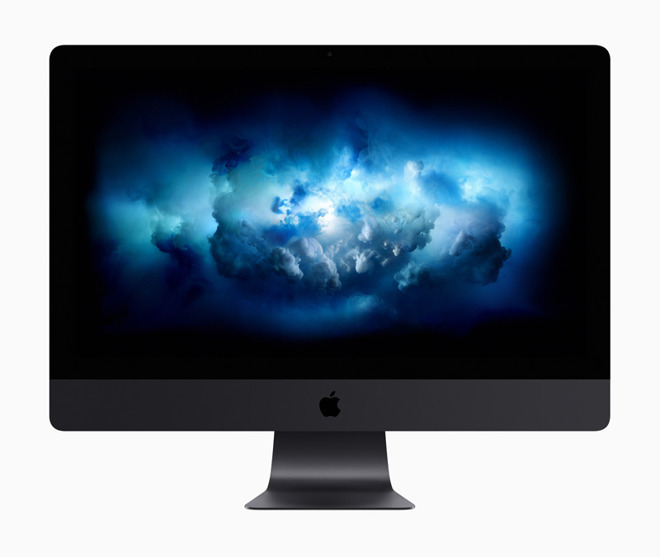 While CPU options for remain unchanged, the two
new configurations
provide more flexibility to purchasers of the
iMac Pro
. The 256GB of RAM adds $5,200 to the pro
iMac
, with the Vega 64X adding $700 to the unit.
A fully configured unit with 18-core 2.3GHz processor with a max speed of 4.3GHz, 256 gigabytes of RAM, 4 terabytes of flash storage, and the Vega 64X retails for $15,699. The
previous max spec was $13,199
.
The iMac Pro was the first part of Apple's response to professionals complaining about a lack of high-end Macs. The
$4,999 entry-level model
includes an 8-core processor, 32 gigabytes of RAM, and a 1-terabyte SSD, with an 8-gigabyte AMD Radeon Pro Vega 56 GPU.
The calculation for the highest-cost specification deals only with changes to the specification of the iMac Pro itself, and not peripherals or accessories. The figure can be made to go higher when taking into account these extras, including a Space Gray Magic Mouse 2 and Magic Trackpad 2 bundle as well as the VESA Mount Adapter Kit. Taking on board the addition of Final Cut Pro X and Logic Pro X as pre-installed software drives the potential cost up to $16,427.