Apple CDO Jony Ive discusses AirPods design as new model poised to ship
Apple's chief design officer Jony Ive in an interview published Friday offered perspective on why AirPods -- like iPod and iPhone before it -- has over the past months graduated from popular tech product to pop culture phenomenon.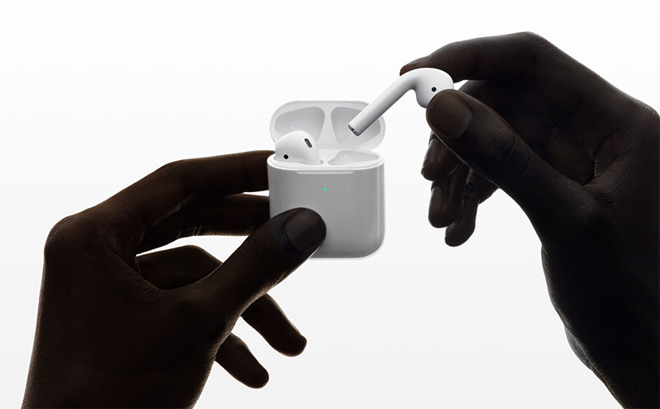 When AirPods
launched in 2016
, pundits and critics were divided as to what to make of Apple's latest gadget. With a high price tag, middling sound quality and an unorthodox design reminiscent of a pair of EarPods with the wire cut off, AirPods were for some an anomaly.
Over time, however, a sea of customers would vote with their money, as others lauded AirPods as one of the best products to come out of Cupertino in recent years. An easy-to-use device that "just works" thanks to an array of sensors, complementary software and smart industrial design, the earbuds steadily gained a not-so-insignificant following that just recently seemed to reach critical mass.
Whereas seeing AirPods in public was a rarity in 2017, they are now near ubiquitous in many major metropolitan areas.
As noted by Ive in an interview with
GQ
, the long-simmering success of AirPods
boils down to
first-hand experience.
"I think this was common on the initial reaction to the AirPods -- it's a reaction based on an academic understanding of them, rather than a practical daily understanding of them," Ive said. "What we tend to focus on are those attributes that are easy to talk about, and just because we talk about them doesn't mean that they're the important attributes. All that means is they're the ones that are easy to talk about."
AirPods harness exceedingly complex technology -- a custom processor and communications chip, optical sensors, accelerometers and beam-forming microphones -- to present owners with a simple and intuitive user experience. Take the earbuds out of their charging case, stick them in your ears and they instantly activate, connecting to a host iPhone or iPad that was initially paired with a single tap.
Beyond a pairing button that sits flush against the back of its charging case, AirPods lack physical controls. Instead, tap gestures, one for each earbud, trigger custom actions like answering a call or controlling audio playback. The rest is automated. AirPods respond to actions and movements made innate through years of muscle memory training -- they pause when an earbud is removed, and playback automatically resumes when it is popped back in. Taking out both earphone simultaneously stops audio altogether.
Ive commented on physical design, a component of the whole that, while often overlooked by lay consumers, plays an important role in the enjoyment and thus success of a product. Specifically, Ive was asked to describe the process that went into AirPods' magnetic case lid and hinge.
"When you are going to have objects that are inherently very mechanical, I think that it's so important that you pay attention to all aspects of the design," he said. "There is color and form and the overall sort of architecture, but then those more difficult-to-define and concept behaviors, like the noise of a click and the force of a magnet that draws something closed."
Delving deeper into the subject, Ive detailed a particular design element that his team struggled to perfect.
"I mean, for example, one of the things that we struggled with was the way that the case orients the AirPod as you put them in. I love those details, that you've had no idea how fabulously we got that wrong, for so long, as we were designing and developing it," Ive said. "When you get them right I think they don't demand a lot from you but they contribute far more than people are necessarily aware for your sense of joy and using a product."
Apple on Wednesday unveiled a
second-generation AirPods model
that builds on its predecessor with new internals. An Apple-designed, headphone-specific H1 chip boosts performance, gooses connection speed, improves audio synchronization and enables native "Hey Siri" functionality. Power efficiency is also improved, with up to 50 percent more talk time than the outgoing model, while an optional Wireless Charging Case allows for Qi-based inductive charging.
Apple's second-generation AirPods went up for sale this week, with initial supply exhausted within hours. Apple authorized resellers are also accepting orders, including
AppleInsider
partner Adorama, which is offering an
unprecedented $10 discount on pre-orders
, with no sales tax collected on shipments outside of New York and New Jersey.