Apple services chief Peter Stern described as well-liked, but not interested in solving me...
Apple vice president Peter Stern, who is in charge of rounding up partners for products like Apple News+ and Apple TV+, is reportedly well liked and -- much to the chagrin of media executives -- operates in the best interests of Apple, not publishers.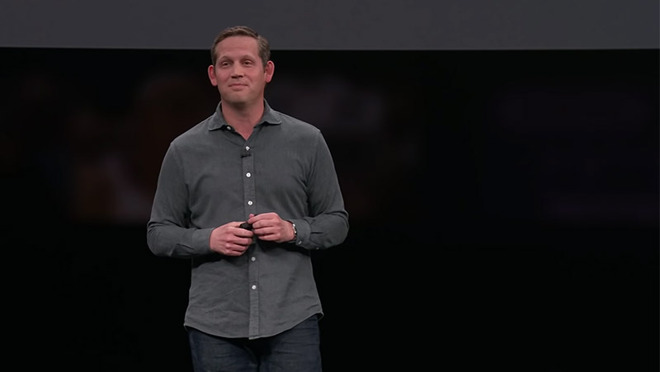 Stern, who made his on stage debut
on Monday
to unveil Apple TV Channels, was
hired in 2016
to handle Apple's cloud-based subscription services. A report to SVP of Internet Software and Services Eddy Cue, Stern was put in charge of business operations for the company's important services unit early last year.
During the intervening months, Stern has been hard at work hammering out deals for the Apple TV+ video streaming service, as well as Apple News+, a news subscription service built on the
latticework of Texture
. He also helms Apple Books, iCloud and advertising.
A seasoned television industry veteran with 15 years of experience garnered at Time Warner, Stern served an important role in successfully negotiating terms by which broadcasters agreed to join Apple's streaming service, reports
Digiday
.
"I'd list him as one of my favorite partnership contacts," Cheddar CEO and founder Jon Steinberg
told the publication
. "Smart, direct, fast, delivers on what he promises."
Sources also described Stern as interested only in the needs of Apple, its new subscription ecosystem and its customers. The executive is not a figure seen as willing or able to address the concerns of the wider industries impacted by Apple's forays into video and news.
"He's a company man," said a person who previously worked with Stern. "Peter is not the type to take on the plight of the publishers."
The business models of both broadcast and print media are under duress as major technology companies enter the distribution channel, upending decades of strategy.
Netflix is a prime example of an industry disruptor. Hollywood studios were eager to strike deals with the one-time DVD rental giant, perhaps without fully understanding the ramifications of their actions. Building on a base of third-party content, Netflix has grown a substantial audience and now fields its own catalog of original shows.
For news outlets, a group already fighting to survive, the specter of third-party digital distribution is more pronounced. With Apple News+, for example, companies must weigh the benefits of exposure to new readers against relatively onerous revenue sharing terms.
Apple, for its part, markets itself as a champion of quality news, but established brands like
The New York Times
beg to differ
. And for Apple, Stern sits at the center of the scrum.
Gautam Mishra, CEO of news subscription service Inkl, discussed Apple News+ with Stern and, like the report's first unnamed source, came away with the sense that he has no interest in solving issues endemic to the industry.
"[Stern] is going into this with a very specific mandate," Mishra said. "He's not trying to solve the long-term problems facing journalism. His view on this is that Apple has a firm view of how it wants to do things and what's in the best interest of its customers. That takes primacy over things like sustainability, cannibalization."
The viewpoint is to be expected from an executive, even one working for a company that routinely touts its high-minded ideals. Apple is, at the end of the day, a corporation.
At least one important Apple News+ partner is not overly concerned about potential downsides to Apple's for-pay news experiment.
The Wall Street Journal
publisher William Lewis in an interview on Monday said News+ will help the paper
reach new readers
, and not at the cost of existing subscriptions sold through its first-part platform.
"It's an era of product segmentation," Lewis said. "So there are millions of people that will continue to want to become Wall Street Journal members and have the full offering that centers on business and markets and finance and hard-core politics ... but there's also millions that will be attracted to a slightly different offering ... that's more snackable."
It should be noted that the
WSJ
is not offering its entire catalog on News+, but will instead offer a sampling to be curated by editor Matt Murray. The paper is providing access to all business and financial news, which is searchable in the News app, though News+ subscribers are limited to the past three days of archived articles.
Apple News+, which
debuted on Monday
alongside Apple TV+ and Apple Arcade, is available now for a $9.99 monthly fee. Pricing for Apple TV+ and Apple Arcade have not been announced.