Apple Pay coming to Estonia, Greece, Portugal, Slovakia, Slovenia very soon
Mobile banking service N26 has teased it will be making its Apple Pay-supporting service available to customers in European countries that are not currently listed as supporting Apple's mobile payment system, a tweet that could be an indicator of imminent Apple Pay expansion on the continent.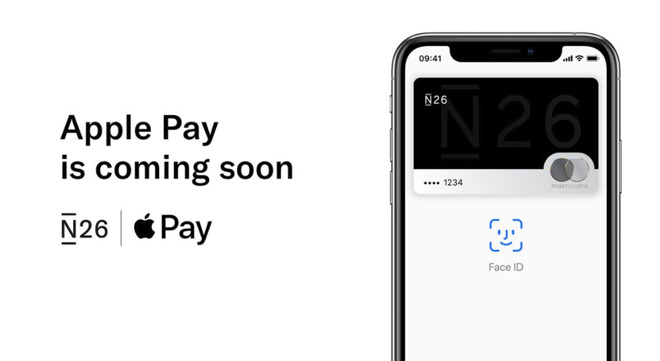 N26's tweet graphic accompanying news of its imminent support of Apple Pay in more countries
In a
tweet
posted on Tuesday, N26 claimed it will be "bringing Apple Pay" to its customers in Estonia, Greece, Portugal, Slovakia, and Slovenia. No timescale was provided for when the bank would offer Apple Pay in those markets, except it would be "coming soon."
The tweet is notable as Apple has not officially confirmed Apple Pay will be arriving in those countries anytime soon. None of the countries listed appear in Apple's list of "Countries and regions that support Apple Pay," nor on the company's list of participating banks.
Coming Soon! @n26 will bring #ApplePay, which is transforming mobile payments with an easy, secure and private way to pay that's fast and convenient to customers in Estonia , Greece , Portugal , Slovakia , and Slovenia ! pic.twitter.com/iWgyH7pBYA
It is unclear if the tweet was a misfire by the bank ahead of a formal announcement by Apple itself. As Apple typically prefers to maintain control over the launch timings of products and services, there is a chance the tweet could get pulled from view until its proper launch.
This is not the only tweet N26 has published in the last week relating to Apple Pay. On Tuesday it released a similar tweet advertising the arrival of Apple Pay support
in Austria
, though at that time other banks made similar confirmations of incoming support.
Apple Pay played a prominent part of Monday's press event, in the launch of
Apple Card
, a branded credit card created in partnership with Goldman Sachs. Almost exclusively digital in nature but offering a physical titanium card lacking visible card numbers, Apple Card offers deep integration with the Wallet app for managing finances, gaining daily cash rewards on spending, and even same-day application and spending using Apple Pay.
Apple Pay is also available in 40 countries and is accepted by 70 percent of merchants in the United States. As part of the improvements to the payment platform, an expansion of transit system support was also announced, with metro networks in Chicago, Portland, and New York City soon to adopt Apple Pay in their systems.