Apple's services event receives rocky reception from industry and critics
Much of the criticism of Apple's event was focused on how it actually told us very little. Yet even with a "charm-and-dazzle" show, there was enough to get critics and analysts examining the good and the bad of what Apple is planning.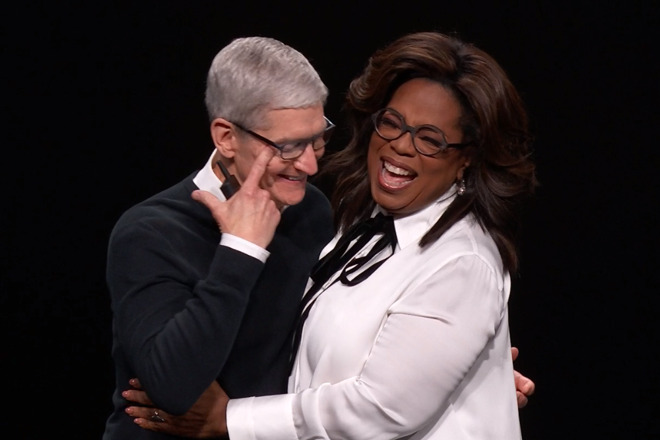 Tim Cook and Oprah Winfrey at the March 25 event
Maybe there are other companies that can get the world to turn up to its TV launch, but only Apple could do it and then not tell us anything.
AppleInsider
described the event as "less what the company would usually call a keynote and much more what television networks call the upfronts."
The
New York Times
said the same thing. "Despite the disruptive effect Apple promises to have on the entertainment industry, the company followed an old script,"
it said (behind a pay wall)
. "While the presentation was something new for Apple, it was familiar to the audience members from Los Angeles. That's because what they were seeing was essentially an upfront presentation."
First responders
After explaining that the upfronts "are a decades-old convention in the television business," the
New York Times
summed up the event as "charm-and-dazzle." And, the publication noted that the Hollywood people in the audience had all recognized an issue. "It was not lost on them that... many of the stars on display were not exclusive to Apple" said the
Times
.
The Hollywood Reporter
believes that Apple has set its sights on the existing cable providers instead of streaming rivals. "The tech giant's content push signals an intent to dethrone Comcast, not Netflix," it said, "as consumers increasingly cut the cord on traditional pay television."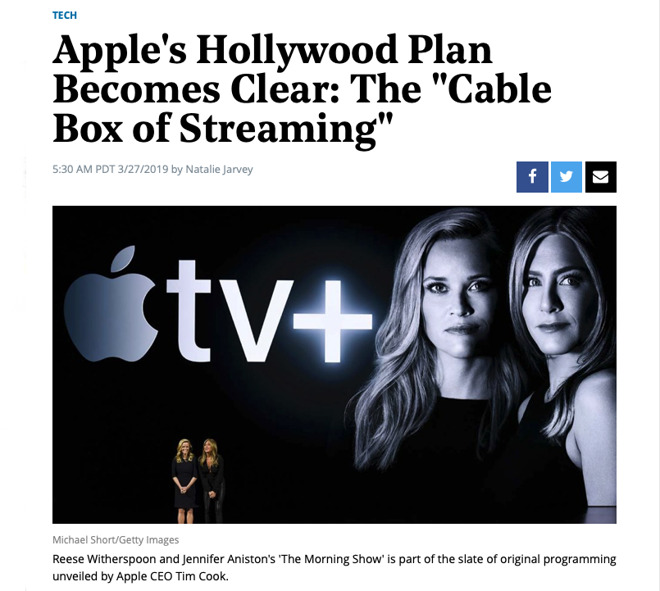 Detail from The Hollywood Reporter's coverage of Apple's event
The same publication recognized that Disney is about to unveil its own offering and suggested that Apple may not have want to given details that would help its rival. "But the absence of concrete information gave the appearance that executives are still searching for a strategy," said
The Hollywood Reporter
.
Outside the US, Britain's
The Guardian
wasn't kind. "In true Cook style," said the paper, "the fun stuff was preceded by an hour-long infomercial for Apple's other subscription services, which the CEO introduced by reading out a dictionary definition of 'services.'"
The Guardian
also raised a point of difference between Apple and previous streaming launches. "While Netflix and Amazon started out with boundary-pushing shows such as 'Orange is the New Black' and 'Transparent,' Cook has reportedly brought his dad-ish sensibilities to running a studio, putting the kibosh on sex, violence and profanity."
As the week continued
As
AppleInsider
looked to the
long game that Apple seems to be playing
, others including influential investor Warren Buffet also thought more about the future. "I'd love to see them succeed," he said, "but that's a company that can afford a mistake or two. You wouldn't want to buy stock in the company that has to do everything right. Apple should do some things that don't work."
Buffet seems to have missed Apple's repeated failure to make a music social media platform.
Also speaking out and also apparent missing something was
AT&T's CEO Randall Stephenson
. He talked about all the streaming media work that the AT&T-owned WarnerMedia is doing and implied that in every case, the company would be getting data about the end user, the viewer.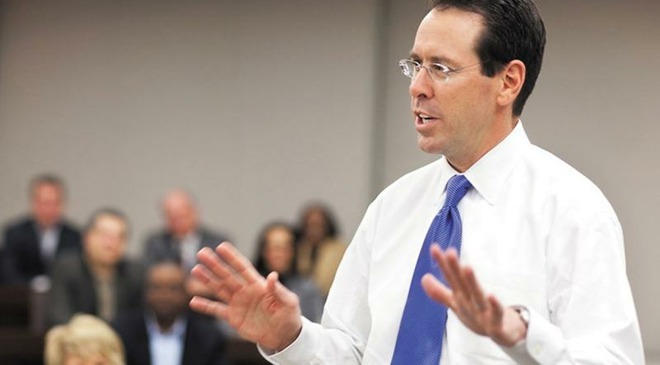 AT&T chief Randall Stephenson
When pressed about whether that included the firm's arrangement with Apple, he couldn't bring himself to simply say yes. "Just pick the [service] you want to pick, we will have access to data," he said instead. "It's critical to everything we're trying to do."
It's also seemingly opposite to what Apple is trying to do with privacy. "The Apple TV app delivers on all these principles, including our commitment that we won't share your personal information with anyone," said Apple's Peter Stern during the March 25 presentation.
Similarly,
Roku's CEO Anthony Wood said
that Apple TV+ had to go on smart TVs and rival platforms in oder to get enough viewers to be worth doing. "Obviously, they're counting on jump-starting [the streaming service] with all of their iPhone and iPad and Mac customers, but actually smart TVs are the way that most streaming services, long-form streaming services are viewed by customers," said Wood. "That's where they spend most of their hours, and so for any kind of service like that to be successful you want to be on the leading streaming TV platforms."
He's not wrong, but he's positioning Roku as a competitor by trying to diminish the the entire iOS platform. "They're in a billion pockets, y'all," said Oprah Winfrey at the launch.
Apple is bringing the service to smart TVs but it's also bringing it to older versions of its own. This week Apple confirmed that its new TV app would be appearing on third-generation Apple TV boxes too.
It's going to be a revamped and improved Apple TV app, and we've now
seen evidence of that with the latest beta releases of iOS
.
Cards on the table
If we have learned only a little more about Apple TV+ since the event, we've gathered much more about the Apple Card and its partner.
Goldman Sachs is partnering with Apple on this new credit card, but obviously that company does a lot more in the financial field -- and it turns out that this includes analysis. The firm's Rod Hall issued a report predicting "
little impact
" from Apple's video, news and games services.
True, this is a prediction from an analyst who in the same report said that Apple's new services were "materially different than we had anticipated." That might be worth bearing in mind when Hall goes on to dismiss what Apple's doing.
"Though all of these services are interesting from a platform churn point of view none seem likely on our calculations to materially impact EPS [earnings per share] in the short term, with the possible exception of Apple Arcade pending pricing and service details," said Hall.
"With small calculated impacts from these 'Other services,' we expect the focus to return to the slowing iPhone business post this event," he concluded.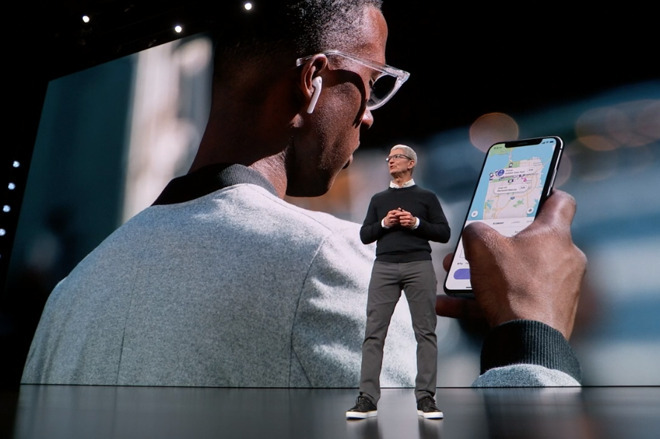 Tim Cook introduces Apple Card
Hall did not mention Apple card at all. However, Goldman Sachs Inernational's CEO Richard Gnodde did. "We do think [Apple Card] will catch on quickly, absolutely,"
he said
. "It's got a great brand attached to it, obviously, and a remarkable organization. Together in partnership, we think we can achieve great things."
Apple Arcade
The Guardian
contrasted Apple's Arcade games subscription with the recently announced Google Stadia and on balance rated Apple's higher.
However, it wasn't optimistic about the future of gaming under these services. "In the short term, the dispiriting prospect for gamers is a range of competing services, all with a few exclusive games we might want to play, all demanding a monthly subscription,"
it said
. "Amazon appears poised to announce its own service soon, having spent years investing in games industry talent."
News on the March
Apple News+, the sole actual launch at the event, is now available to users in the USA and that means both informed opinions -- and bugs. As soon as Apple News+ rolled out, people found that it had some bugs,
but Apple fixed them
.
AppleInsider
took apart the service's offerings and examined whether Apple News+ is actually worth subscribing to. Not to spoil how we calculated this or quite why we think it, but the answer is yes.
Reducing Apple's presentation to a crude list, it was about News, TV, Games and a credit card. Only one of these four is actually available now but it gets a big tick. Here's hoping the rest work out as well.
Keep up with AppleInsider by downloading the AppleInsider app for iOS, and follow us on YouTube, Twitter @appleinsider and Facebook for live, late-breaking coverage. You can also check out our official Instagram account for exclusive photos.