Why you should pick up the 2017 10.5-inch iPad Pro instead of the new iPad Air
Posted:
in iPad
edited February 2020
A couple of weeks ago, Apple quietly announced a new iPad Air. This new third generation Air now features Apple's latest A12 Bionic processor, a laminated Retina display and now supports the first generation Apple Pencil and Smart Keyboard. But should you buy this over the 2017 10.5" iPad Pro?
The new
2019 iPad Air
retails for $499 and goes all the way up to $779 for a 256GB, Wi-Fi and cellular model. We've been using this iPad as our daily tablet for the past few days to watch YouTube videos or catch up on some shows on Hulu, answer emails and doodle some artworks for fun. Before Apple announced this new Air we regularly used the
10.5-inch iPad Pro
from 2017 which physically looks identical to this new iPad Air, minus an extra set of speakers at the top, and a camera flash on the back.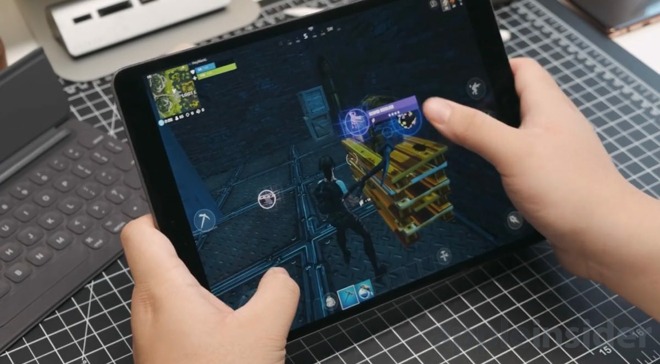 2019 iPad Air playing Fortnite
This new iPad Air, as we mentioned, has new internals. It's using the A12 Bionic processor found in iPhone XR, XS, XS Max, and the new
iPad mini 5
so it's reliable, and fast. I didn't notice any slowdowns whatsoever during my testing.
It also has a new display that's more color accurate and one that looks way better than any of the previous models. It also now supports the first generation Apple Pencil.
The two speakers are powerful and loud, as they have always been on an iPad. But, like with most iPads, you're likely going to cover at least one speaker with your hand, muffling the sound a bit.
The new Air also features a smart connector on the right hand side of the device to use Apple's Smart Keyboard. We think it's the best keyboard you can buy for the iPad, even though it feels a bit mushy at times, but for whatever reason, this feels right to us. There are hundreds of Bluetooth keyboards available on the market, but if you're looking for the best, the Smart Keyboard is the one you should consider buying.
The new iPad Air is pretty great. You're getting a really fast processor, amazing display, first party keyboard support.
Despite all this, right now, you should really look into getting a 2017 10.5-inch
iPad Pro
instead.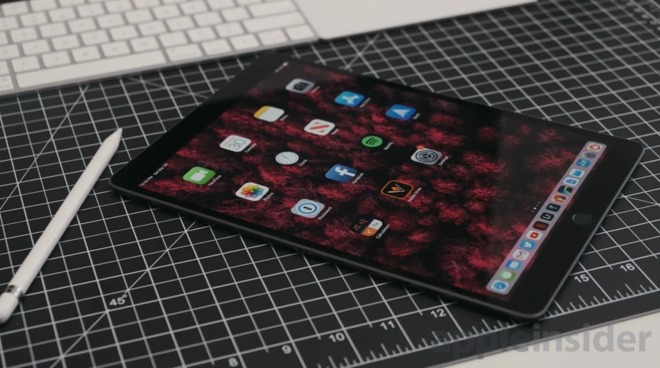 First gen Apple Pencil and 2019 iPad Air
With the iPad Pro, you're getting ProMotion display which gives you a 120Hz refresh rate versus the 60Hz found on the Air. This makes the UI feel more responsive to your touch and has some other niceties when drawing with an Apple Pencil.
Two, you're getting an extra pair of speakers which is notably better for consuming media or playing music -- and if you cover one with a hand, you lose less than you are if you cover one of two speakers on the iPad Air. And, you're also getting a slightly better rear camera with an LED flash if iPad photography is your thing.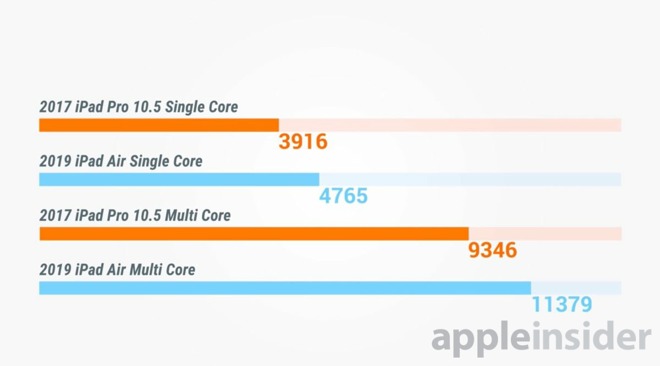 Geekbench scores for 2017 iPad Pro and 2019 iPad Air
The difference in processing power between the A10X Fusion and A12 Bionic is slight, but the A12 Bionic has a lead. Regardless, the A10X on the 10.5-inch iPad Pro is still a powerful processor that can handle anything you throw at it. From Pro apps to graphic intensive games, you're not going to be disappointed with either model's performance.
Both models support the first generation Apple Pencil, so this is a dead heat. Unless you use the half-inch Lightning adapter, you've still got to hang the Apple Pencil off the iPad like an expensive lollipop stick, instead of the magnetic wireless charging on the 2018 iPad Pro lineup.
Geekbench scores shows that the new iPad Air scored 4765 in single core and 11379 in multi core while the 10.5-inch iPad Pro scored 3916 in single core and 9346 in multi core. In the real world, the Pro model also has 4GB of RAM vs 3GB found on the 2019 Air, which means that more apps can be stored in RAM, and not dumped when things get tight.
The price between the two are really close and sometimes, you can even find the older 10.5-inch Pro model at a much lower price than the newly announced Air.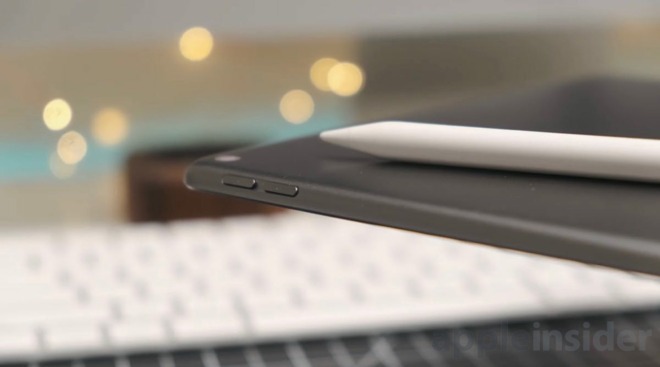 Apple Pencil and iPad Air
If you're looking to purchase your first iPad and you don't want the new
iPad mini
or the regular
9.7-inch iPad
or just don't have enough money to buy the new
11-inch
or
12.9-inch Pro models
, look into the 2017 iPad Pro. It's almost the same price, if not a bit less expensive than the new 2019 iPad Air, plus you're getting a much better display with ProMotion, four speakers, and a slightly better camera.
Where to buy
Apple authorized resellers are currently accepting orders for the new
2019 iPad Air
and
iPad mini 5
with discounts of up to $10 off. Meanwhile, Apple's 2017
10.5-inch
and
12.9-inch iPad Pros
are up to $380 off instantly.
Updated throughout the day, the
AppleInsider
Price Guides
feature the lowest prices and product availability from top Apple authorized resellers.