Apple reportedly removes pro-democracy music from Apple Music in China
Apple recently pulled songs by pro-democracy artists from its Apple Music service in China, according to a report on Tuesday, suggesting the company has again caved to content gatekeeping requests lodged by the Chinese government.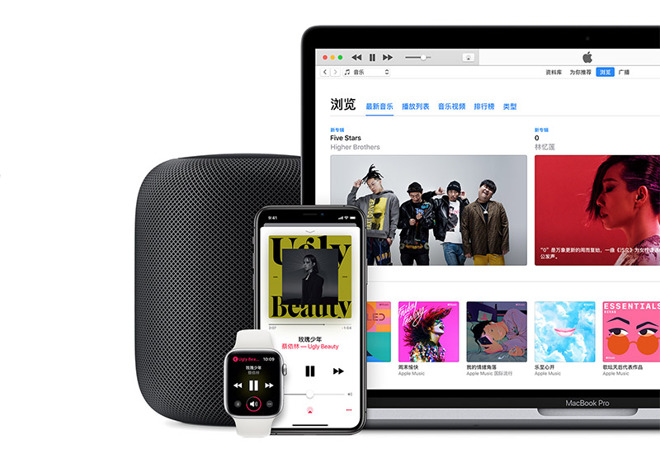 Apple over the weekend
removed a song
by Hong Kong-based artist Jacky Cheung that referenced the 1989 Tiananmen Square Massacre, reports the
Hong Kong Free Press
.
Titled "Ren Jian Dao," roughly translated to "Path of Man," the ballad's lyrics were written by prolific Hong Kong lyricist James Wong in 1989, the same year that Chinese military units opened fire on a large gathering of civilian protestors in Tiananmen Square. Featured in the film "A Chinese Ghost Story II" in 1990, parts of the song were confirmed by Wong to refer directly to the massacre. Wong died in 2004.
"The youth are angry, heaven and earth are weeping. How did our land become a sea of blood? How did the path home become a path of no return?" the lyrics read.
In addition to Apple Music China, Cheung's rendition of "Path of Man" was also pulled from Tencent's QQ Music service, suggesting a government crackdown on pro-democracy media. While claims of censorship have yet to be confirmed, mounting evidence implies the government is proactively tempering the potential of public demonstrations ahead of the Tiananmen Square incident's 30th anniversary in June.
Apple Music also delisted works from other pro-democracy artists, including Hong Kong singer Anthony Wong and Denise Ho, the report said. In Ho's case, the artist and her discography have been completely scrubbed from Apple's servers.
Human rights advocates have taken notice of the move. As noted by
Fast Company
, Sophie Richardson, China Director at Human Rights Watch,
posted commentary
on the takedown to Twitter,
calling the decision
to remove Cheung's song "spectacularly craven, even by [Apple and Tim Cook's] standards."
Apple has in the past been accused of kowtowing to the Chinese government, a body that controls the keys to a huge, and significantly untapped, consumer market.
In late 2016, Apple
removed the official New York Times app
from the Chinese App Store after authorities alleged it was in violation of unspecified local laws. A few months later, Apple opened its
first data center on Chinese soil
to comply with the country's cybersecurity rules.
Later in 2017, Apple complied with a request to
remove virtual private network (VPN) apps
from the Chinese App Store, a move designed to thwart attempts to break through China's "Great Firewall."
More recently, the company in March
disabled an emoji of Taiwan's flag
on Chinese Macs running the latest macOS 14.14.1 update.
When questioned over its seemingly obsequious practices, Apple maintains it
operates in line with local laws
.