Planned T-Mobile-Sprint merger reportedly unlikely to pass DOJ scrutiny, T-Mobile CEO Lege...
A report on Tuesday claims the U.S. Department of Justice in April told T-Mobile and Sprint that a planned merger will not pass muster as currently structured, putting the massive $26 billion deal in jeopardy.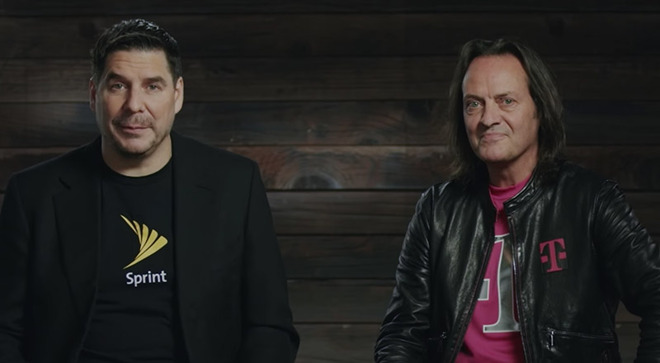 Sprint CEO Marcelo Claure (left) and T-Mobile CEO John Legere present "New T-Mobile" merger.
DOJ antitrust staffers informed T-Mobile and Sprint of their concerns in a meeting
earlier this month
, questioning whether the resulting entity would indeed reap benefits touted by both sides, reports
The Wall Street Journal
. Of note, the companies argue a merger is needed to roll out critical next-generation 5G network infrastructure, technology deemed essential to stay abreast of competitors Verizon and AT&T.
Citing an unnamed source, the publication claims state attorneys general are also looking into the matter, with some antitrust officials planning to challenge the merger independent of federal action. These state players supposedly share qualms with the Justice Department.
In addition to the DOJ and state AGs, the Federal Communications Commission is also delving into details of the proposal, the report said. At issue are calculated cost savings and how, exactly, the resulting company would offer home broadband service to consumers using wireless infrastructure.
The various government groups evaluating the T-Mobile-Sprint deal could have a final decision in a several weeks, sources said. The report notes DOJ staff recommendations can be accepted or denied by the department's leadership.
For its part, T-Mobile CEO John Legere refutes the
WSJ
report, saying the gist of the story is "untrue."
"The premise of this story, as summarized in the first paragraph, is simply untrue. Out of respect for the process, we have no further comment," Legere said
in a tweet
. "This continues to be our policy since we announced our merger last year."
The tweet includes a link to a
website
dedicated to the merger, dubbed "The New T-Mobile, which includes a list of benefits consumers can expect, as well as facts and figures related to the tie-up and the wider mobile industry.
T-Mobile and Sprint first announced the all-stock merger
in 2018
, proposing a single combined entity capable of competing against Verizon and AT&T's long-standing duopoly. The companies in a mandatory FCC filing last year promised to
invest $40 billion
toward delivering "a robust, nationwide world-class 5G network and services sooner than otherwise possible."