AC3: Apple's insatiable appetite for office space devours Wolfe Campus, hungry for more
Apple Park's sprawling "Campus 2" remained a center of media attention ever since plans for the "Spaceship" Ring nestled in acres of trees first gained approval back in 2013. However, a parallel third campus site just up Wolfe Road has more quietly progressed with less notoriety, despite being a remarkable project of its own.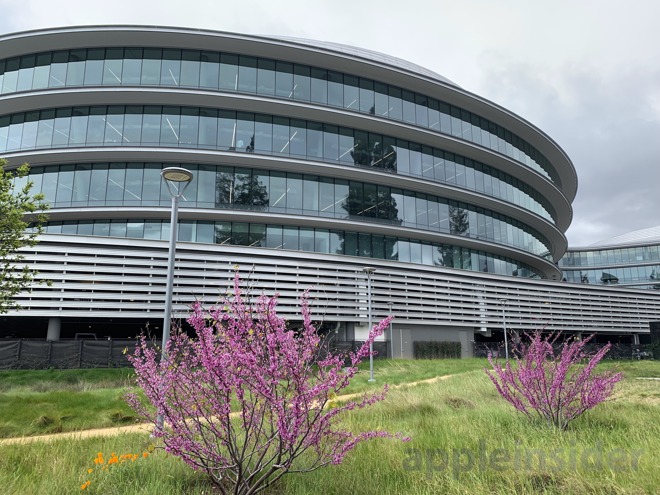 Wolfe Campus in bloom
Last year, we reported that work on AC3 ("Apple Campus 3," now known as Wolfe Campus) was
nearing completion
. This year, the site is occupied and carries the typical Apple signage used at its various other office locations.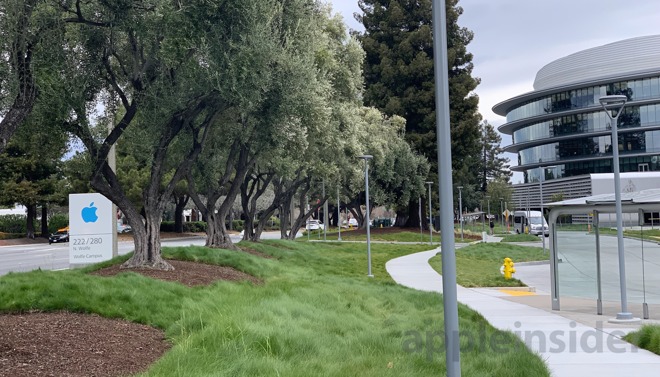 From Wolfe Road, looking east
Located in Sunnyvale, California at the corner of the Central Expressway and Wolfe Road, Apple's freshly built third campus is about 4 miles (6 km, or a ten minute drive) from either Apple Park or the company's original 1 Infinite Loop campus, both of which lie within the city limits of the adjacent city of Cupertino.
Wolfe Road is the west boundary of Apple Park. When driving north from there, the first view of Apple's third major California campus (shown above), is one of its three rounded lobes peeking over the top of the Central Expressway (below).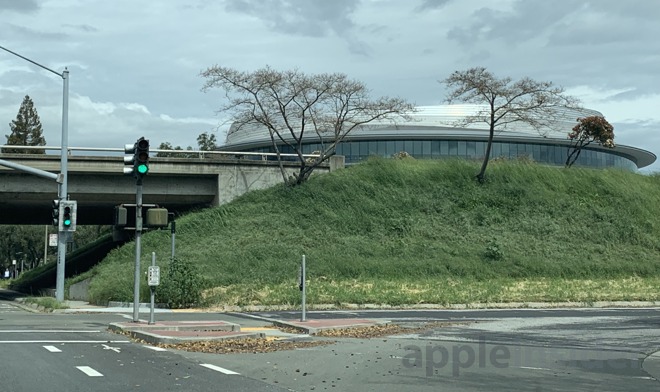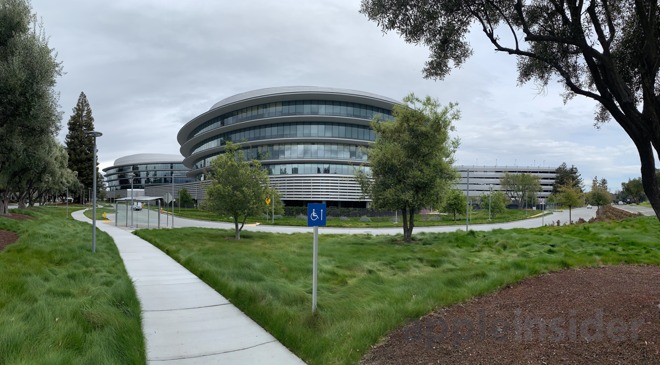 The view from Wolfe Road, just past the Central Expressway
Wolfe Campus was originally speculatively designed as new LEED Platinum office space by HOK architects, around the time that Apple began work on Apple Park. We noted that Apple was planning to lease the building, and it is now clear that the company took over the entire project
The Wolfe Campus, as viewed from the air (below), includes three interconnected donut-shaped buildings (Wolfe 1-3) that each stack four stories of open floor office space above two and a half levels of parking, as well as a separate smaller Wolfe 4 building and a large Wolfe 5 parking structure.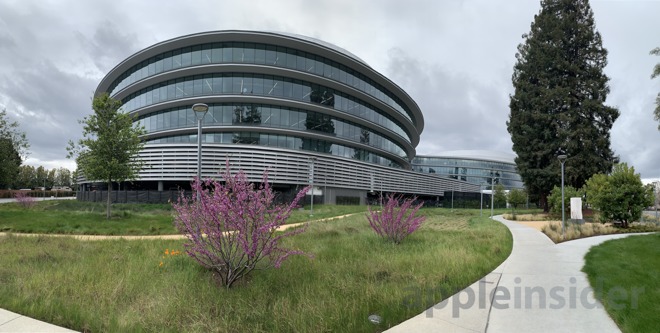 The podium of parking creates an opaque wall facing the outside, which is slowly being grown over with vines and park-like landscaping. That podium also dramatically lifts the glass walls of office space into the air, making the curved lines of the building more visible to outsiders than the much larger Spaceship at Apple Park, which is recessed behind an earth embankment and the foliage of many large, mature trees.
The exterior public sidewalks stream through landscaping that includes some mature trees that were preserved during construction, as well as flowering bushes and drought tolerant grasses.

View from E Arques Ave, looking south
At Apple Park, even from the rooftop lookout of the
Apple Park Visitor Center
, it's difficult to see much more than an outline of the Spaceship Ring. But the glassy curves of Apple's third campus are far more prominent to passersby, even if it's just as difficult to actually see inside.
Hiding within each "doughnut hole" of the three-lobed main buildings is an interior mini park similar in concept to the very large green space at the center of Apple Park's Spaceship Ring. The three sections surround a larger open area that faces ground level amenities that include an Apple Fitness Center gym and an
Apple Wellness Center
clinic. Both are the third instance of these; there are also a pair of the facilities at Apple Park and across from 1 Infinite Loop.
Apple's expanding employee count
The company's
Job Creation
website highlights its explosive growth over the past two decades, most of which sparked around the launch of iPhone. In 2006, Steve Jobs first addressed the Cupertino city council with expansion plans for a new campus. He noted at the time that "we've rented every scrap of building we could find in Cupertino," and that Apple was already operating "in 30 other buildings now," outside of the six buildings of its 1 Infinite Loop campus.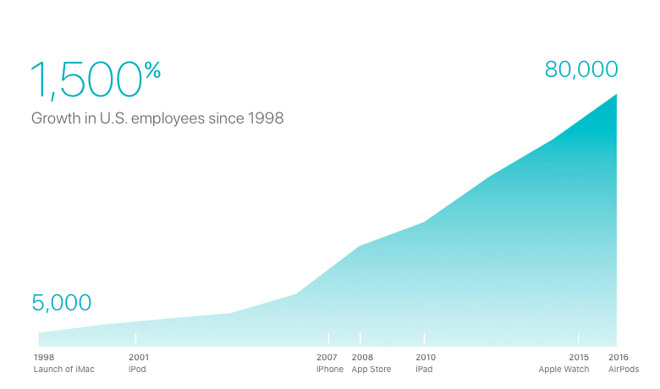 Apple's employee count has exploded, especially over the last decade
In 2010, a much larger site adjacent to the area Apple planned to build on fortuitously opened up when Hewlett Packard decided to move out of its Pruneridge offices, enabling the iPhone maker to snatch up a very large contiguous parcel in the middle of Silicon Valley. Meanwhile, Apple's need for new office space continued to grow dramatically, inducing Apple to snatch up other nearby smaller offices, as well as fast-tracking and expanding its
Phase 2
plans for Apple Park, the leasing of the AC3 Wolfe buildings, and other newly-built properties south of Apple Park.
Within the Bay Area, Apple also operates a data center in Fremont, does something mysterious with a
chip fab
it acquired in San Jose next to a prominent Samsung office building, and reportedly works to test health-related devices and evaluate automotive technologies from various other unmarked, secret locations referred to as "high-security buildings." These are often shrouded in layers of obfuscated ownership to avoid corporate espionage or drawing any attention to the company's various unannounced projects and initiatives.
Even larger NorCal office plans for Apple
Despite all that growth, Apple continues to hire new office workers and has continued to expand its options for building even larger offices. Last year, Apple announced that it "expects to invest over $30 billion in capital expenditures in the U.S. over the next five years and create over 20,000 new jobs through hiring at existing campuses and opening a new one," indicating that it has plans to expand outside of its two primary operations facility campuses in Austin, Texas, and Cupertino, California by 2022.
At the time, that sparked a comparison to Amazon's nationwide competition for a locating its HQ2 headquarters, but it could also be a reference to the massive new campus site Apple has already lined up the rights to build on in northern San Jose, about 10 miles (16km, or a 15-20 minute drive) northeast of Apple Park.
That 85 acres of land, located next to the San Jose airport, was stealthily assembled from a series of purchases much like the original site of Apple Park. It includes the former headquarters of chip maker Atmel Corp (pictured below). The entity that owned the land, Ellis Partners, filed paperwork to rename its Amtel Way cul-de-sac to the more Apple-friendly "Orchard Place."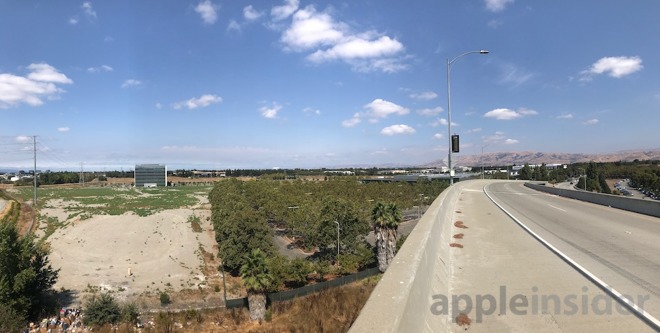 Located next to the San Jose airport, Apple has virtually all the land you can see left of the highway. It's already permitted for massive development.
The majority of that property is currently vacant land directly adjacent to San Jose's light rail system, which connects it to Apple's nearby chip fab to the north, or south to the airport and downtown San Jose, where Apple has been hosting its annual Worldwide Developer Conference since moving it there from San Francisco two years ago.
Apple has approvals to build 4.15 million square feet of office space on the site--the potential for new R&D offices nearly 1.5 times that of the recently completed Spaceship at Apple Park--over the next fifteen years.
Apple's billion dollar plans for rapid U.S. expansion
Pretty clearly, Apple doesn't just see itself as retiring into a plateau of selling increasingly fewer iPhones while merely sinking into the role of being another Netflix. Apple is certainly expanding into new Services, but is also building entirely new hardware businesses centered around its acquisition of Beats-- which helped to launch AirPods, HomePod, and Apple Music as well as the current lineup of Beats' wireless speakers, headphones and related accessories.
However, nearby its LA-vicinity Beats offices in Culver City, California, Apple
reportedly
acquired a four-story project at 8777 Washington Boulevard that was initially slated to become HBO's new headquarters, indicating that Services are not a small push either. Apple also
reportedly
operates a games studio in Irvine.
The company is also expanding its footprint in silicon design, including a
GPU design center
in Melbourne, Florida and what appears to be a
baseband modem design center
for 1,200 employees in San Diego, California next door to its frenemy
Qualcomm
.
And near Apple's existing 39-acre campus in Austin, Texas known as the
Americas Operations Center
, the company
announced
in December that it would be spending $1 billion to build another new facility for engineering, research, and customer support in Austin.
That 133-acre project will initially house 5,000 new employees and ultimately 15,000 people, along with 50 acres of preserved open space. Together with Apple's existing 6,200 employees, the expansion is expected to make the company the largest private employer in the Texas capital.
Over the next three years, Apple stated it is also planning to expand its workforce in Seattle, joining San Diego and Culver City to become peripheral Apple operations with over 1,000 employees each. It also intends to expand existing facilities in Boulder, Colo., Portland, Ore., Boston, New York, and Pittsburgh.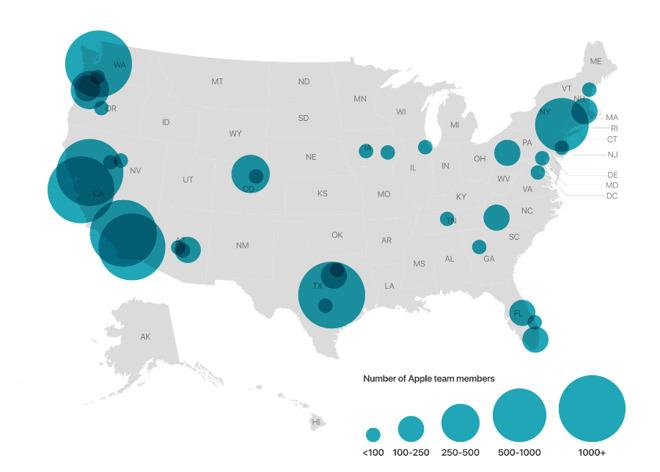 Apple's projected US employment by 2022. Source: Apple
Apple currently employs 90,000 people across all 50 of the United States, including 6,000 who were added over the last year. Those new hires are
part of a five-year plan to add 20,000 jobs in America
and contribute $350 billion to the economy.
Apple also announced plans to invest $10 billion in its iCloud data centers across the U.S. over the next five years. Apple's existing data centers (that mostly house racks of servers, maintained by relatively few actual workers) are located in Maiden, North Carolina; Reno, Nevada; Prineville, Oregon; and Newark, California. The company plans to situate a new facility in Waukee, Iowa.
Apple also operates a green, $2 billion
global command iCloud operations site
for its data centers in Mesa, Arizona, on the site of its scuttled effort to fabricate sapphire panels with GT Advanced Technologies.