HBO added to Apple TV Channels in iOS & tvOS 12.3 betas
Posted:
in iOS
edited May 2019
HBO has now been added as a participating channel in the revamped Apple TV app in the latest iOS 12.3 and tvOS 12.3 betas ahead of a launch later this month.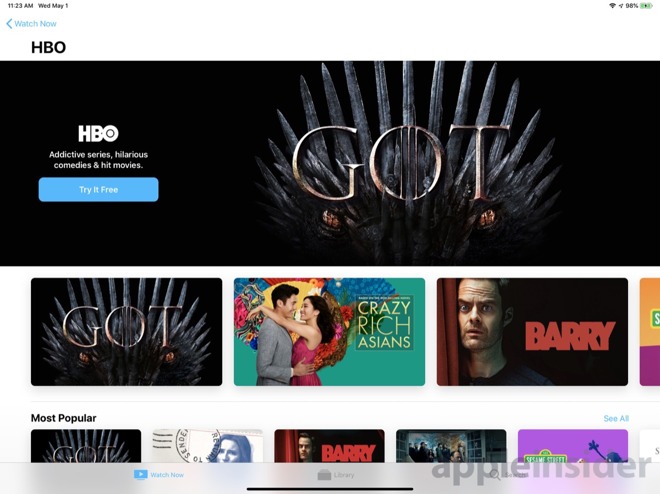 HBO in Apple TV Channels
Apple TV Channels is a new feature of the Apple TV app that allows the content to be viewable right from within the Apple TV app. The content will stream right from the Apple TV app as well, without having to kick users out to the third-party app. This differs from HBO Go which requires an existing TV/cable subscription and HBO Now which is also a standalone service that lives within the HBO Now app rather than inside the Apple TV app.
Throughout the beta process additional channels have been added, with the total number available sitting now at 12. This includes big names such as Showtime, Starz, HBO, Cinemax, epix, and more.
Users can subscribe to these channels a la carte from within the Apple TV app. HBO, the latest addition, will run users $14.99 a month after a free one week trial. The timing is great for Apple and HBO with the final season of Game of Thrones currently underway.
During the
beta process
, users are still required to launch third-party apps to play the content but this should switch to the Apple TV app once iOS 12.3 and tvOS 12.3 is released mid-May. Additional channels will also be added prior to release.
The new Apple TV app is the biggest inclusion of iOS 12.3 and tvOS 12.3. There were few changes in the fourth beta and release appears imminent. This update also includes support for the upcoming PowerBeats Pro wireless headphones which are slated to be released on May 10, which lines up with that timeframe.