Render of '2019 iPhone' case highlights square rear camera bump
Another new render for what is speculated to be the 2019 iPhone has been produced, this time showing what a supposed case for the unannounced flagship smartphone could look like, complete with space to fit the square camera bump.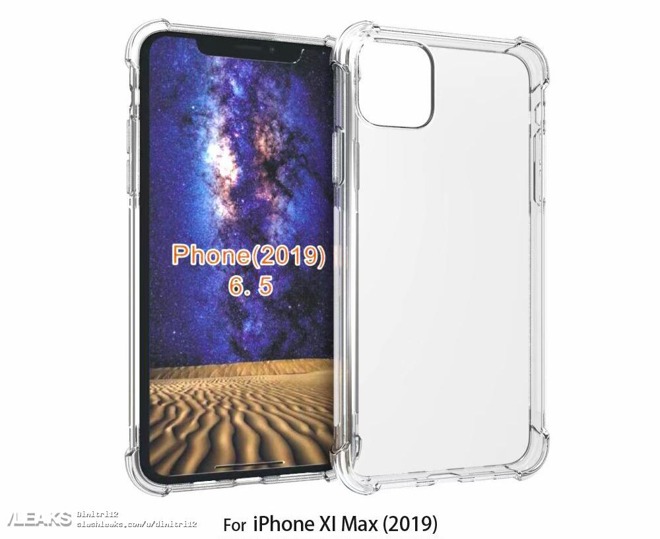 A number of rumors claim Apple will be redesigning the back of the 2019 iPhone, tentatively named the
"iPhone XI" in reports
, to be able to fit three cameras and a flash into the camera bump. Speculation and renders have depicted the possible solution of a square camera bump, an idea carried forward into new renders.
A series of images on
Slashleaks
show the "iPhone XI Max" with a 6.5-inch display, within a clear plastic case. No details are advised about the case itself, but the renders strongly suggest it is a rigid plastic with corner cushions, a cut outs at the back and base for the camera bump, connector, and speakers, and raised spaces on the sides to accommodate the buttons.
The hole on the back panel to match the camera bump is square with rounded corners, and from side shots appears to have slightly raised sections around the gap. It is likely this is intended to help protect the camera bump from being damaged when the iPhone is laid flat on a table, as well as extra protection for bumps and scrapes.
Earlier renders suggested the camera bump would be formed from the same piece of material as the rest of the glass back, rather than being a separate unit added via a cutout section of the rear casing.
Renders and rumors are, at best, guesses as to what to expect from Apple for the next generation of iPhones, with the truth only revealed during the company's September launch event.