Tim Cook inaugurates Apple Carnegie Library with help from DC's mayor
Apple drew special attention to the launch of its Carnegie Library store in D.C. on Saturday, bringing not just CEO Tim Cook but retail head Deirdre O'Brien, marketing chief Phil Schiller, and the city's mayor, Muriel Bowser.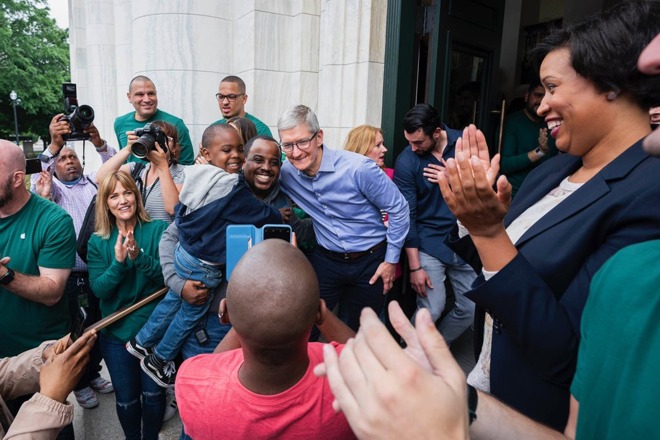 The event was publicized on Twitter by
Cook
and
Bowser
, the latter of whom shared a video of some of the first shoppers entering the store. The pair were joined by a media pool and some of the store's staff, who cheered and clapped to drum up excitement. Sizable crowds were in attendance.
Further photos were published
on Instagram
by O'Brien.
View this post on Instagram
Today was a special day for Apple. We opened the doors for the first time at Apple Carnegie Library and it was an an absolute thrill to welcome customers to our new home in Washington D.C.
A post shared by Deirdre O'Brien (@deirdre.at.apple) on May 11, 2019 at 10:15am PDT
Development on Apple Carnegie Library began in 2016. Apple
calls it
its "most extensive historic restoration project to date," requiring lengthy work on facades and details. Running with the theme of the building -- and possibly trying to counter controversy over the relocation of the Library's book collection -- the store will be hosting a "StoryMakers Festival" series of events between May 18 and June 29, featuring 40 artists.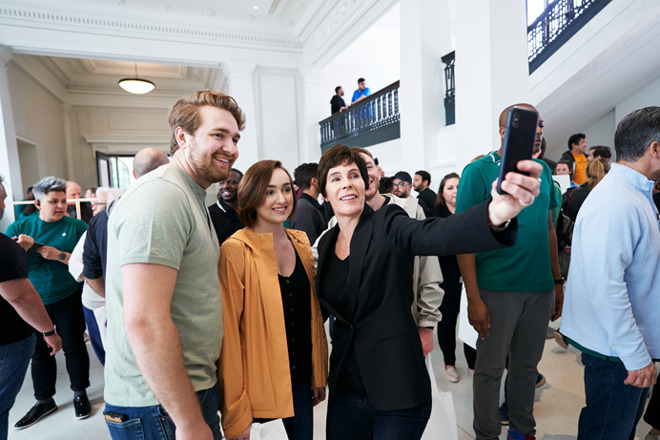 Apple retail VP Deirdre O'Brien posing with shoppers.