Chinese diplomat attacks Apple & Trump over Huawei - using an iPhone
Posted:
in iPhone
edited May 2019
A Chinese diplomat, normally a vocal backer of government policies, was recently caught using Twitter for iPhone to defend Huawei and attack Apple and U.S. President Donald Trump.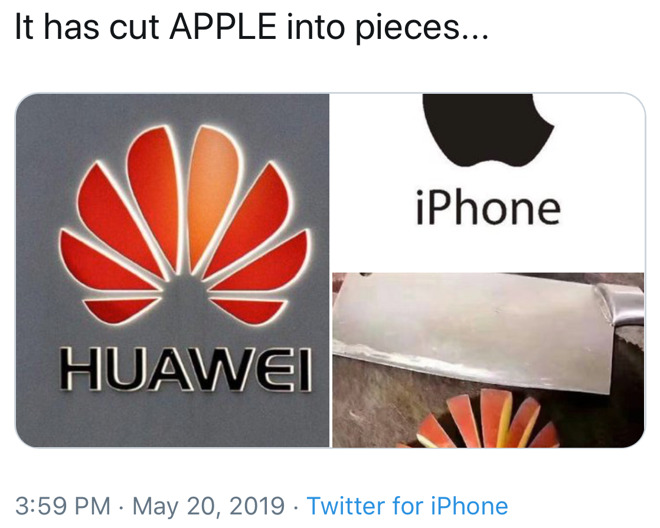 "It has just been revealed why
@realDonaldTrump
hated a private company from China so much that that it went so far by announcing a national emergency," wrote China's deputy chief of mission in Islamabad Zhao Lijian,
quoted
by
Bloomberg
. "Look at the logo of Huawei. It has cut APPLE into pieces..."
The original version of the post, tagged "Twitter for iPhone," appears to have disappeared in favor of a
repost
.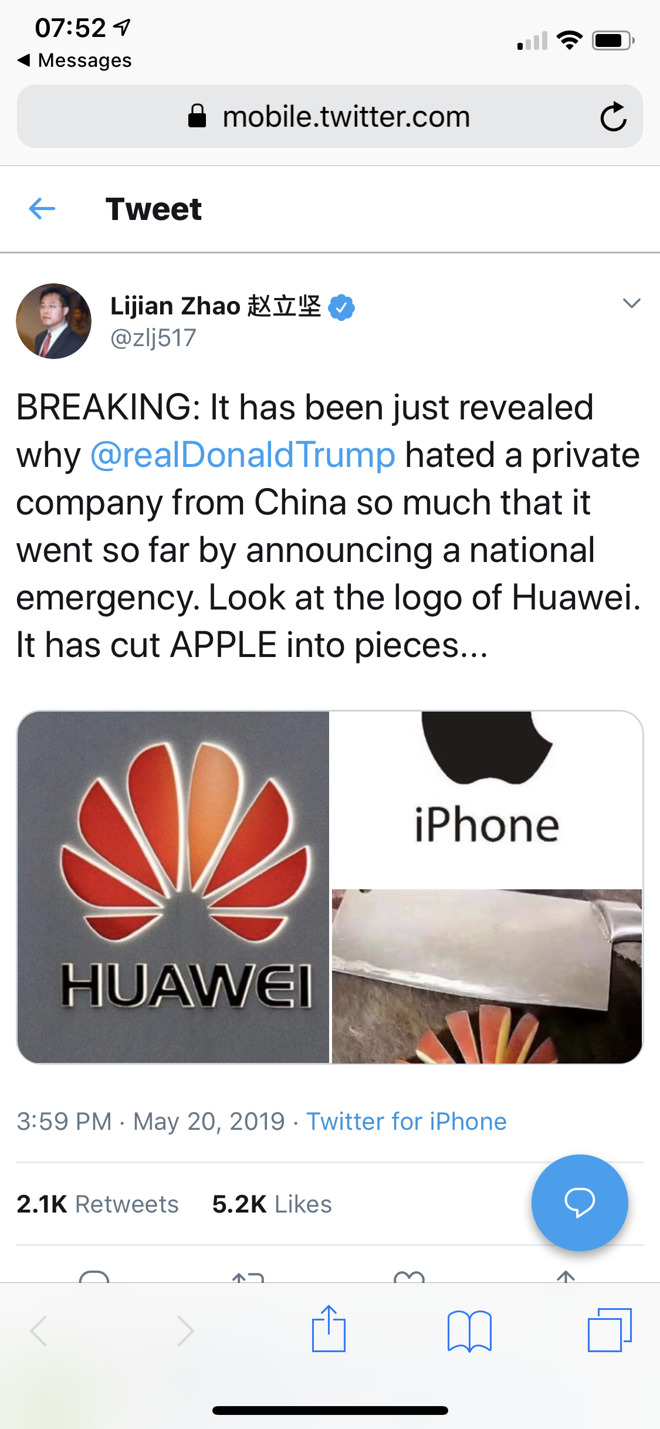 Last week the Trump administration
leveled a dual blow
against Huawei, blocking it from acquiring American technology while simultaneously preventing American telecoms firms from using Huawei equipment. That immediately jeopardized its status as a smartphone giant, since several of its suppliers are American and Google decided to
suspend the company's Android license
.
On Monday, though, the U.S. government
eased off on restrictions
, allowing Huawei to temporarily buy American goods for the sake of maintaining networks and pushing out updates for its smartphone lineup. Ultimately both Huawei and U.S. telcos may have to turn to other partners.
Both the previous and current administration have issued escalating sales bans, over concerns that Huawei's ties to the Chinese government could potentially lead to backdoors into U.S. networks, and has pressured allies to adopt a similar position. China, meanwhile, has accused the White House of using security concerns as a way of suppressing one of the country's biggest businesses amid an ongoing trade war.
One of the potential beneficiaries of the Huawei restrictions is Apple. Huawei dominates the Chinese smartphone market, while Apple's iPhone has struggled there in the face of cheaper local brands.
Indeed the Huawei debacle has fueled a "Boycott Apple" movement, to the point that some Chinese companies are reportedly threatening to fire workers with iPhones, though offering subsidies to switch to Huawei.