2019 iPhones again predicted to have three-lens camera, 2020 to have full screen Touch ID
Posted:
in iPhone
edited August 2020
Apple could bring back Touch ID along with 5G support in the 2020 iPhone, Barclays analysts predict, with a recent fact-finding trip to meet supply chain firms resulting in expectations about the 2019 iPhones that doesn't seem to suggest anything majorly different from other speculation attempts.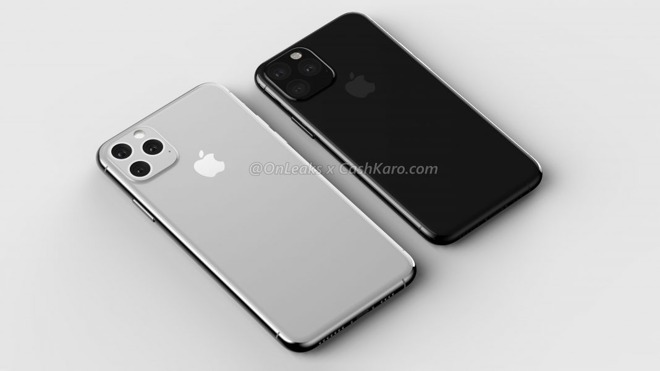 An early render of the triple camera setup of the 2019 iPhones, via OnLeaks and CashKaro
Analysts are keen to offer their take on what the next generation of iPhones will look like, including the kind of features to expect, activity that is likely to increase as time draws closer to Apple's annual September iPhone event. Those working for Barclays are no exception, and have offered their expectations after discussions with Apple supply chain firms on a recent visit to Asia.
In their expectations, the three 2019 iPhones will be quite similar in terms of design to the 2018 models, with the only real major change being the
additional rear camera
and the altered camera bump. Production for the models is also expected to begin soon, with manufacturing increasing to capacity between July and August ahead of the official unveiling.
While not an external change, the models will apparently continue a trend seen in the iPhone XR, in removing 3D Touch in favor of Haptic Touch, in a research note provided
to
MacRumors
. The updated equivalent of the iPhone XR will also see an increase in memory from
3GB to 4GB
, though it is unclear if this will bring it to the same level as the other two models, or if they will gain more RAM.
Barclays also expressed an interest in what could arrive in 2020, speculating the addition of
5G support
and
3D depth sensing
capabilities using the rear camera. It is also suggested Apple could bring back
Touch ID
by taking advantage of
acoustic fingerprinting
to turn the entire display into a fingerprint reader, something that has been featured in a few patent applications by the company.
There is also some discussion of a second-generation
iPhone SE
that has the same internals as the iPhone 8. While "a few suppliers" pointed to an early 2020 launch, others reportedly did not have knowledge about the supposed smartphone.