Review: The Caseta Fan Speed Control is the best way to integrate your fan with HomeKit --...
The Lutron HomeKit-enabled fan controller makes it easy for anyone to control a ceiling fan from the wall, with their phone, or with their voice. But, it isn't perfect.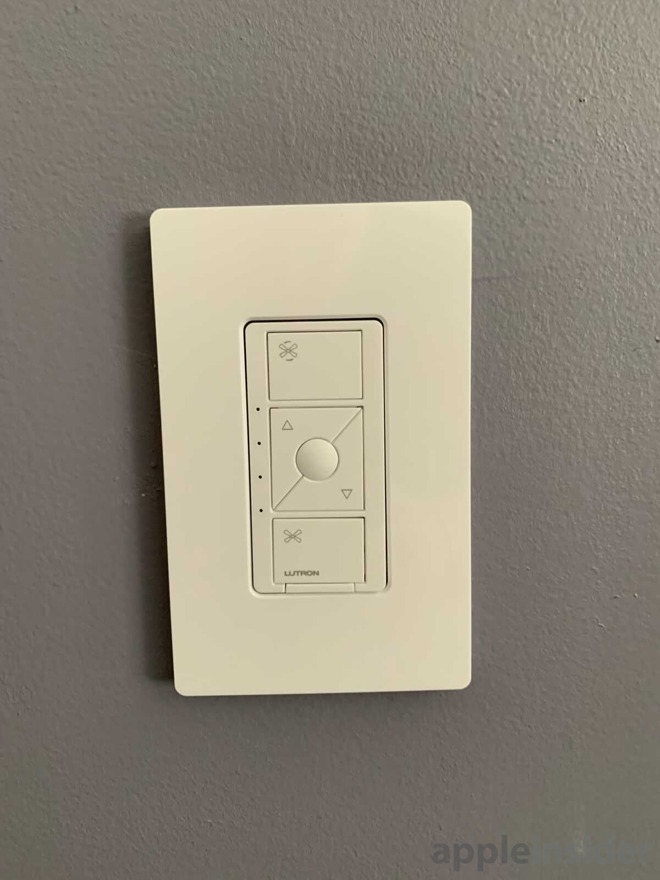 Caseta by Lutron Fan Speed Control
During the 2019 Consumer Electronics Show, Lutron unveiled a new in-wall fan controller that was designed to make it easy to control your ceiling fan. The team told
AppleInsider
how their goal was to be the first
HomeKit
fan control to market and a few months later, they did just that.
The Lutron fan controller isn't without its faults, but it is overall a great option for smart home users looking to improve their setup. Let's dig into the details.
A necessary accessory
One of the faults with smart homes designed from the ground-up, is that physical controls can be sparse. Early adopters add all forms of smart bulbs with little consideration to those who can't or don't want to use their phone every time they have to control the lights or the fan.
There are different buttons and switches that have come onto the market, but HomeKit makers, in particular, have been left out in the cold when it comes to fan controls. Fans like those from Hunter integrate HomeKit directly into the fan but that still lacks any physical control on the wall for users to interact with.
That is where the Lutron controller comes in.
It is an in-wall switch which means some minor electrical skills -- or a good electrician -- will be necessary. For us it only took a few minutes to get everything sorted out. Just shutting off our breaker, removing the existing switch, correctly wiring the Lutron switch, fitting it back into the wall, then once more flipping that breaker.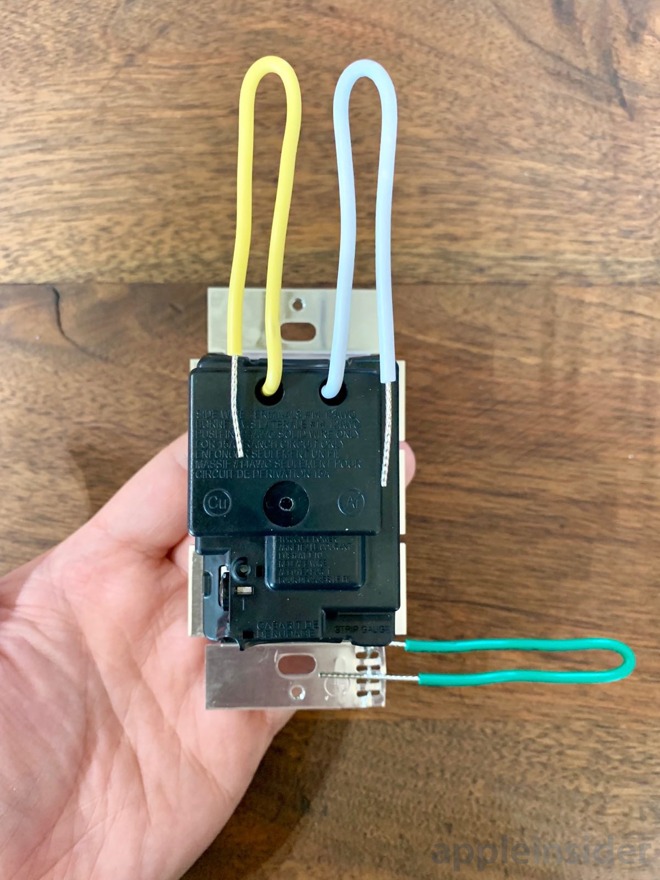 Caseta by Lutron Fan Speed Control wires
Most users won't struggle through the install, but its ok if you do. There are elaborate instructions which make it easy to follow along.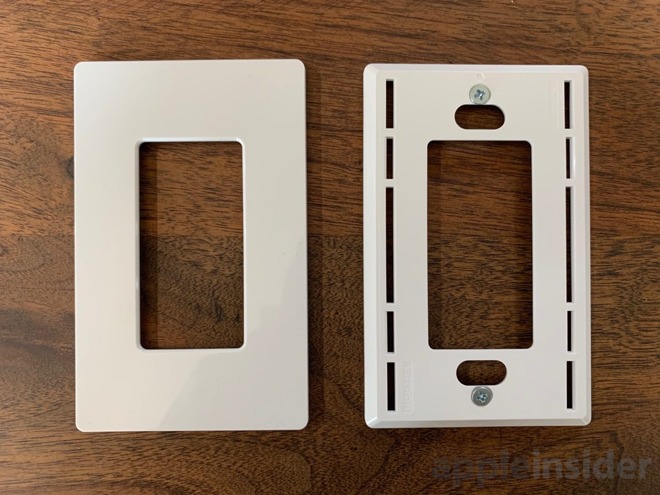 Lutron Fan Controller face plate
Once you connect the four wires, you can add the Lutron cover plates which snap into place.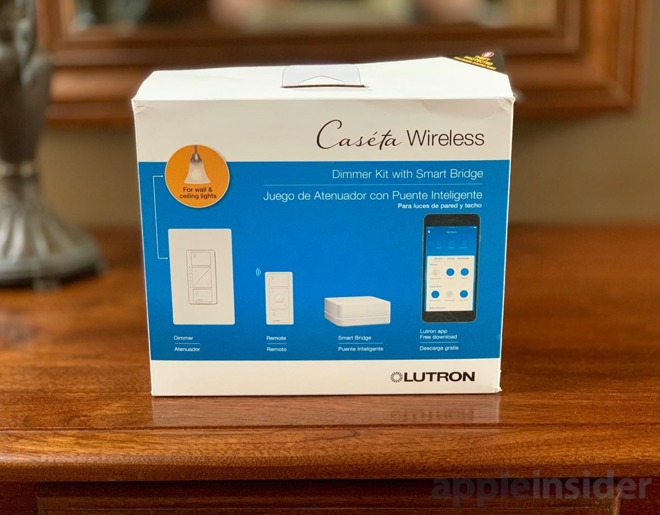 Lutrona Caseta bridge
Aside from the switch itself, you also need to have the Lutron Caseta Smart Bridge. This is what connects to your fan controller and is necessary to connect in the app and use HomeKit.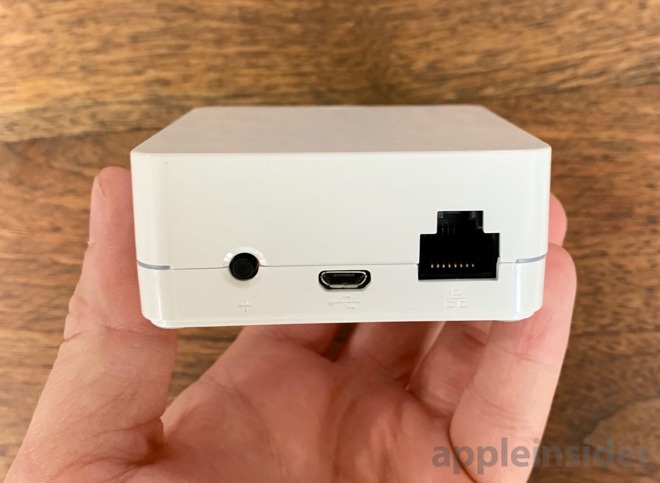 Lutron Caseta bridge ports
With the bridge, you can connect to all of the other great smart home accessories from Lutron too which further ties you into the Lutron ecosystem.
HomeKit for the win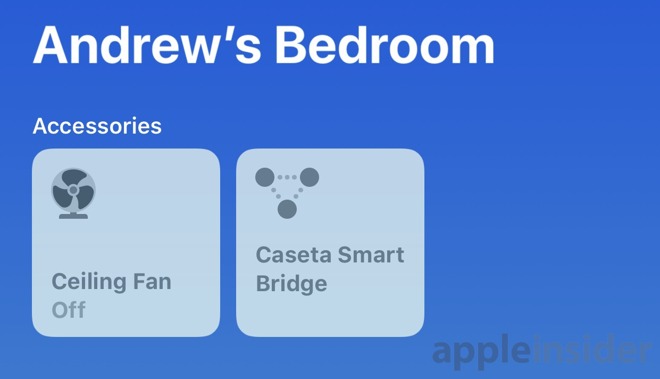 Lutron fan and bridge in HomeKit
When we look for new smart home gear to add to our abode, we always look for HomeKit support. Lutron was the first manufacturer to support HomeKit with the Caseta bridge debuted in Apple Stores so it wasn't a surprise to see support follow for additional products over the years.
Preceding Lutron, iDevices -- which was purchased by fan-maker Hubbell -- announced its own HomeKit fan controller but more than a year later it is still MIA. That left a gap in the market Lutron was happy to fill.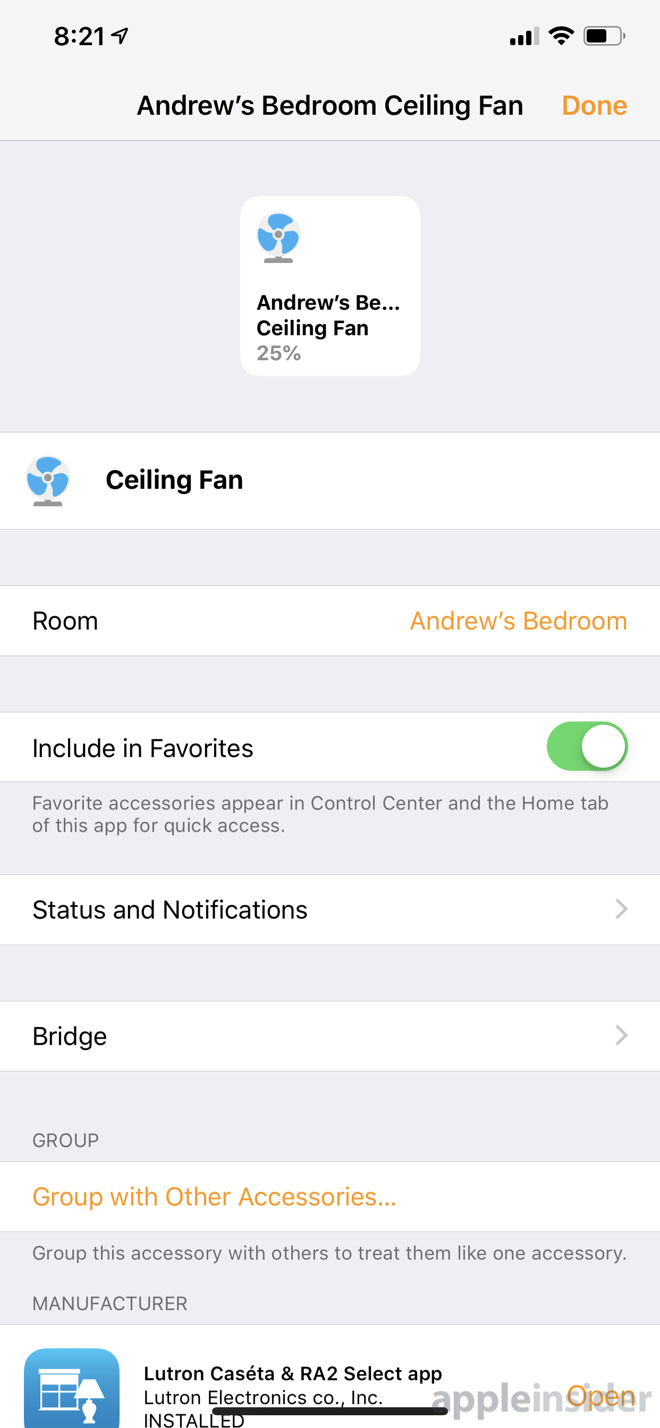 Lutron fan and bridge in Home app
Setup in HomeKit is easy once you've added the Caseta Smart Bridge the fan controller will automatically show up. From there it can be added to a specific room in your home, the name can be changed, and it can be included in any of your automation rules or scenes.
Scenes in HomeKit make their accessory all the more powerful. Create a bedtime scene that will automatically lock your front door, close the garage, dim all your lights, adjust the thermostat, and turn on the fan on low.
As we mentioned in our
HomeKit tips and tricks piece
, you can use the third-party app Controller to create what amounts to sleep timers on your devices so that you can ask Siri to turn on your fan on for 45 minutes after which it will shut off.
With HomeKit you can toggle the fan on or off, as well as change the speed.
Controling your fan
With the Caseta by Lutron Fan Speed Control installed you have all new ways to interact with your ceiling fan, making it more accessible and convenient for everyone. Turn it on/off and change the speeds from the switch right on the wall. Control through the aforementioned HomeKit on your phone or through Siri. Use the Caseta app, or even the wireless remote.
One thing we noticed with the optional wireless remote is that it is hard to differentiate the top from bottom. When we are barely emerging from slumber and we reach over to adjust the fan, it is impossible to differentiate the top from the bottom without glancing at it for the minuscule glyphs that signify on from off.
The remote mimics the actual controller on the wall with several button stacked on top of one another. The top button will immediately take the fan to full speed, the bottom one will take it to off, the arrows allow it to be incrementally speed up or slow down, and the center button will take you directly to your "favorite" speed.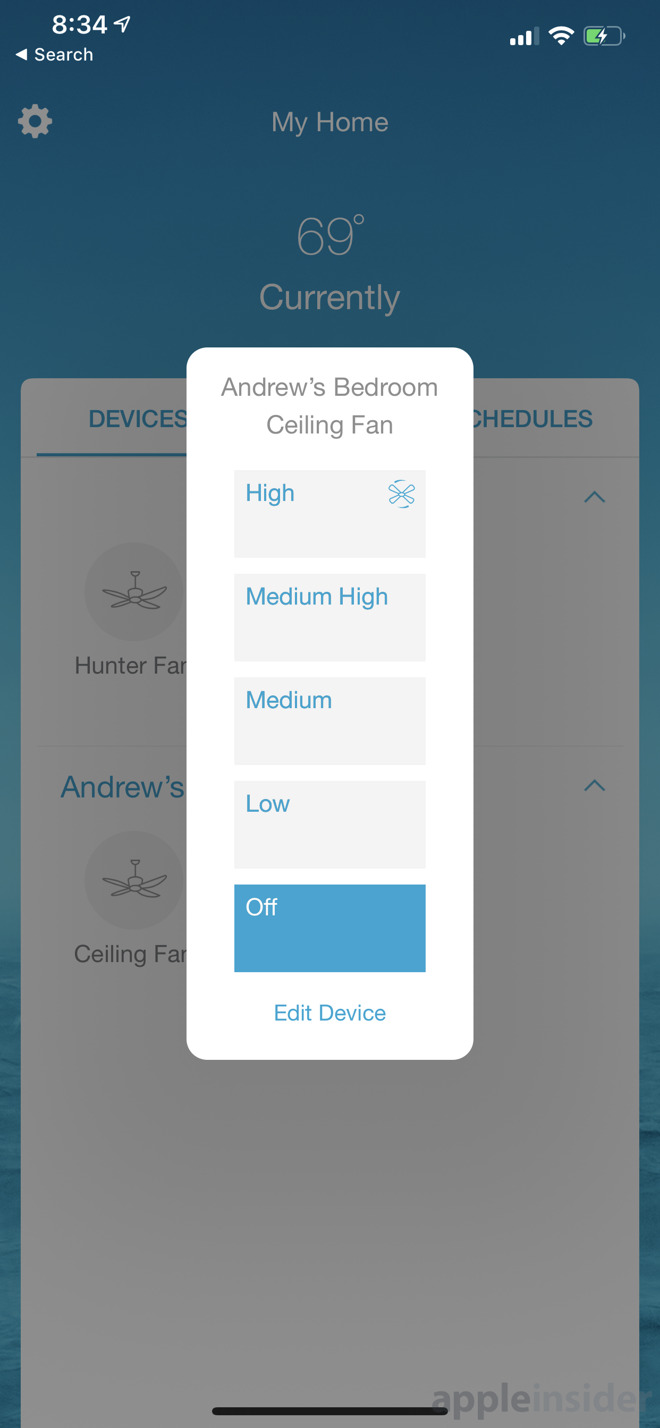 Lutron Fan Controller
For us, these is too many buttons for a fan. We don't need a "favorite" setting for a fan when it only has four speeds. Low, medium low, medium high, and high. At most it would take you two button presses to get to the appropriate speed.
A costly addition
Our main issue with the Caseta by Lutron Fan Speed Control is how expensive it can get when outfitting your home. Not even your whole home but a single room -- especially if your fan has a light.
The controller doesn't have any interface for a light, leaving you to wire a whole second in-wall switch for your light control. If you don't already have a light control you will end up having to put in a second gang box in your wall or running another wire just for that light control. Certainly not ideal or inexpensive.
Best case scenario you already have both switches on the wall which will run you the cost of the fan controller, a light controller, and don't forget the Caseta Smart Bridge you may or may not already have. Ideally, the fan controller would also have a control for the light built in.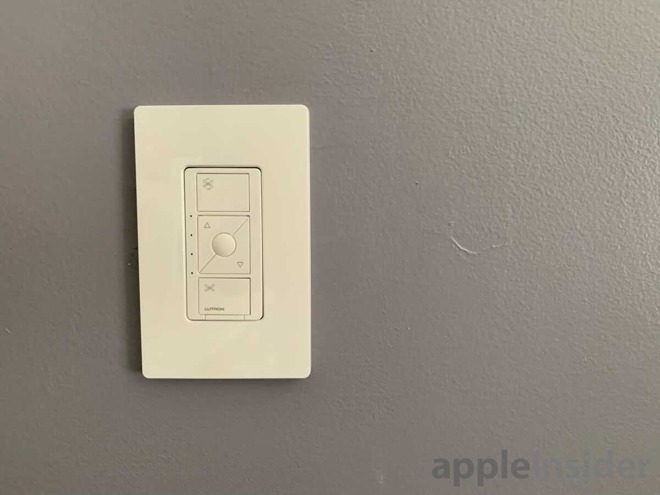 Lutron Fan Controller
If you are one who has a simple no-light fan and a gang box on the wall you are in the best case scenario that is the easiest and most affordable to do. Others may have their mileage vary.
Shortcuts aplenty
Our second issue with the fan controller is the abundance of shortcuts Lutron seems to have taken in bringing this to market. Rather than starting from the ground up on a controller that makes sense for a fan, Lutron seemingly repurposed their existing light controller and put fan glyphs on it.
There isn't anything inherently wrong with that, mind you, but if you have both, it is far too easy to mix the remotes up. They look identical and you have to have a sharp eye to pick out the correct one. Or maybe wrap one in a rubber band. When on our nightstand we struggled to grab the right one.
We already mentioned how the button layout didn't necessarily make sense for a fan. That button scheme makes much more sense when you think about it from a lighting perspective. Lights don't have just three or four levels of brightness but many small incremental levels. That is where a "favorite" button comes in handy. For a fan, it is superfluous.
A worthy purchase
For all our griping about the little things, we really do love the Lutron fan controller. It works excellent, never dropping from our bridge and always responding quickly and accurately to our commands. HomeKit support was spot on and we loved being able to integrate the fan with all of our other HomeKit accessories.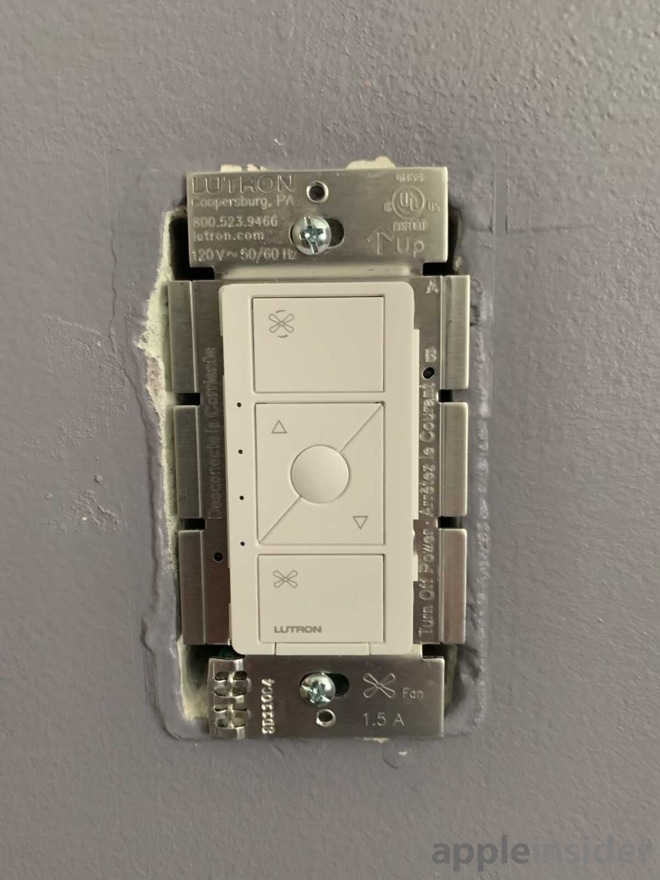 Caseta by Lutron Fan Speed Control
There are limitations here, but this is the first one to make it to market. We have no doubt that Lutron is watching feedback and taking them into consideration for future products and other accessory makers are taking notes as they work to bring their own to market.
If you have a fan and have pledged your loyalty to HomeKit, the Caseta by Lutron Fan Speed Control is the best -- and only -- one around.
Rating: 3 out of 5
Where to buy
You can grab the Caseta by Lutron Fan Speed Control on Amazon for
$57 on its own or $87 with the added pico remote
.