iOS 13 'Dark Mode' and new Reminders app shown off in alleged screenshots
A new image supposedly depicting iOS 13's long-rumored 'dark mode' has surfaced hours ahead of its expected launch at WWDC 2019, an alleged screenshot that also shows off what the new Reminders app could look like on an iPhone.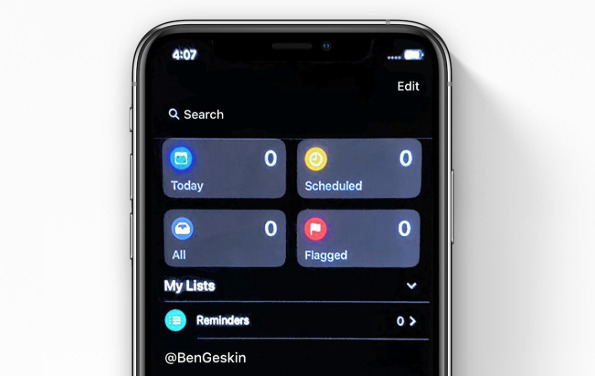 Dark Mode has been the topic of
multiple rumors
surrounding "iOS 13," giving iOS an alternative appearance in a similar vein to the feature's operation in macOS. In effect, the mode should make the docks, tab bars, and other visual elements in iOS darker, while making dark or black text elements lighter or white, with similar changes possible in apps compatible with the feature.
An image posted to
Twitter
by Ben Geskin claims to show an iPhone running iOS 13 in dark mode, with the New Reminders app open. The appearance of the app in the shot seems to hide the iPhone notch quite effectively, due to the black notch blending with the black areas of the display.
The Reminders app is shown to have a few elements, but the primary section shows four quadrants labeled Today, Scheduled, All, and Flagged, along with counters for each area. Above is a search box, while below is the "My Lists" section where the reminders themselves reside.
Despite seemingly convincing, there is no guarantee that the image is a real screenshot of iOS 13, but it does bear a similar appearance to
other images
that have recently surfaced claiming to show the same thing.
Apple will be revealing iOS 13 today during the WWDC 2019 keynote address.
AppleInsider
will be reporting live throughout WWDC 2019, starting with the keynote on Monday, June 3. Get every announcement as it happens by downloading the
AppleInsider app for iOS
, and by making sure to follow us on
YouTube
, Twitter
@appleinsider
,
Facebook
and
Instagram
.