Apple acquires self-driving car startup Drive.ai [u]
Apple on Tuesday confirmed the acquisition of self-driving shuttle and car kit startup Drive.ai, with the tech giant snagging dozens of employees, cars and other assets as part of the purchase.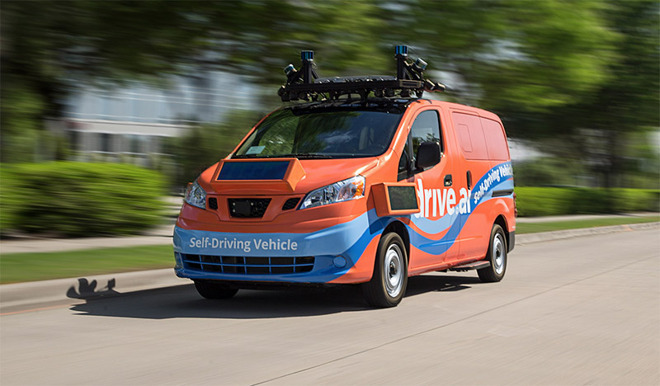 Drive.ai, which raised $77 million in funding and was valued at approximately $200 million two years ago, filed a Worker Adjustment and Retraining Notification (WARN) (
PDF link
) with California's Employment Development Department alerting the state agency that it will
shutter operations
effective Friday, reports the
San Francisco Chronicle
.
As Drive.ai prepares to dismantle, Apple in recent weeks picked up a few hardware and software engineers from the soon-to-close self-driving car firm, the report said. At least five former Drive.ai data, software and systems engineers have updated their respective LinkedIn profiles to note employment by Apple. The changes arrived this month, with four employees now listed as working on "special projects" at the tech giant.
Apple later
said it acquired
the startup in a statement to
Axios
. The deal nets Apple dozens of employees, most of whom work in engineering and product design, the report said. Beyond talent, Apple's acquisition also gets the company Drive.ai's cars and other unspecified assets. Terms of the agreement have not been revealed.
Drive.ai's notice was filed on June 12, exactly one week after a report was published claiming the company was in
talks to sell itself
to Apple as part of an "acqui-hire." At the time, an Apple spokesperson neither confirmed nor denied the buy, suggesting negotiations were fluid.
After significantly scaling back development of a self-driving car project dubbed "
Project Titan
" in 2016, the company is seemingly reinvigorating its
Apple Car
program by infusing the team with new recruits from competing firms. Most recently, the
company poached
powertrain expert Michael Schwekutsch from Tesla.
Update:
Updated to reflect Apple's statement on the acquisition from
Axios
.