Apple Stores start selling One Drop blood glucose monitors
Apple has commenced sales of the One Drop blood glucose monitor in a small number of its retail outlets, bringing the Health app-compatible diabetes management device to its physical stores for the first time.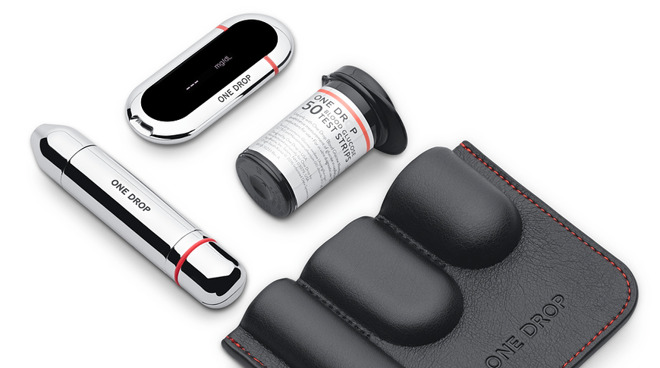 The One Drop is a compact blood glucose monitor that works with the iOS Health app and the Apple Watch. Connecting by Bluetooth, the device draws a small amount of blood to measure the user's blood glucose level, which is then recorded in the Health app for tracking over time.
Currently sold via the
online Apple Store
,
CNBC
reports
the One Drop is being offered in a selection of brick-and-mortar Apple Stores. In both locations, the kit is being sold for $69.95, with store purchases also including a year of free coaching from a certified diabetes educator via the One Drop app.
The One Drop is not the first product of its kind to be sold by Apple in its stores. Previously the iBGStar meter was carried, but sales ceased after Apple switched from legacy 30-pin connectors to Lightning.
The addition of the device to stores may be a way for Apple to offer diabetes management to its customers before it can develop its own product. Apple was rumored to be previously
testing a prototype
of a blood sugar monitor, and has
applied for patents
for non-invasive glucose monitoring, which could feasibly be used on the Apple Watch to expand its capabilities.
One Drop's sale is also another indicator Apple is keen on pressing further into the healthcare space, on top of its existing work with the Apple Watch. Analysts suggest Apple is aiming to make a consumer-centric ecosystem for healthcare devices and services, which could help it take part of the
$3.5 trillion healthcare industry
.
In May, Apple reportedly acquired
Tueo Health
, a startup developing asthma-tracking technology, specifically for use by sleeping kids. Apple also used WWDC to reveal new features relating to
hearing health
in HealthKit.