Rosenblatt downgrades Apple to 'sell' on middling iPhone sales
Analysts at Rosenblatt Securities have changed their tune about Apple's stock, downgrading it to 'sell' over the belief it will face 'fundamental deterioration" for the next year, as well as predicting disappointing iPhone sales for the second half of 2019.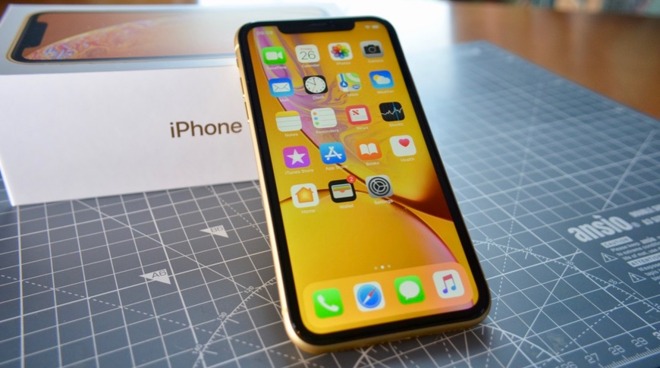 iPhone XR
In an investor note seen by
AppleInsider
, Rosenblatt Securities suggests there is "less reward for owning Apple stock" after a recent stock rebound from buybacks and stable second quarter guidance.
"We do not think Apple is a short," writes the firm, insisting Apple has "plenty of cash and a meaningful stock buyback program," but adds "We believe Apple will face fundamental deterioration over the next 6-12 months." Due to this change of heart, Rosenblatt has downgraded Apple from 'Neutral' to "Sell," but maintains its price target of $150.
New iPhone sales will be "disappointing," while iPad sales growth will slow in the second half of 2019, though the sales growth of other products like HomePod, AirPod, and Apple Watch, "may not be meaningful to support total revenue growth." Services are also not immune in Rosenblatt's estimation, with the suggestion that after strong revenue growth for the last 4 to 6 quarters, the launch of Apple Music, and Apple News+, that growth will start to decelerate.
On iPhone in particular, the iPhone XS is declared by the firm to be "one of the worst-selling iPhone models in the history of Apple." The three-model strategy has made the middle-priced device "lag way behind the other models," while the iPhone XR continues to outsell both the iPhone XS and iPhone XS Max combined.
According to Rosenblatt's sales data, overall iPhone sales were flat month-over-month from May to June, which it thinks is similar to the "weak" first six months of 2019. On production, orders for the iPhone XR are believed to have slowed for the third quarter in preparation for the ramp of new models, as well as supposed weaker Q2 sales.
"With limited upgrades for the new iPhone models in the fall and expectations of a 5G iPhone in 2020, we expect major iPhone upgrades to be pushed out to the second half of 2020," the analysts predict.
As for the Apple supply chain, Rosenblatt Seems to have similar thoughts to other analysts about the upcoming iPhone refresh.
The "iPhone XI and iPhone XI max" will have triple cameras while the "iPhone XI R" will have a dual camera, with CMOS sensors supplied from Sony. The color and sizes will not change from the current generation, but the antenna design will receive some changes to improve the signal.
Intel will remain the modem supplier before an expected switch to Qualcomm for 2020, and eventually to Apple's own design of modem. Apple's smaller, faster charger using Power Integration's 18W charging IC is likely to be used, though a backup plan sourced from Semi will also be on hand.
A new cheaper design of force touch technology may be used, and Apple is also working on their own audio code technology for the devices. For 3D sensing, which should feature some upgrades, Lumentum and Viavi are expected to maintain a high proportion of components supplied for the feature, but a diffuser from Himax may have been designed out completed.
For the 2020 iPhone, Apple is tipped to stay away from using fingerprint sensors, but will adopt a 3D sensing time-of-flight solution for enhanced 3D functionality, combining Sony's CMOS and LITE's VCSEL lasers.