Sonnet intros RED Mini-Mag Pro Card Reader with Thunderbolt 3
Accessory maker Sonnet on Wednesday launched the SF3 Series RED Mini-Mag Card Reader, aimed solely at people who shoot video using RED's proprietary storage format.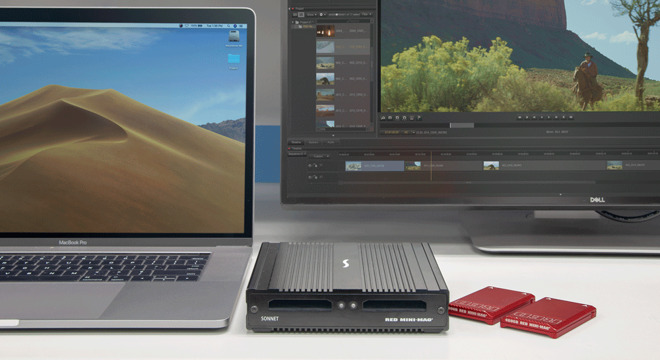 The product features two card slots, and can ingest files from both simultaneously at speeds up to 1.06 gigabytes per second. That's claimed to be over twice what other Mini-Mag readers are capable of.
Twin Thunderbolt 3 connections allow the product to be daisy-chained with up to five other peripherals. When matched with two other SF3 readers, a Mac can theoretically ingest six 480-gigabyte cards in just 15 minutes.
As needed the Thunderbolt ports also work with USB 3.1 cables, and can used to connect two 60-hertz 4K monitors, or a single 5K display. Power throughput is 15 watts.
For mid- to large-scale operations, multiple units can be stacked or rack-mounted.
Sonnet is shipping the
SF3 Series RED Mini-Mag Card Reader
for $299 starting July 15, with a two-year warranty.